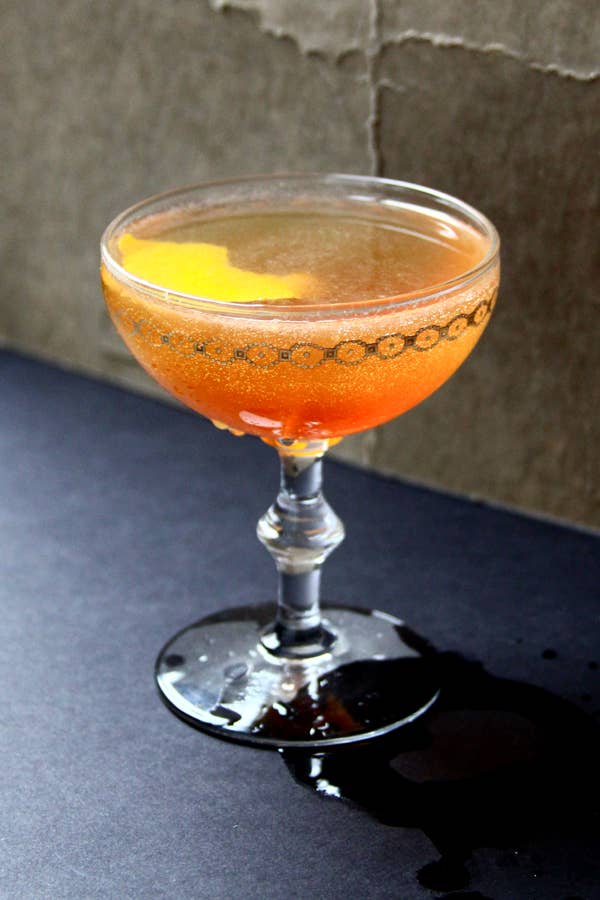 Drinks
Friday Cocktails: The Champs-Élysées
This story starts not so long ago, when I was living the carefree life of a young expatriate in France. (Or we could put it another way: This story starts not so long ago, when I was mired in existential crisis whilst trying to extricate myself from work visa complications in France.) I was spending many a two-hour lunch break mulling over my future, the edge of which was approaching with alarming swiftness. At the time, two options presented themselves: Fight against the bureaucracy to stay in Grenoble, the charming Alpine town where I was living, or throw up my hands and move to Paris, the City of Light, the hip, canal-crossed Paname.
I did my most serious mulling over glasses of Chartreuse, a potent regional specialty and Grenoble's claim to alcoholic fame. Chartreuse is a name you may recognize more from a box of paints than a bar—in fact the color is named after the spirit, whose bright greenish-yellow hue is as brilliant in a lowball glass as it is on canvas. Its flavor—a measured balance of 130 different Alpine plant extracts—is vegetal and sweet with a distinctive spicy bite, evoking the natural elements: warm wood and stone, bitter earth and verdure, age and solitude. The recipe, dating to the 18th century, continues to be guarded to this day by Carthusian monks of the Grande Chartreuse monastery, located in the mountains 12 miles as the crow flies directly behind my former Grenoble apartment.
I never did move to Paris, and eventually I left Grenoble behind me as well, but now, whenever I'm recalling stories from those glory days in France, I turn to one of my coveted bottles of Chartreuse. While the intensely herbal flavors of Chartreuse Verte make it a liqueur best appreciated on its lonesome in an ice-cold glass, its yellow-hued sister Chartreuse Jaune is sweeter and milder, perfect for dressing up in a mixed drink. This Champs-Élysees cocktail, blending yellow Chartreuse with sweet, complex brandy, is to me the best of both worlds: the rustic purity of the French Alps refined into a drink of sophisticated aspirations, one that feels like sauntering along the Avenue Champs-Élysees shortly after hiking up Alpine paths. If you've done both, pour yourself another glass.