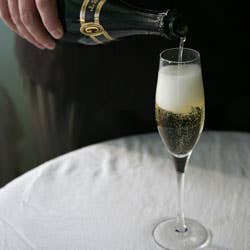 Toast Mom with bubbly this year. She'll surely be delighted. No matter the occasion, no wine is more guaranteed to lift spirits and bring smiles. The pop of the cork makes any day feel special, and a truly special occasion like Mother's Day will feel even more so.
If you're hosting a big crowd and looking for a wine that won't break the proverbial bank, try a good Spanish cava. One of my favorites is called Aria. Imported by Freixenet USA, it comes in both a dry or brut style and an ever so slightly sweet one, labeled (confusingly) as Extra Dry. Both sell for around $10, and are widely available.
Even Extra Dry bubbly isn't sweet enough to complement dessert, so if you want a sparkler to sip after dinner, you need to look elsewhere. An excellent choice comes from northern Italy. Made from local brachetto grapes, it's called Brachetto d'Acqui, and tastes of sweet, succulent raspberries. Rosa Regali (imported by Banfi) makes a top-notch one that costs about $18. Look for the most recent vintage you can find. It will pair well with virtually any dessert, even chocolate. And if you're serving Strawberry Shortcake, as many folks do this time of year, I can't think of a better partner.
Finally, if you want to open the very best bubbly, only true champagne will do. There are many fine examples on the market, ranging in price from $40 or so for non-vintage blends to many hundreds for the luxury cuvees like Moet's Dom Perignon and Louis Roederer's Cristal. Overall quality in the category is very high, so you almost can't go wrong. But were I to go champagne hunting for a true wine-loving Mom, I'd try to find Charles Heidseck's Millenaires Blanc de Blancs 1995. Made entirely with chardonnay, and now, almost twelve years after the vintage, mature and evolved, it simply tastes ethereal. This wine is a two-time winner of "best in show" at the Critic's Challenge wine competition in San Diego. (I know because I voted for it both times.) Imported by Remy Cointreau USA, it will set you back about $100.