Recipes
Strawberry Shortcake for a Crowd
Why fuss with individual biscuits when you can make one jaw-dropping party-size one instead?
Serves

4

Cook

1 hour 10 minutes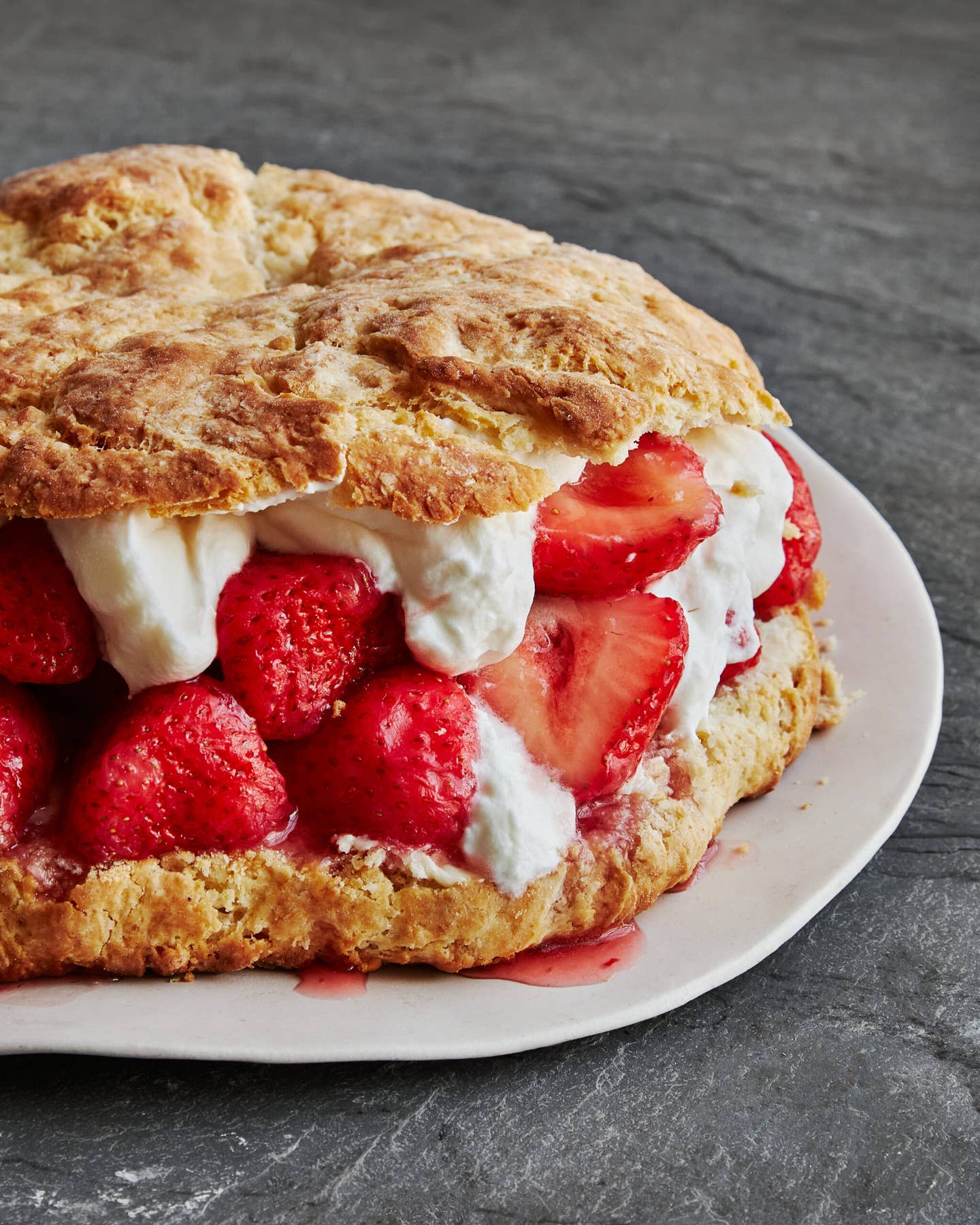 Baking a single oversize biscuit instead of laboring over individual ones makes for a marvelously over-the-top presentation of the classic American dessert. Because this strawberry shortcake recipe hinges on peak-season berries, it's best to hit up your local farm stand for Tristar and other heirloom strawberries (alternatively, fancy-schmancy Oishii berries are sweet year round). The recipe can be doubled with success; simply make two biscuits, not one extra-large one.
Ingredients
3 cups strawberries, washed, hulled, and halved lengthwise
¼ cup plus 2 Tbsp. sugar, divided
1½ cups all-purpose flour
2 tsp. baking powder
1 tsp. fine salt
6 Tbsp. unsalted butter, cubed, divided
¾ cup whole or two percent milk
1 cup cold heavy cream
3 Tbsp. confectioners sugar
1 tsp. vanilla extract
Instructions
Step 1
In a bowl, toss the strawberries with 5 tablespoons of the sugar and set aside to macerate for 30 minutes.
Step 2
Position a rack in the center of the oven and preheat to 400°F. Into a large bowl, sift the flour, baking powder, salt, and remaining sugar and whisk gently to combine. Scatter 4 tablespoons of the butter on top, then use a pastry blender or your fingers to work it into the flour mixture until it looks like coarse crumbs. Stir in the milk. Turn the dough out onto a floured surface, then shape it into a large biscuit 6 inches in diameter and 1 inch thick. Transfer to a parchment-lined baking sheet.
Step 3
Bake until just golden, about 25 minutes. When cool enough to handle, use a sharp knife to slice it horizontally in half, then transfer to a platter and spread the cut sides evenly with the remaining butter.
Step 4
Using a handheld or stand mixer on high speed, whip the cream until soft peaks form. With the mixer running, slowly add the confectioners sugar and vanilla, then continue to beat to nearly stiff peaks.
Step 5
Assemble the shortcake: Spoon the strawberries and their juices atop the bottom half of the biscuit, then cover with the whipped cream and top with the other half of the biscuit. Serve immediately in wedges.