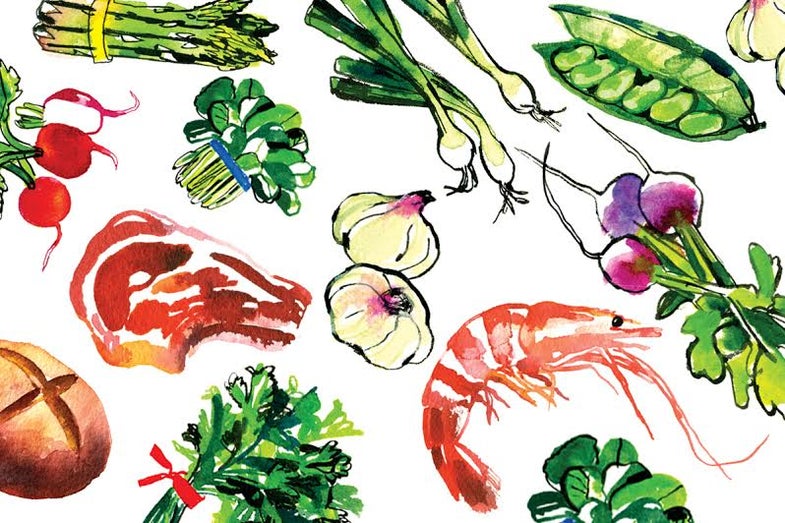 (Posada Punch)
In Mexico, ponche is made with tejocote (Crataegus pubescens), a fruit hard to find fresh in the U.S. We find the jarred version too gelatinous, but fresh seckel or other small pears make a good substitute.
Yield: serves 12
Ingredients
2 lb. seckel pears
4 oz. tamarind pods, peeled
6 (6″) pieces fresh sugarcane, peeled and halved lengthwise (see Cutting Cane)
5 guavas, peeled, seeded, and quartered
3 tart apples, cored and cut into 8 wedges each
12 prunes
2 tbsp. raisins
2 sticks cinnamon
2 cones piloncillo (Mexican brown sugar)
Instructions
Put pears and 15 cups water into a large pot and simmer over medium heat until soft, about 5 minutes. Remove fruit with a slotted spoon, cut in half lengthwise, and set aside.
Add tamarind and sugarcane to same pot. Simmer, without stirring, until tamarind is soft and just begins to fall apart, about 30 minutes.
Add reserved pears, guavas, apples, prunes, raisins, cinnamon, and piloncillo to pot and simmer, gently stirring occasionally, until sugar dissolves, about 10 minutes.
Divide sugarcane and fruit between 12 8-oz. heatproof glasses and ladle in some of the hot punch.