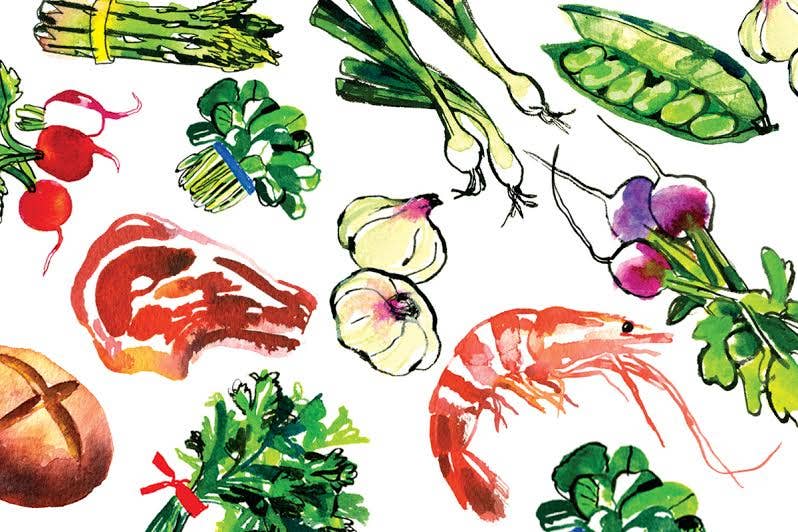 Drinks
The Best White Wine of All?
Riesling is the world's greatest white wine. The best rieslings come from Germany. The finest German rieslings are made in the valleys of the Ruwer and Saar rivers, tributaries of the Moselle. Carl Ferdinand von Schubert makes the Ruwer's top rieslings, and Hans-Joachim Zilliken makes some of the Saar's most brilliant and affordable ones—reason enough for me to have visited the region, and these two producers, last autumn.
A fine German riesling is a masterwork of intricacies. Low in alcohol (typically about 8 percent; 12 to 14 percent is usual for most wines), at first pale in color and (as it ages) golden, it embodies at once a balance and a tension between its parts: light weight but deep concentration; a high-wire interplay of mouthwatering acidity and luscious peach- and apricot-like fruit; in its youth, a flowery bouquet followed by delicate, crystal-clear flavors and a carousel of vineyard accents—all condensed into a compact frame with a ballet dancer's sheer elegance. By comparison, regal burgundy is practically a pauper.
German wine law affords a single Gebiet, or regional name, to the wine region of the Moselle River (Mosel in German) and its two offshoots: Mosel-Saar-Ruwer. The Moselle itself is longer than the Saar or Ruwer, and the Middle Moselle's wines are more celebrated. But the Ruwer (pronounced ROO-ver) and the Saar produce rieslings with their own distinctive styles—wines that, in the best years, have quite extraordinary qualities. (The 1988 through 1994 vintages are widely acknowledged to be excellent, and the baby 1995s are promising.) As Zilliken told me, in good vintages, "Moselle rieslings have dominant, open fruitiness accompanied by fine acidity. Saar rieslings have dominant racy acidity accompanied by fine fruit. Ruwer rieslings are closer to the Saar's, but have an earthiness and a spiciness." Bravo. These are subtle but accessible distinctions.
Zilliken and von Schubert are soul brothers. They share the skill of being able to transmute late-ripening, green-gold grapes—reared on steep, south-facing, heat-reflecting, slate hillsides in a zone beset by fickle weather—into wines of sublime delicacy and remarkable longevity. Yet two more contrasting personalities than von Schubert's and Zilliken's are hard to imagine.
The casual, courtly, Old World grace of von Schubert's country-gentleman manners and the antiquity of Maximin Grunhaus, his sprawling manorial estate near the one-time Roman city of Trier, make it seem oafish not to address him as "Dr. von Schubert". On the other hand, calling Zilliken by his nickname, Hanno, comes easily. Is it because he so eagerly practices his craft, with an engineer's precision, in a ranch-style home-cum-winery opposite a high school on a nondescript residential street, a five-minute walk from downtown Saarburg?
At Maximin Grunhaus, von Schubert cultivates riesling in three abutting vineyards—the Bruderberg, the Herrenberg, and the Abtsberg—which share a single precipitous hill. Von Schubert and his forebears have made wine in these vineyards, once the property of the Benedictine monastery of St. Maximin, in Trier, since 1882—with the invaluable assistance, for the last 43 years, of cellarmaster and vineyard manager Alfons Heinrich. On a monastically drab, cold November morning, von Schubert and I surveyed the narrow Ruwer Valley from the crown of the Abtsberg. Our panorama took in the Hunsruck Mountains, vineyard-draped hillsides, woods, the Ruwer (really little more than a stream), the nearby village of Mertesdorf, and the Maximin Grunhaus estate. To one side, workers were meticulously picking Herrenberg riesling for spatlese (late-harvest wine, not quite sweet, but concentrated and well-rounded). Their discipline brought to mind the lay brothers of St. Maximin Abbey, for whom the Bruderberg (Brothers' Hill) was named. This two-and-a-half-acre vineyard yields a light, fairly simple riesling, sold mostly in Germany. The 47-acre Herrenberg (Masters' Hill), named for the abbey's clergy, yields a far more profound riesling, plush and intense. Ecclesiastical politics, however, decreed that the best site be called the Abtsberg, or Abbot's Hill—and von Schubert's blue-chip rieslings come from the blue slate soil of this 34.5-acre vineyard, the best of them offering herbal and mineral nuances, racy acidity, and a long aftertaste.
Each year, conditions permitting, von Schubert tries to produce, from both the Herrenberg and the Abtsberg, the following: a simple trocken (dry) wine and a traditional (somewhat sweeter) one; a dry and a traditional kabinett (normal harvest) and spatlese; a dry auslese (made from individually selected bunches of very ripe grapes), plus several traditional ones; and the remarkably rich, sweet beerenauslese, trockenbeerenauslese, and eiswein. (Beeren-auslese is made from overripe, individually selected grapes; trockenbeerenauslese from individually selected grapes shriveled until almost raisiny; and eiswein from grapes frozen on the vine.) In 1994, von Schubert made 22 different wines. Since his total production is only about 20,000 cases a year, this may seem like a lot. But, he asks rhetorically, why blend away individualities?
If you didn't notice the sign announcing the presence of the Weingut Forstmeister Geltz Zilliken, you wouldn't dream that Heckinstrasse 20, in the pretty little town of Saarburg, houses a winery that turns out 5,000 cases a year of superb Saar wines. But underneath the Zilliken living quarters, a three-level cellar descends into the ground. The first level, just below the front lawn, is used for labeling and packaging. The second, housing thousands of stacked bottles, has an eerily silent Charles Addams-like ambiance—cool, dank, moldy, dimly lit by naked bulbs. The third cellar, used for fermentation, is a romantic dungeon out of Piranesi, nearly 30 feet underground. Standing under the arches that link the rooms, I saw huge old oak barrels lining the walls. Creek water leaked through the walls, forming pools on the floor. Stalactites dripped from the ceiling. The 1995 vintage was fermenting, shooting carbon dioxide and an aroma of yeast and fruit into the air. "We have a constant temperature of 48.2 degrees and nearly 100 percent humidity," said Zilliken. "There is no evaporation. When we fill barrels, they stay filled."
Zilliken is a technician, and he dazzled me with a fervent statistical discourse on grams-per-liter measurements of acid and sugar, which seemed uppermost in his mind. The reason? That morning, November 6, he had picked frozen grapes for 300 liters of eiswein from his 12.3 acres of the Saarburger Rausch, the great vineyard that soars just behind Saarburg. "It's the earliest eiswein we've ever made," he said.
Zilliken's specialties are auslese and eiswein. The steely acidity in the latter makes it an especially refreshing aperitif in its youth, and preserves it for decades as a concentrated dessert wine. "It can live for 100 years," Zilliken said. We tried his 1989 eiswein from Saarburger Rausch. It was ethereal. "My wine and Dr. von Schubert's are 'vertical,'" Zilliken proposed at one point. "By 'vertical' I mean a lot of nuances come step by step after each other, like a waterfall. A 'horizontal' wine is a short wine: You have one huge taste all together, and then it is gone." "Like California chardonnay?" I asked. He smiled.