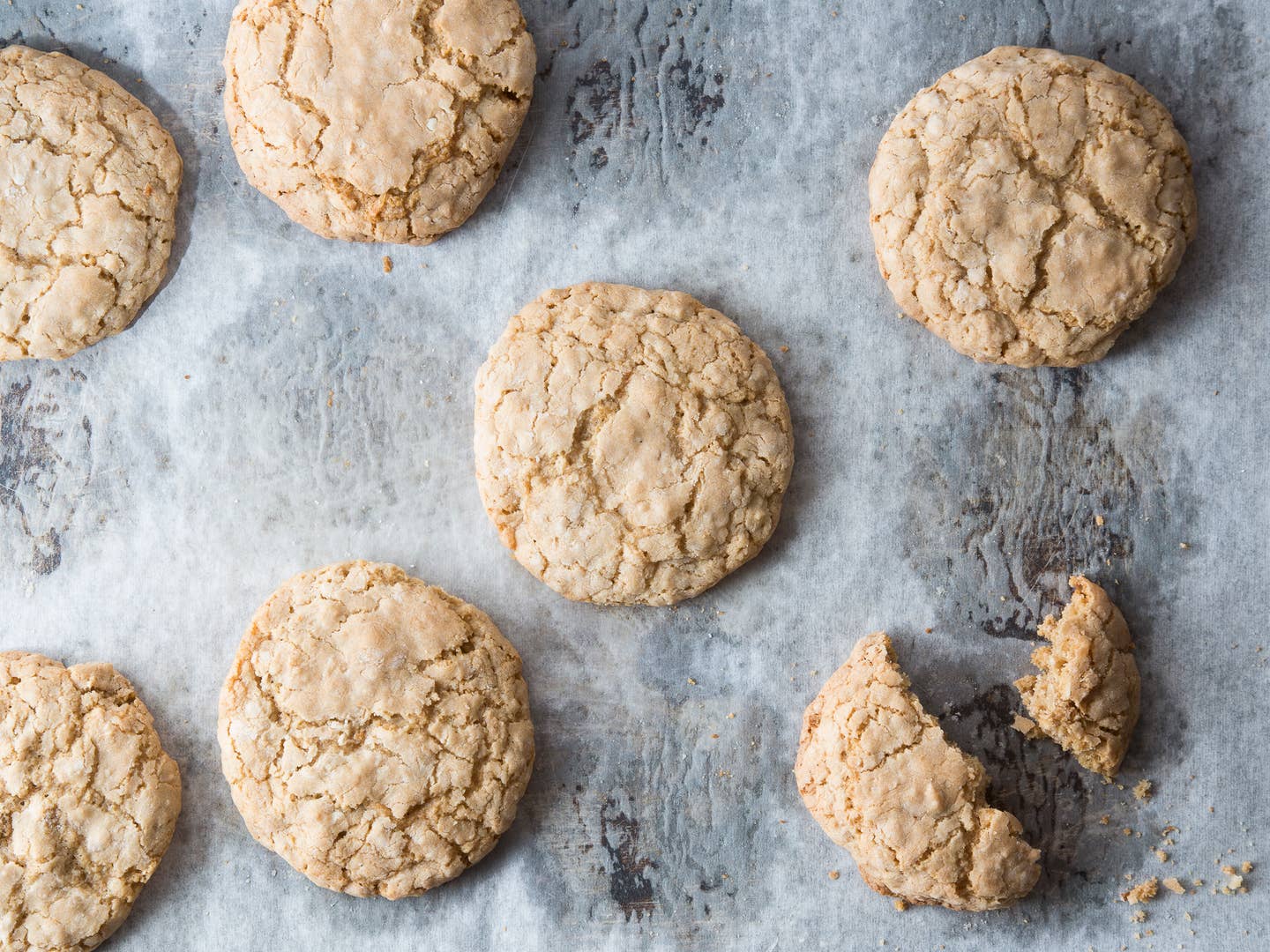 Techniques
The Tenth Degree: Christina Tosi
JUST BE YOURSELF. Even when you're afraid of the dark.
Yesterday, Milk Bar Life—a cookbook from Christina Tosi, chef/founder and owner of Milk Bar and creator of the famed crack pie and compost cookie—hit the stands. And just like that, a world formerly bereft of recipes for Kimcheezits with Blue Cheese Dip, Choose Your Own Adventure Chorizo Burgers, and Spaghettios Sammy (which is just what it sounds like), got a welcome dash of Tosi's quirkiness, in the savory realm. Between taping a season of MasterChef in Los Angeles, putting the finishing touches on Milk Bar Life, and running a chain of stores in NYC and Toronto, Tosi recently took the tenth degree, weighing in on Neil Young, Joan Didion and, of course, cookies.
What is your favorite sandwich?
If I'm dining "out," "the Chicago" (a take on a turkey reuben) or "the Kimchi Bulgogi" always with a bottle of Ting (grapefruit soda) from Sunny and Annies, a bodega just off Tomkins Square Park, in the East Village. If I'm dining "in," it's the Spaghettios Sammy (from Milk Bar Life): buttered and toasted potato bread, breakfast sausage links, spaghettios, a seasoned soft boiled egg, and a handful of potato chips.
Your house is on fire and you can only save one thing. What is it and why?
My wall of photos. I have a 2-story apartment, and the stairwell that spans both upstairs and downstairs is a collection of photos of my family throughout the years: ones when I was a chubby, fussy, red-headed toddler; ones of my grandmother churning out headscarves for the Milk Bar team before she passed; my nieces, my pups, my folks, my siblings. Special and unexpected moments that keep me inspired and safe, and remind me I'm loved and supported, no matter how far apart we are.
What book(s) is on your bedside table right now?
Slouching Towards Bethlehem, by Joan Didion, a selection of essays most of which take place in CA in the 60's. Living in LA for the past month shooting MasterChef has me in a cool, California dreaming type daze! The "obsessions" issue of Lucky Peach (I love the Jeremy Fox article about dealing with success and failure in this industry as you weather the rise and fall of your talent, career, etc. There is no roadmap for this; it is an incredibly difficult and emotional process and journey that never ends). And there's also a copy of Milk Bar Life, hot off the press (I got my copy before anyone else and read it for inspiration on the tough days).
You're having a dinner party and can invite three people, dead or alive, and serve them one thing. Who are they, what do you serve, and why?
My grandmothers, who largely shaped my fierce, sweet-toothed, card shark, snappy, sassy, fearless attitude, in all things, including time in the kitchen (I never got to feed and care for them the way they did for me as a child). And Neil Young, because I just think he's the dreamiest.
What is your greatest fear?
The dark (ridiculous, I know, but entirely true).
What is the most overrated ingredient? Underrated?
Overrated: Green tea powder (for some reason I can't stand the smell or taste of it—I was scarred at an early age making green tea gelées atop white chocolate panna cottas at Bouley, my first real NYC cooking gig). Underrated: Milk powder. It has so many magical powers in the world of flavor and texture on both the savory and sweet sides of the kitchen.
You can have any superpower. What is it and why?
The ability to go on forever, and to never need to slow down, rest, or sleep. Think about how much you could accomplish in that time! This world, this life is too exciting. Sleep is overrated, but sadly a necessity!
What is the best advice you've ever gotten, and from whom?
My mother, passed down from her mother. JUST BE YOURSELF. It's that tricky, but it's also that simple. Being genuinely yourself is one of the greatest strengths one can have. You can smell a phony from a mile away...
What is the last meal you want to eat before you die?
A frita con queso a caballo (a cuban cheeseburger with a sunny side up egg and matchstick potato chips) and watermelon juice from El Mago de las Fritas in Miami as my first course, and Butter Chicken from Angar in Abu Dhabi. A warm chocolate chip cookie for dessert, of course.