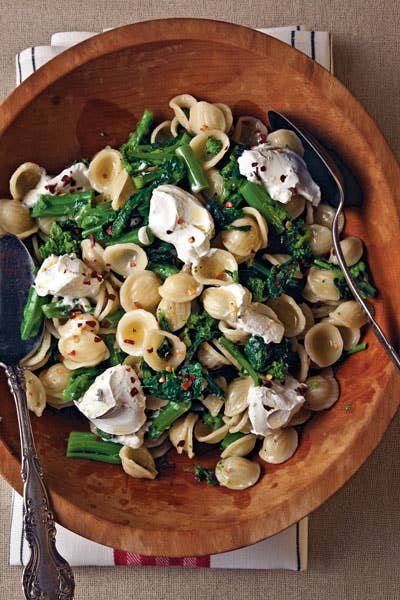 Recipes
Broccoli Rabe Recipes
An Italian staple that's best stuffed into stromboli and ravioli, blanched and sautéed, or tossed into pasta
Broccoli rabe, also known as rapini, is a slightly astringent green is particularly popular in Italian cooking. Raw or lightly cooked it can add a pleasant bitterness to a dish, while cooking it down mellows it out. Stuffed into stromboli and ravioli, blanched and sautéed, or tossed into pasta, we've rounded up our favorite broccoli rabe recipes.
We love pairing bitter broccoli rabe with rich pork. If you're from the Philadelphia area, this combination is likely familiar to you—local institution DiNic's is famous for pairing pork and rapini. The roast pork is probably their best-known offering, but we have a recipe for their decadent pulled pork, braised wine and herbs and served with provolone, hot peppers, and broccoli rabe on an Italian roll.
To balance out broccoli rabe, we turn to sweet, creamy, or tangy ingredients. To make a simple pasta, toss orecchiette with broccoli rabe and lemon zest and top with goat cheese. Or serve the vegetable with sweet golden raisins, spicy red pepper flakes, and crunchy toasted pine nuts for a side that goes well with grilled salmon or meatballs.
Stromboli is an Italian-American classic typically made with pizza dough. For our chicken and broccoli rabe stromboli with mozzarella and cherry peppers, however, we use an Italian bread dough to get a super crispy crust.
Find all of these dishes and more in our collection of broccoli rabe recipes.