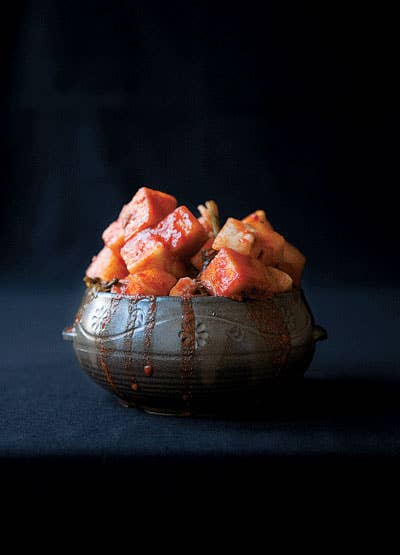 Recipes
Daikon Recipes
Learn to use this Asian staple
Long a staple in Asian cuisines, daikon's versatility seems endless. Earthy and slightly bitter with a light, crunchy texture, it makes a great pickle, but can also be curried, served in soup, or mashed into cakes. From a classic Vietnamese banh mi to tempura dipping sauce, we've rounded up our favorite daikon recipes.
Daikon's crunchiness makes it perfect for pickling. Behind cabbage, daikon is one of the most popular ingredients for making Korean kimchi. Our radish kimchi pairs daikon with a little radish and is flavored with chile powder, garlic, ginger, and dried shrimp. The fermentation takes about a week to get going, and the flavor will only intensify as it sits for up to six months.
Vietnamese banh mi also feature pickled daikon, but you don't need six months to make it. Half an hour is enough time to quick-pickle a carrot and radish slaw that provides a refreshing acidity to the pork-filled sandwich.
Rather than just being a condiment, daikon has the ability to stand up on its own as the center of a dish. Our aromatic daikon curry is a simple vegetarian Indian dish richly seasoned with coriander, cumin, turmeric, and other spices.
For Chinese New Year, it is popular to make daikon into small, savory cakes. Grated daikon is mixed with rice flour, dried shrimp and sausage, and spices before being steamed and then pan-fried. We like to serve them with a sauce made from hoisin, garlic chili sauce, and green onions.
Find all of these dishes and more in our collection of daikon recipes.