One Good Find: Truffle Slicer
Get paper thin slices of vegetables, cheese and more, without a knife in sight.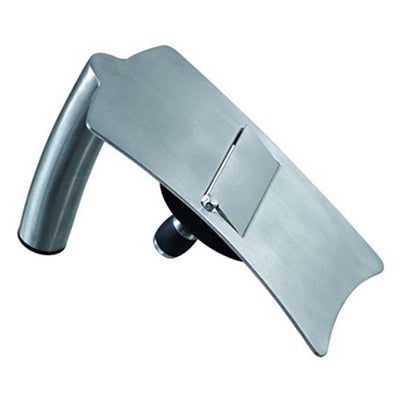 I recently moved to New York from Oregon, and my fellow test kitchen assistants have been quick to point out my Pacific Northwest peculiarities. One of these quirks is my love of truffle shavers. Maybe it's just my Oregon truffle roots, but I find they're the perfect tool for small, quick slicing and shaving jobs. The best one I've found is the German-made Mafter Bourgeat Truffle Slicer. The thickness can be adjusted with the turn of a knob. The blade is sharp, the attached stand adds stability, and the ergonomic curve of the frame allows for speedy work. While recipe testing, I was able to slice a mountain of Yukon Gold potatoes in the matter of a couple minutes. Shallots, garlic, mushrooms, chocolate, limes, galangal, Parmigiano Reggiano… this slicer can handle it all the test kitchen throws at it, and more.
Mafter Bourgeat Truffle Slicer, $69.95 at knifemerchant.com.