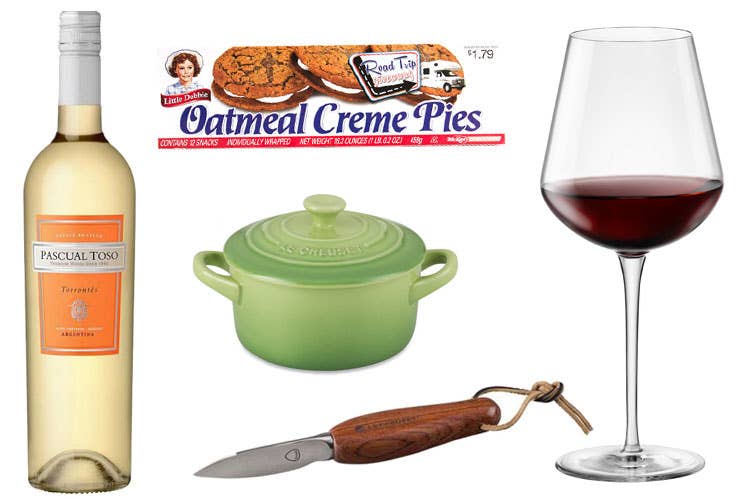 Shopping & Reviews
SAVEUR Selects: September 2014
We come across all sorts of great products in the SAVEUR office. Check out our favorites for September: a handmade oyster knife, elegant stemware, and more selected by test kitchen director Farideh Sadeghin. Sign up for the monthly SAVEUR SELECTS e-mail newsletter »
I could eat dozens of oysters in a single sitting. This handmade oyster knife has a wooden handle, so it's comfortable to hold and makes shucking easy.
Oyster knife, $40 at lecreuset.com
When I finished my internship at Saveur, I was given one of these mini stoneware cocottes. Now that I run the test kitchen, each of my assistants gets one, too.
Stoneware cocotte, $25 at williams-sonoma.com
Who says white wine is just for summer? The 2013 Pascual Tosos Estate Torrontes from Argentina is light and smooth, and will be my go-to bottle this fall.
Pascual Tosos Estate Torrontes, $9 at ultimatewineshop.com
The stemware from Bormiolli Rocco's new line In Alto Uno isn't just beautiful—the stem of each glass is specially treated to be extra resistant to breakage.
Bormioli Rocco 16-ounce Inalto wine glasses, $65 for a set of 6 at amazon.com
Growing up, my mom didn't allow snack foods, but Dad always kept a stash of Little Debbie's Oatmeal Cream Pies—to this day, I find them impossible to resist.
Little Debbie's Oatmeal Creme Pies, $2 at local grocery stores
We do a lot of precise measuring to test recipes in the Saveur kitchen—these mini ¼ cup measuring cups are perfect for preparing my mise en place.
Mini Angled Measuring Cup, $5 at oxo.com
FARIDEH SADEGHIN, test kitchen director
My favorite Saveur issue: I love the Naples issue—it was fun to work on since I'm such a pizza fanatic.
A dish that reminds me of home: I'm from Maryland, so anything with crab! I love cream of crab soup, crab dip, crab cakes, you name it.
Where I'm planning my next trip: Hopefully somewhere in Northern Africa, particularly Morocco. I love the food, and the landscape is so beautiful.