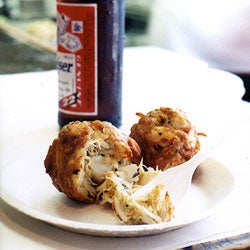 While visiting Nick's Inner Harbor Seafood in Baltimore we enjoyed these crab cakes. In this recipe, they are prepared as an appetizer, but feel free to make six large cakes and serve as an entree.
Maryland Crab Cake
Maryland is famous for its fresh crab—one bite of these authentic crab cakes, and you'll know why.
Yield:
makes 18 Small Cakes
Ingredients
2 lb. jumbo lump crabmeat
2 eggs
2 tbsp. mayonnaise
1 tsp. dijon mustard
1 tbsp. worcestershire sauce
1⁄4 cup fresh parsley, minced
6 tbsp. cracker meal
Vegetable oil
Instructions
Discard any cartilage or shell from crabmeat. Mix together eggs, mayonnaise, mustard, worcestershire sauce, and parsley in a mixing bowl.
Add crab, taking care not to break up crabmeat. Add cracker meal, then shape mixture into 18 2″ cakes. Cover with plastic wrap and refrigerate 1 hour.
Pour vegetable oil into a large skillet to a depth of 1⁄4" and heat over medium-high heat. Fry the cakes until golden brown, turning once, about 5 minutes per side.