Abruzzo-Style Grape Focaccia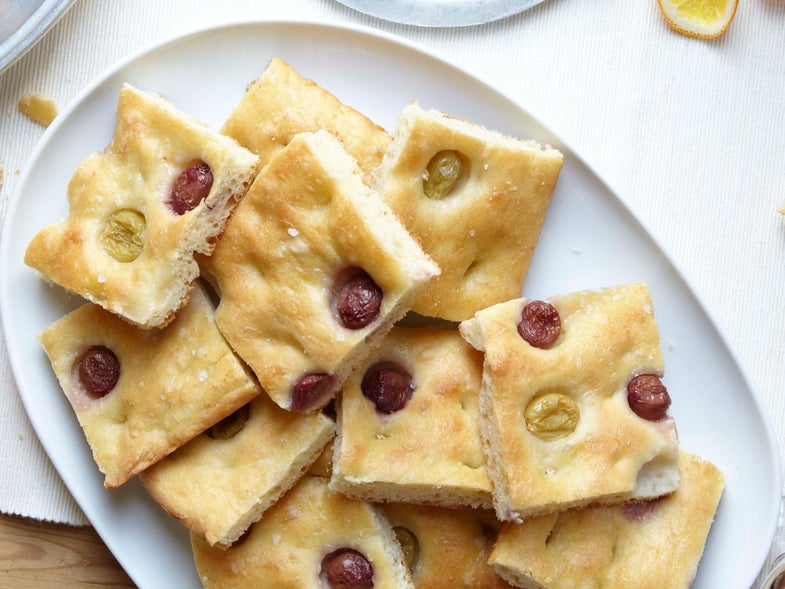 When this fluffy, oil-slathered dough bakes, the red and green grapes dotting it burst, releasing their sweet juices into the bread. The recipe is from Chiara Pepe, granddaughter of winemaker Emidio Pepe. Featured in: The Road to Abruzzo
Find this recipe in our cookbook, SAVEUR: Italian Comfort Food
Abruzzo-Style Grape Focaccia
When this fluffy, oil-slathered focaccia bakes, the red and green grapes dotting it burst, releasing their sweet juices into the bread.
Time: 2 hours, 10 minutes
Ingredients
1⁄3 cup extra-virgin olive oil, plus more for greasing and brushing
1 cup whole milk
5 cups flour
2 tsp. kosher salt
1⁄4 oz. active dry yeast
6 oz. seedless green and/or red grapes
Maldon flake sea salt, to taste
Instructions
Grease a 13″x18″ rimmed baking sheet and set aside. Heat milk and 1 cup water in a 1-qt. saucepan over medium until an instant-read thermometer reads 115°. Pulse flour, kosher salt, and active dry yeast in a food processor to combine. With the motor running, slowly add milk mixture and olive oil; mix until a smooth dough forms. Transfer dough to a lightly greased bowl and cover loosely with plastic wrap; set in a warm spot until the dough has doubled in size, about 1 hour.
Transfer dough to prepared baking sheet and, using your fingers, spread dough out to the edges until it completely covers the bottom. Using your fingertips, press dough all over to form dimples; press grapes into the dough, spaced about 1 1⁄2″–2″ apart. Brush dough with olive oil and sprinkle with sea salt; let dough sit, uncovered, until puffed, about 45 minutes.
Heat oven to 400°. Bake focaccia until golden brown and cooked through, about 25 minutes. Let cool slightly before serving.