Recipes
Yucatán-Style Shredded Pork Tacos with Achiote (Cochinita Pibil Tacos)
Serves

serves 8-10

Cook

4 hours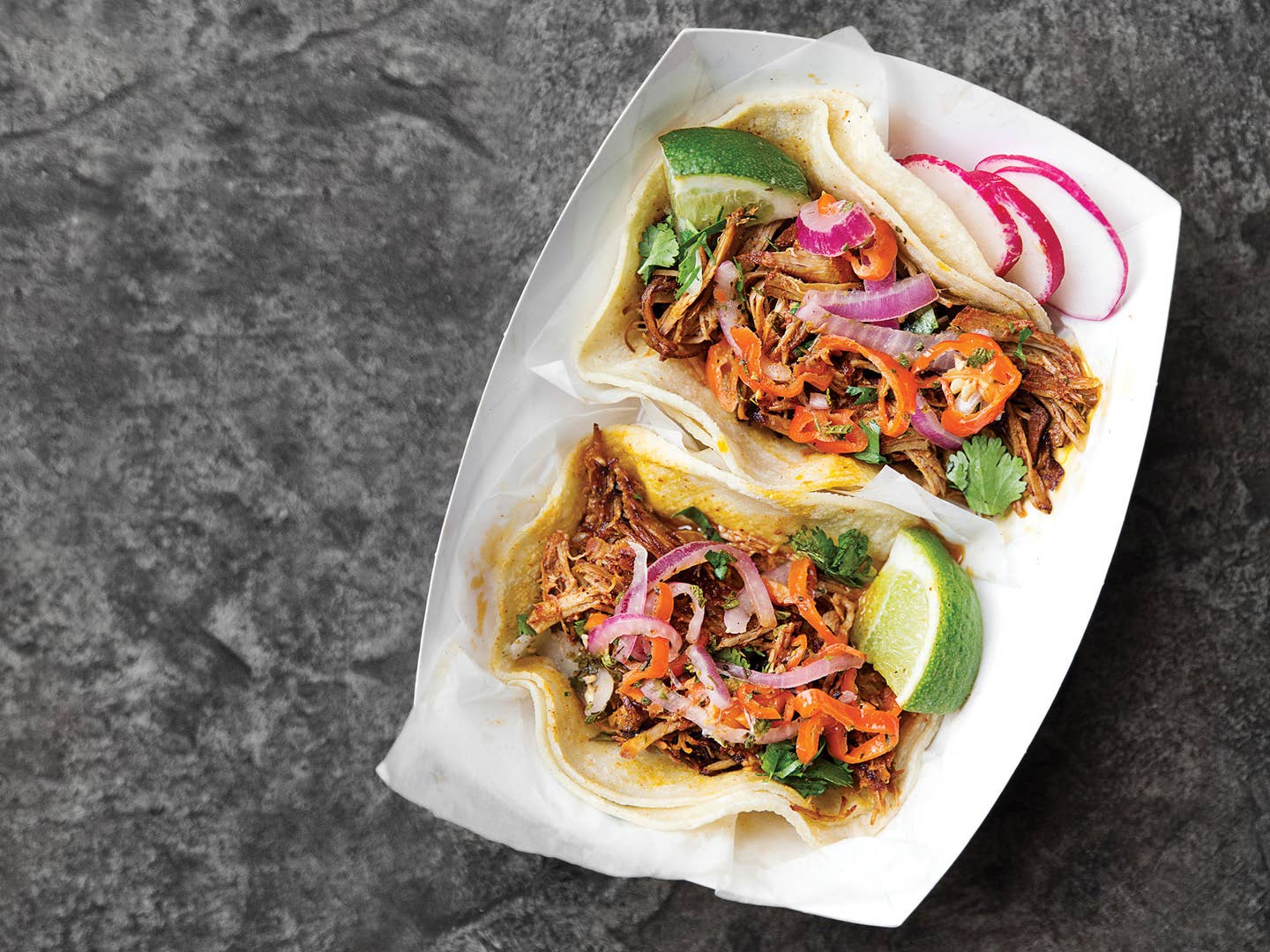 Pib is the Mayan word for the type of traditional oven—little more than a hole filled with heated stones, on top of which leaf-wrapped meats are cooked—that was once prevalent in the Yucatán. This pibil recipe, inspired by one used at Chando's in Sacramento and prepared in a Dutch oven, pops with earthy achiote paste and citrus juices, yielding a luscious, spicy pulled pork.
Ingredients
4 oz. achiote paste, such as El Yucateco (mexgrocer.com)

1 cup fresh lime juice
1 cup fresh orange juice
1 1⁄3 cups white vinegar
3 tbsp. dried oregano, preferably Mexican (mexgrocer.com)

2 tsp. Kosher salt, plus more, to taste
4 lb. boneless pork shoulder, cut into 2" pieces
2 (28"-long) banana leaves
2 cups boiling water
1 medium red onion, thinly sliced
4 cloves garlic, thinly sliced
2 habanero peppers, thinly sliced
1 bay leaf
Corn tortillas, warmed, for serving
Roughly chopped cilantro, sliced radishes, and lime wedges, for serving
Instructions
Step 1
Make the pork: Combine achiote paste, lime and orange juices, 1⁄3 cup vinegar, and the oregano in a blender; season with salt and purée until smooth. Strain marinade through a fine-mesh sieve into a bowl; add pork and toss to combine. Line the bottom of a 6-qt. Dutch oven with banana leaves, letting the excess hang over the side of the pot. Add pork and its marinade; fold leaves over pork and place lid on pot; bring to a boil. Reduce heat to medium-low; cook until pork is tender, about 2 1⁄2 hours.
Step 2
Meanwhile, stir water and onion in a bowl; let sit 3 minutes and drain. Stir in remaining vinegar, 2 tsp. salt, the garlic, habaneros, and bay leaf; cover and let sit at room temperature for at least 1 hour before serving.
Step 3
Unwrap and transfer pork to a cutting board; shred into bite-size pieces and transfer to a bowl. Stir in 1 cup cooking liquid from the pot. To serve, divide pork between tortillas; top with pickled onion mixture, the cilantro, and radishes. Serve with lime wedges.