Recipes
Cheesecake with Charred Rhubarb Compote and Sliced Strawberries
Serves

serves 10-12

Cook

5 hours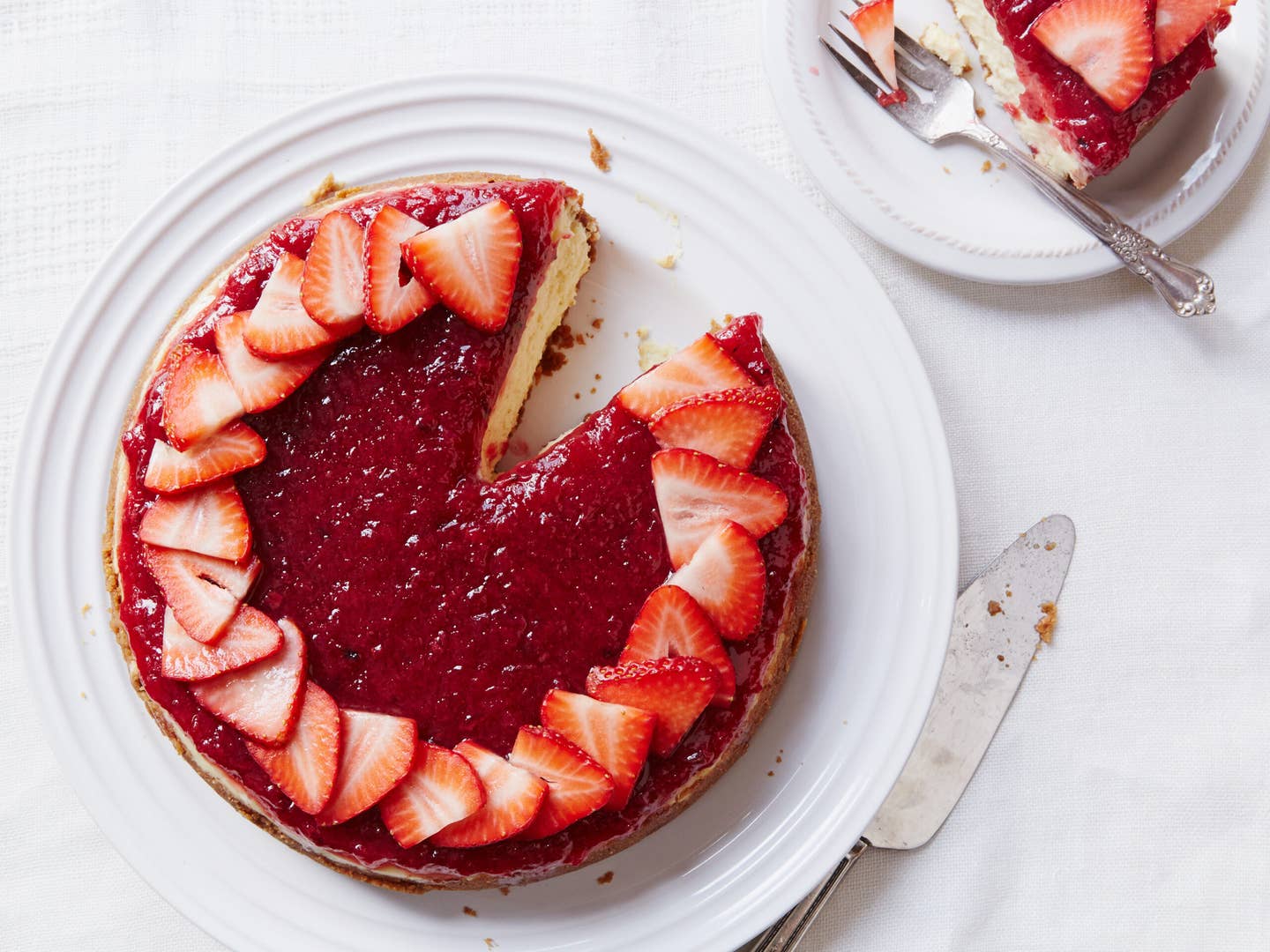 Pastry chef Anna Posey of Chicago's Publican blackens rhubarb in a wood-fired oven for the cheesecake's compote topping. A standard oven will also do the trick.
Ingredients
For the Crust
5 tbsp. unsalted butter, melted, plus more for greasing
6 oz. graham crackers
1 tsp. sugar
1⁄4 tsp. freshly grated nutmeg
1⁄4 tsp. kosher salt
For the Filling and Garnish
1⁄2 cup sour cream
3 (8-oz.) packages cream cheese, softened
1 1⁄4 cups sugar
2 tbsp. unsalted butter, softened
4 eggs, room temperature
2 tbsp. dark rum
1⁄2 tsp. kosher salt
1 vanilla bean, split lengthwise, seeds scraped and reserved
Sliced strawberries, for garnish
Instructions
Step 1
Make the crust: Heat oven to 375°. Grease a 9″ (3″-deep) springform pan with butter. Pulse graham crackers in a food processor into fine crumbs. Add melted butter, sugar, nutmeg, and salt; pulse to combine and press mixture into bottom and 1 1⁄2″ up the sides of pan. Bake until set, 6–8 minutes, and cool. Wrap outside of pan with aluminum foil; transfer to a roasting pan.
Step 2
Make the filling: Reduce oven to 325°. In the bowl of a stand mixer fitted with a paddle, beat sour cream and cream cheese on high until smooth. Scrape down sides of bowl and add sugar and butter; mix on medium until combined. With the motor running, add eggs, one at a time, mixing well after each addition. Add rum, salt, and vanilla bean and seeds; mix until combined and pour into prepared crust. Pour enough boiling water into roasting pan to come halfway up the side of springform pan; bake until filling jiggles slightly in the center when the pan is tapped on the side, 50 minutes to an hour. Remove springform pan from water bath and let cool completely; chill until set, 3–4 hours.
Step 3
Spread Charred Rhubarb Compote over cheesecake and garnish with strawberries; chill 1 hour before serving.