Recipes
Chuan-Chuan (Malaysian Pan-Seared Snapper with Garlic and Chiles)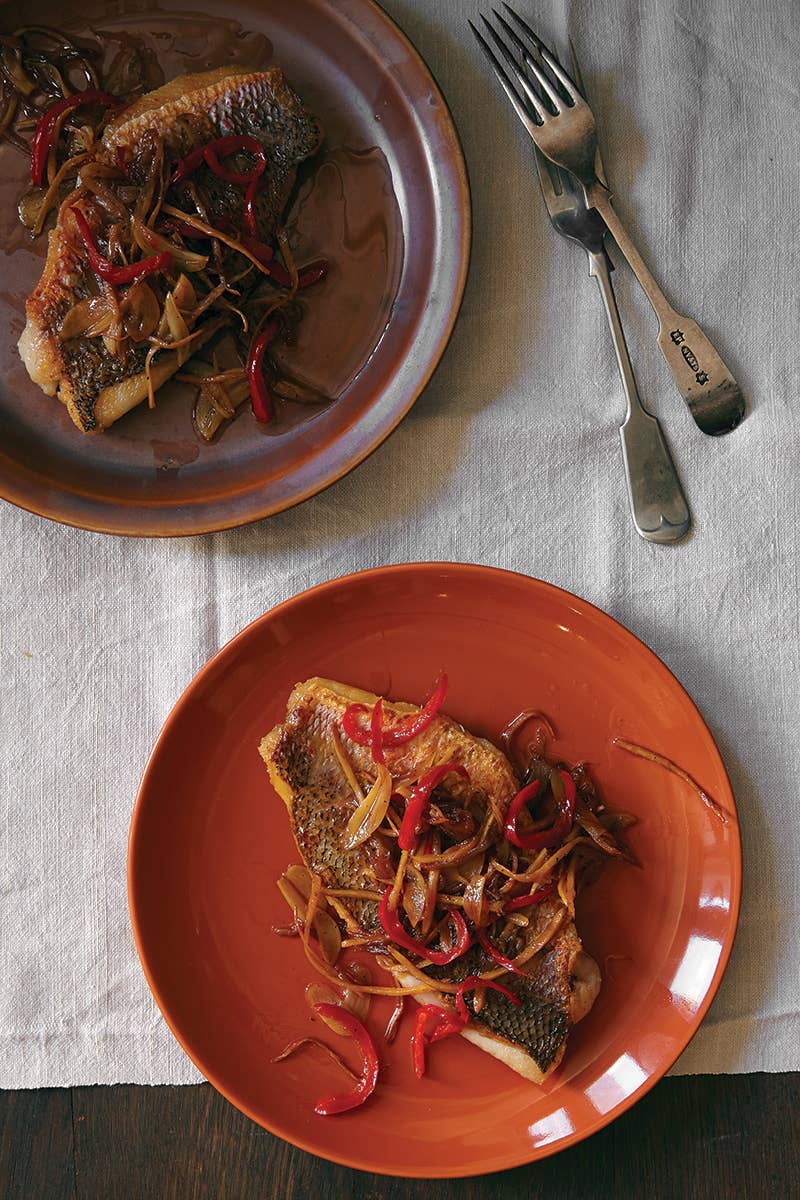 Pan-frying filets of snapper until golden and crisp, then sautéeing a blend of garlic, ginger, and chiles in the pan juices with a splash of soy sauce and vinegar yields a homey, satisfying dish that comes together in a flash. The recipe is adapted from one in James Oseland's Cradle of Flavor (W. W. Norton & Company, 2006).
Ingredients
1 tsp. soy sauce
1⁄2 tsp. double black soy sauce
1⁄2 tsp. sugar
1⁄4 tsp. ground black pepper
5 tbsp. peanut oil
2 lb. boneless, skin-on red snapper fillets
10 cloves garlic, thinly sliced
1 small red onion, thinly sliced
1 (3") piece ginger, peeled, thinly sliced crosswise, and cut into matchsticks
1 tsp. palm or rice vinegar
2 tsp. red Fresno or Holland chiles, stemmed and thinly sliced on an angle
Instructions
Step 1
Stir soy sauces, sugar, and pepper in a bowl. Heat oil in a 12" skillet over medium-high. Cook fish, flipping once, until cooked through and skin is crisp, 4–6 minutes; transfer to a serving platter and keep warm. Add garlic, onion, and ginger to skillet; cook until golden, 10–12 minutes. Stir in reserved sauce; boil. Add vinegar and chiles; cook 1–2 minutes. Spoon sauce over fish.