Duck Liver Mousse with Cipolline Onions and Mushrooms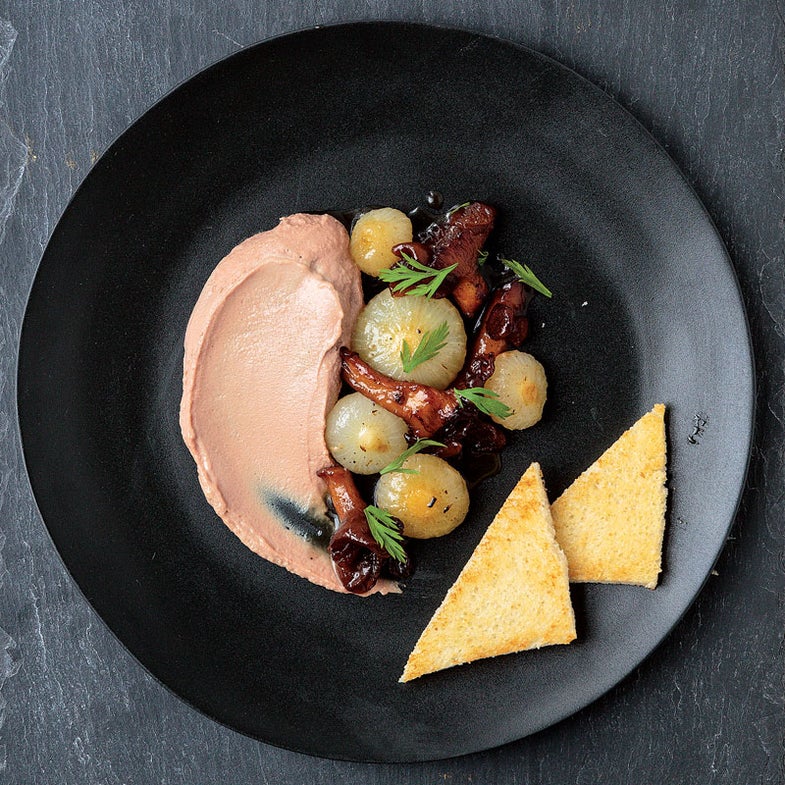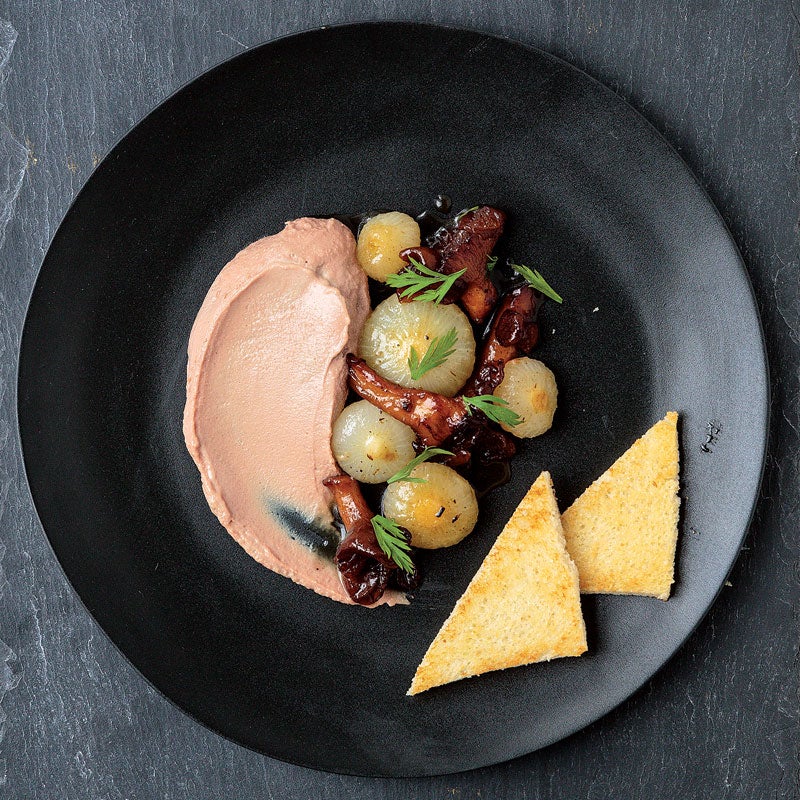 In this creamy, refined version of liver and onions, from Toronto's The Black Hoof restaurant, ethereal duck liver mousse pairs with caramelized cipolline onions and mushrooms. This recipe first appeared in our Jan/Feb 2014 SAVEUR 100 issue with the article Liver and Onions from the Black Hoof.
Yield: serves 6
Ingredients
For the Mousse
8 oz. duck liver, chopped
1 oz. cognac
1 1⁄4 cups heavy cream
6 tbsp. unsalted butter, cubed
1 1⁄2 tsp. kosher salt
3 egg yolks
For the Serving
4 tbsp. unsalted butter
18 cipolline onions, peeled
8 oz. chanterelle or morel mushrooms, cleaned
1⁄2 cup honey
Kosher salt and freshly ground black pepper, to taste
Chervil sprigs, for garnish
Toast points, for serving
Instructions
Make the mousse: Heat oven to 300°. Line a 9″ x 5″ x 2¾″ loaf pan with plastic wrap, letting at least 4″ hang over the edges; set aside. Purée liver, cognac, cream, butter, salt, and yolks in a food processor until smooth. Press mixture through a fine-mesh sieve into a bowl. Spread into prepared pan; fold excess plastic over top of pan. Place pan into a 9″ x 13″ baking dish; pour boiling water into dish to come halfway up outside of pan. Bake until slightly firm, about 35 minutes, or until an instant-read thermometer inserted into middle of mousse registers 150°. Chill until completely firm, at least 4 hours.
To serve: Melt butter in a 12″ skillet over medium-high heat. Add onions; cook until slightly caramelized, 4–6 minutes. Add mushrooms; cook until golden, 3–4 minutes. Add honey, 3 tbsp. water, salt, and pepper; cook until liquid is reduced to a thick syrup, 6–8 minutes. Unwrap mousse; divide among 6 plates with onion mixture. Garnish with chervil; serve with toast points.