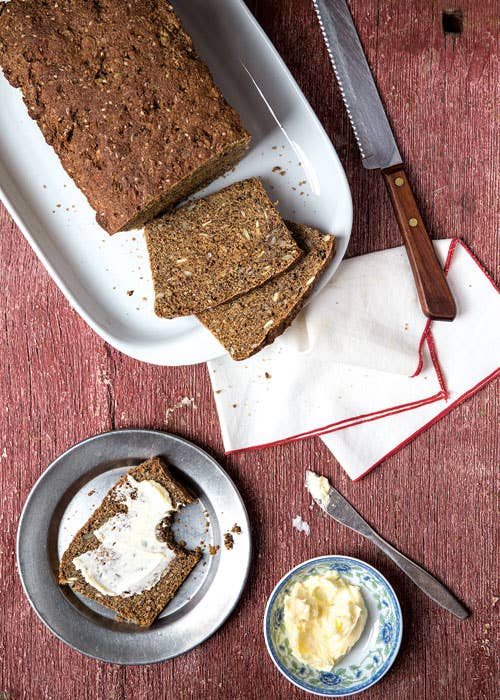 Recipes
Filmjölkslimpa (Seeded Buttermilk Bread)
This rustic whole wheat brown bread is sweetened with molasses and loaded with almonds and diverse seeds. Dense and nutty, it's delicious smeared with sweet butter or as the basis for an open-face sandwich topped with sharp cheese, cucumber, and a juicy slice of tomato. It first appeared in our June/July 2014 issue with Per Styregård's story "A Midsummer's Dream."
Unsalted butter, for greasing
2 cups whole wheat flour, plus more for dusting
2 cups buttermilk
½ cup molasses
2 cups rye flour
½ cup sliced almonds
⅓ cup flaxseed
⅓ cup sunflower seeds
¼ cup pumpkin seeds
3 tbsp. sesame seeds
1 tbsp. kosher salt
1 tsp. baking soda
Heat oven to 350°. Grease a 9" x 5" x 2¾" loaf pan and dust with flour; set aside. Stir buttermilk and molasses in a bowl. Add flours, almonds, seeds, salt, and baking soda; mix until dough forms and transfer to prepared pan. Bake until a toothpick inserted in the center of the bread comes out clean, about 1 hour.