Grillad Lammentrecôte med Röra på Rostade Tomater (Grilled Herb-Marinated Entrecôte of Lamb with Roasted Tomato Sauce)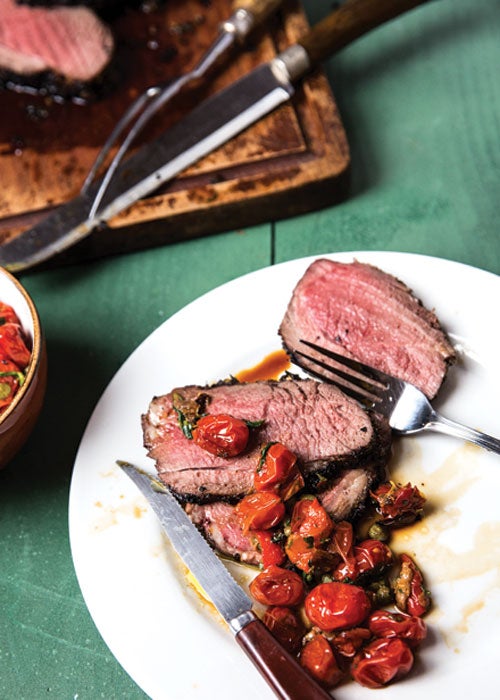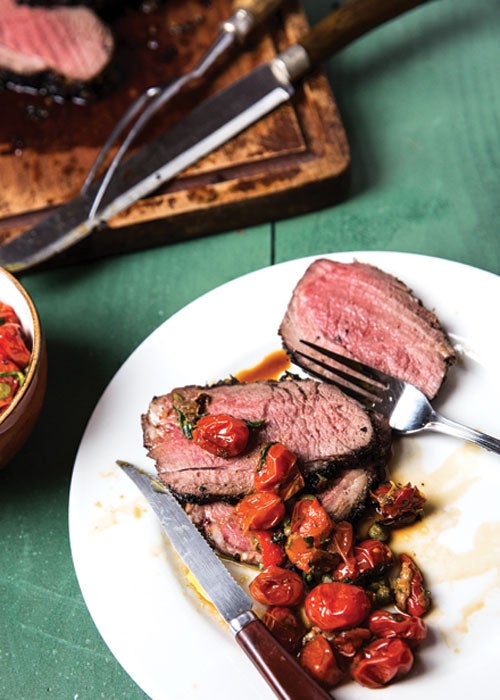 Succulent lamb entrecôte, a well-marbled boneless cut from the sirloin, is blanketed in a marinade of garlic, fresh marjoram, thyme, rosemary, and sage, which caramelize to form a flavorful crust as the lamb grills. At their Midsummer celebration in southern Sweden, writer Per Styregard's friends paired the lamb with a zesty umami-rich sauce of oven-roasted tomatoes, capers, and anchovies. This recipe first appeared along Styregard's story "A Midsummer's Dream."
Yield: serves 6
Ingredients
FOR THE LAMB
2 lb. lamb entrecôte (boneless sirloin), trimmed
1⁄3 cup olive oil
3 tbsp. minced marjoram
3 tbsp. minced rosemary
3 tbsp. minced sage
3 tbsp. minced thyme
8 cloves garlic, mashed into a paste
Kosher salt and freshly ground black pepper, to taste
FOR THE TOMATO SAUCE
1⁄2 cup roughly chopped basil
1⁄4 cup olive oil
2 tbsp. minced thyme
3 shallots, roughly chopped
2 cloves garlic, roughly chopped
2 pints cherry tomatoes
1⁄2 small Holland chile, seeded and minced
Kosher salt and freshly ground black pepper, to taste
2 tbsp. capers
5 fillets canned anchovies packed in oil, drained, and roughly chopped
1 large red bell pepper, roasted, peeled, seeded, and roughly chopped
Zest of 1 lemon, plus 2 tsp. juice
Instructions
Marinate the lamb: Place lamb in a 9″ x 13″ baking dish and season with salt and pepper. Stir oil, marjoram, rosemary, sage, thyme, and garlic in a bowl; rub paste all over lamb and let sit for 30 minutes.
Make the tomato sauce: Heat oven to 375°. Toss half each of the basil, oil, and thyme, plus the shallots, garlic, tomatoes, chile, salt, and pepper on a rimmed baking sheet; bake until tomatoes pop, about 45 minutes. Let cool slightly, then transfer to a bowl; stir in remaining basil, oil, and thyme, the capers, anchovies, bell pepper, and lemon zest and juice. Keep warm or let cool to room temperature.
Grill the lamb: Heat a charcoal grill or set a gas grill to medium-high. (Alternatively, heat a cast-iron grill pan over high.) Grill lamb, turning as needed until cooked to desired doneness, 18–20 minutes for medium rare. Let rest 10 minutes before slicing. Serve with reserved tomato sauce.