Recipes
Grilled Turkey Breast with Caramelized Onion, Cracked Black Pepper, and Vinegar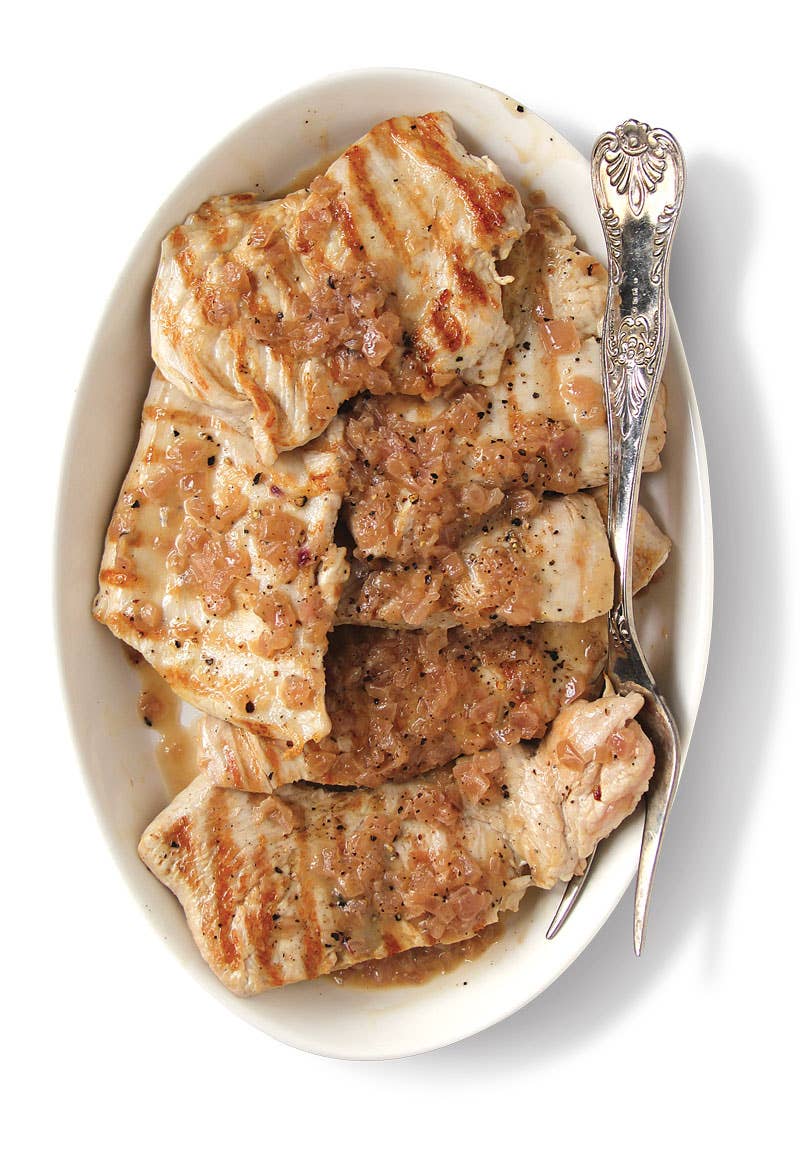 Freshly cracked, rather than precracked, peppercorns make a huge difference in this dish since the pepper is a featured ingredient rather than mere seasoning. A great fast entrée for entertaining, this also makes a terrific nontraditional Thanksgiving main. The recipe, developed by chef Mary Sue Milliken, first appeared in the iPad edition of our November 2013 issue with the article State of Grace.
Ingredients
8 tbsp. unsalted butter, cubed and chilled
2 medium red onions, finely chopped
Kosher salt, to taste
1 cup white vinegar
2 cups turkey or chicken stock
1 tbsp. cracked black peppercorns, plus freshly ground black pepper, to taste
2 1⁄4 turkey breast, cut into 4" pieces and pounded into 1/6–thick medallions
2 tbsp. olive oil
Instructions
Step 1
Melt 3 tbsp. butter in a 12" skillet over medium-high heat. Add onions and salt; cook until golden, 12–15 minutes. Add vinegar and bring to a boil; reduce by half, 3–5 minutes. Add stock and cook until liquid is reduced and thickened, about 15 minutes. Remove from heat and stir in remaining butter and cracked peppercorns until butter is melted; set sauce aside and keep warm.
Step 2
Heat a charcoal grill or set a gas grill to high. (Alternatively, heat a cast-iron grill pan over medium-high heat.) Brush turkey with oil and season with salt and freshly ground black pepper. Grill, flipping once, until browned and cooked through, 3–4 minutes. Transfer to a serving platter and drizzle with ½ cup reserved sauce; serve with remaining sauce on the side.