Recipes
Japanese New Year's Soup
Welcome 2022 with Nancy Matsumoto's soothing winter bowl.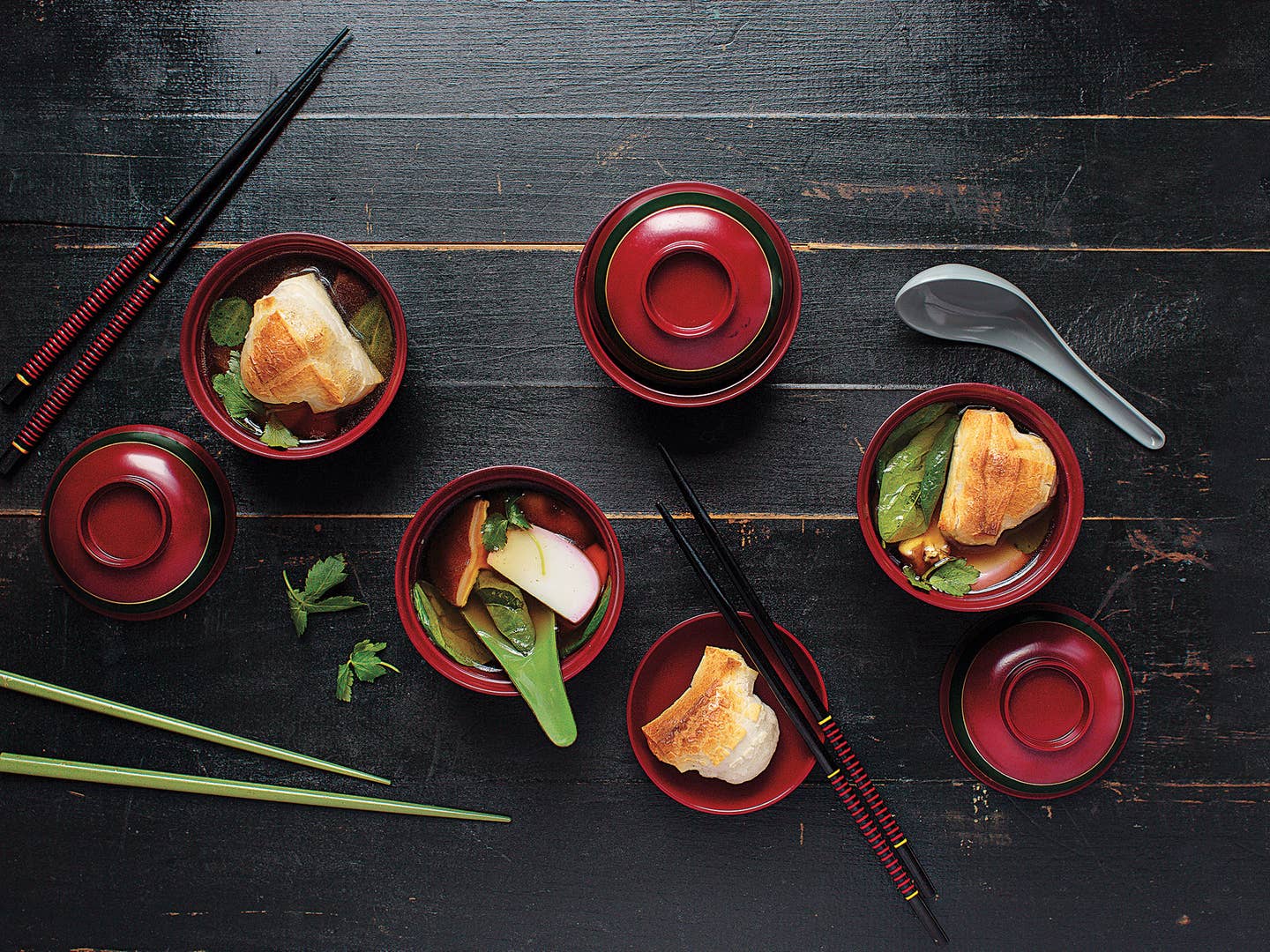 In Japanese homes on the first day of the year, the dish to eat is ozoni, a soup composed of pink-rimmed fish cake, daikon, carrot, and shiitake mushrooms floating in a rich dashi (kelp and bonito broth) along with mochi, chewy rice cakes, which are oven-toasted until they resemble fire-licked marshmallows. The preparation varies by region. Sometimes chicken broth is used; Napa cabbage or pork can be added. Wherever it is served, ozoni is said to bring good luck, but for me, the medium is the message: I feel blessed just to have this steaming bowl in front of me, ready to be devoured in the company of loved ones.
Ingredients
4 dried shiitake mushrooms
4 cups chicken stock
2 boneless, skinless chicken thighs, cut into 1" pieces
4 oz. daikon radish, peeled and sliced 1/4" thick on the bias
1 carrot, sliced 1/4" thick on the bias
4 oz. kamaboko (Japanese fish cake), sliced 1/4" thick
1 cup spinach, stems trimmed
1 tbsp. sake
1 tsp. soy sauce
Kosher salt, to taste
4 kiri mochi (glutinous rice cakes), 1" x 2", about 1/2" thick
Mitsuba or parsley sprigs, for garnish
Instructions
Step 1
Place shiitakes in a bowl. Bring 1 cup stock to a boil in a 4-qt. saucepan and pour over shiitakes; let sit until softened, 4-6 minutes. Using a slotted spoon, transfer shiitakes to another bowl and discard stems. Pour stock back into pan, discarding any dirt or sediment.
Step 2
Add remaining stock and the chicken to pan; bring to a boil. Reduce heat to medium; add daikon and carrot. Cook, stirring occasionally, until chicken is cooked through, 6-8 minutes. Add reserved shiitakes, the sliced fish cake, spinach, sake, soy sauce, and salt; cook until spinach is wilted, about 2 minutes. Keep soup warm.
Step 3
Heat oven to 425°. Place glutinous rice cakes directly on an oven rack; bake, turning as needed, until browned in spots and puffed, 6-8 minutes. Divide rice cakes between 4 bowls and ladle soup over top; garnish with mitsuba sprigs. Serve hot.