Recipes
Jardalu ma Marghi (Parsi-Style Chicken Curry with Apricots and Shoestring Potatoes)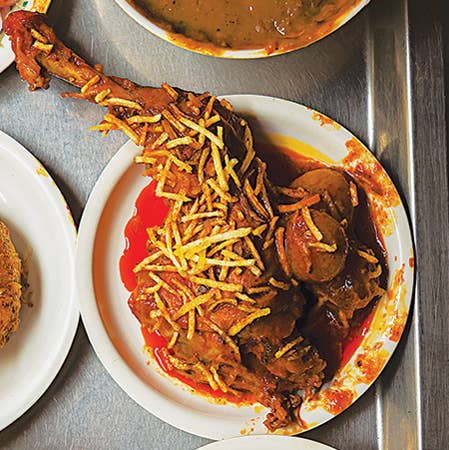 Ideal Corner, a restaurant in Mumbai's Fort district, specializes in the cuisine of the Parsi, followers of the prophet Zoroaster who began emigrating to India around the eighth century from Persia. The cuisine still bears that ancient influence, featuring meats and vegetables paired with sweet and sour flavors and lavished with diverse spices. In this Parsi chicken curry, the sweet notes of dried apricots pair with chiles, cinnamon, ginger, and cardamom for a complex interplay of sweet, sour, and piquant. This recipe first appeared in our August/September 2014 special India issue with Lyla Bavadam's story Persian Roots.
Ingredients
1 lb. russet potatoes, peeled and finely julienned
Kosher salt, to taste
2 tbsp. canola oil, plus more
2 cups dried apricots
2 cups unsweetened apple juice
6 chiles de árbol, stemmed
4 cloves garlic, peeled
1 (2") piece ginger, peeled and thinly sliced
2 lb. bone-in, skin-on chicken thighs
1⁄2 tsp. cumin seeds
5 whole cloves
3 green cardamom pods
2 sticks cinnamon, halved
1 large yellow onion, sliced
1⁄4 cup madeira
Instructions
Step 1
Soak potatoes in salted water 1 hour; drain and dry using paper towels. Heat 2" oil in a 4-qt. saucepan until a deep-fry thermometer reads 350°. Working in batches, fry potatoes until crisp, 2–3 minutes. Transfer to paper towels to drain; season with salt.
Step 2
Bring apricots and juice to a simmer in a 6-qt. saucepan over medium-high heat; cook until apricots are plump, about 10 minutes. Transfer apricots and half the juice to a bowl. Place remaining juice in a food processor; add chiles, garlic, and ginger and purée into a paste.
Step 3
Wipe pan clean and add 2 tbsp. oil; heat over medium-high. Season chicken with salt; cook, flipping once, until skin is crisp, 6–8 minutes, and transfer to a plate. Add reserved paste to pan; cook until golden, 2–3 minutes. Add cumin seeds, cloves, cardamom, and cinnamon; cook until seeds pop, 1–2 minutes. Add onion; cook until caramelized, 10–12 minutes. Add reserved apricots and juice, plus 1⁄4 cup water, and salt; boil. Reduce heat to medium-low and return chicken to pan; cook, covered, until chicken is cooked through, 18–20 minutes. Stir in madeira; cook 2 minutes. Transfer to a serving platter; garnish with fried potatoes.