Recipes
Pecan Sticky Buns
Butter, cinnamon, and brown sugar flavor this American breakfast classic.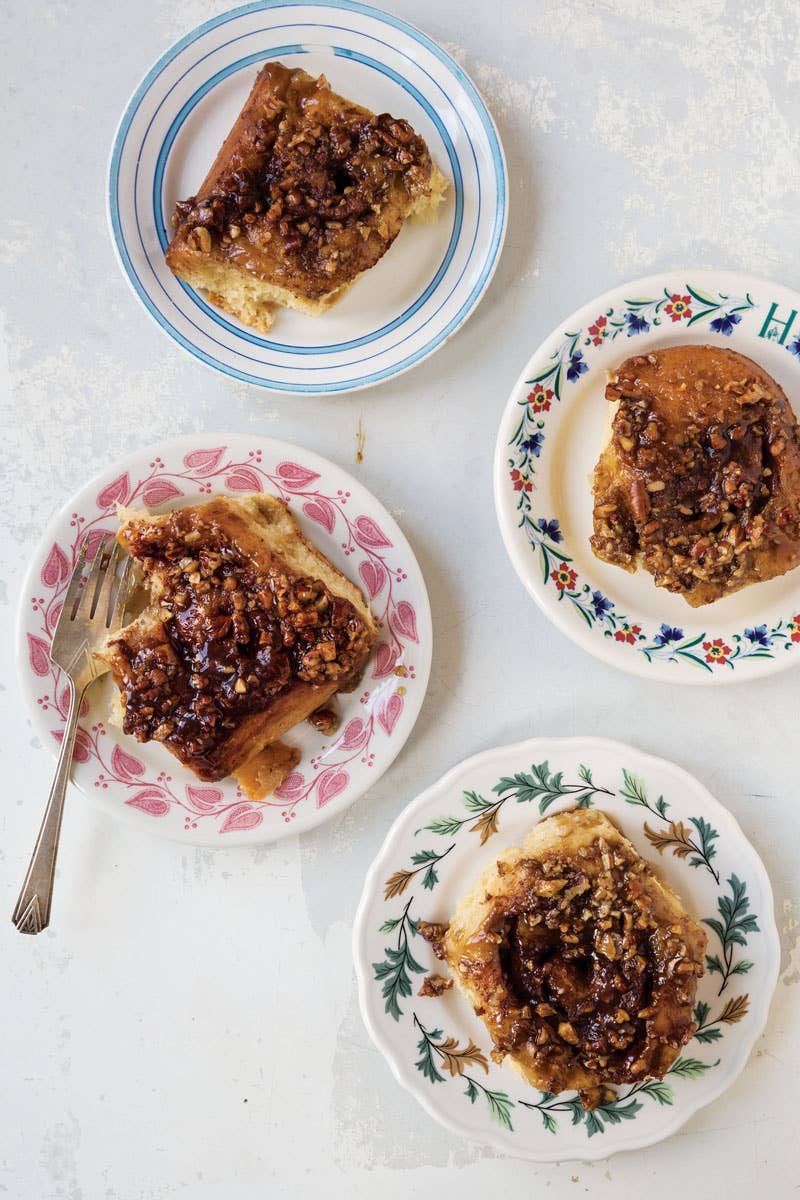 Three types of sugar sweeten this pecan sticky bun recipe, adapted from the version made by chef Sonya Jones at Atlanta's Sweet Auburn Bread Co. It first appeared in our November 2013 issue with Wendell Brock's story Southern Belle.
Ingredients
1⁄4 cup water, heated to 115°
1 (1/4-oz.) package active dry yeast
1⁄2 tsp. plus 1 cup granulated sugar
8 tbsp. unsalted butter, melted, plus 20 tbsp., softened, and more for pan
1⁄2 cup milk, at room temperature
2 tbsp. packed light brown sugar
3⁄4 tsp. kosher salt
1⁄2 tsp. vanilla extract
1 egg, plus 1 yolk
3 1⁄4 cups flour, plus more for dusting
2⁄3 cup packed dark brown sugar
1 cup finely chopped pecan pieces
3 tbsp. ground cinnamon
Instructions
Step 1
Combine water, yeast, and 1⁄2 tsp. granulated sugar in the bowl of a stand mixer fitted with a hook; let sit until foamy, about 10 minutes. Stir in 1⁄4 cup granulated sugar, plus 8 tbsp. melted butter, milk, light brown sugar, salt, vanilla, egg, and yolk. Add flour and mix on low speed until dough forms. Increase speed to medium-high; knead until smooth, about 8 minutes. Cover dough with plastic wrap; set in a warm place until doubled in size, about 1 1⁄2 hours. Meanwhile, bring 10 tbsp. softened butter and dark brown sugar to a boil in a 2-qt. saucepan; cook, stirring occasionally, until sugar is melted, about 3 minutes. Pour sauce evenly into a greased 9" x 13" baking dish; sprinkle 2⁄3 of the pecans over the top. Stir remaining butter, granulated sugar, pecans, and the cinnamon in a bowl; set baking dish and filling aside.
Step 2
On a lightly floured surface, roll dough into a 10" x 18" rectangle; spread filling evenly over dough. Working from one long end, roll dough into a log; trim ends and cut into 12 rounds. Place rounds over sauce in baking dish. Cover with plastic wrap; chill 6 hours or overnight.
Step 3
Heat oven to 375°. Uncover buns and bring to room temperature. Bake until golden brown, about 30 minutes. Let pan cool 5 minutes, then invert onto a serving tray. Immediately spoon pecan sauce from dish over buns. Serve pecan sticky buns warm or at room temperature.