Recipes
Pernil Asado con Mojo (Cuban Citrus-Marinated Pork Shoulder)
Swap out your holiday bird for a citrus-laced Caribbean-style roast.
Serves

serves 10–12

Cook

10 hours 30 minutes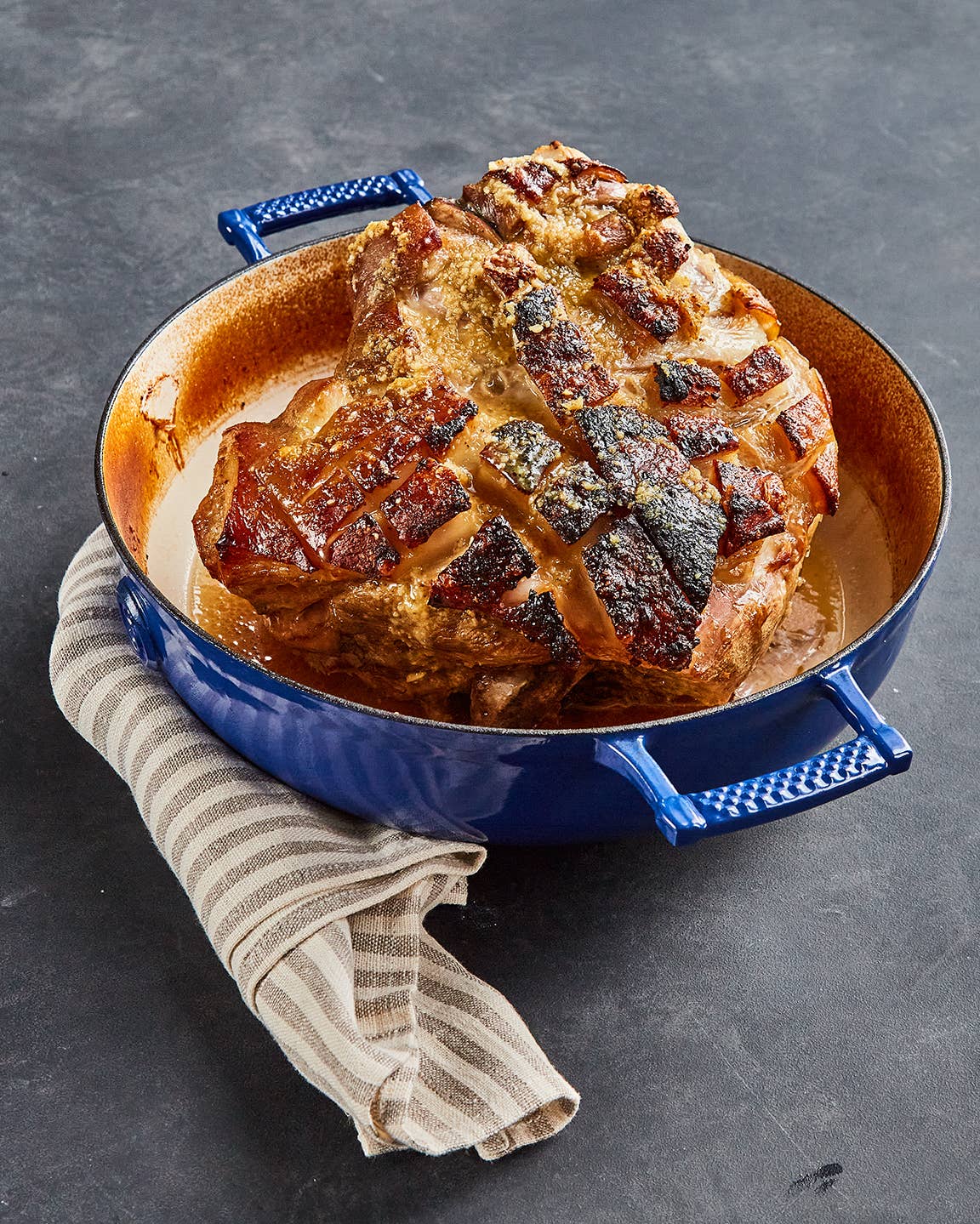 A shoulder roast is marinated overnight in a garlicky mojo—an adaptation of a celebratory Cuban recipe for whole suckling pig—from Miami-based food writer Victoria Pesce Elliott.
Ingredients
One 7–9-lb. bone-in skin-on pork shoulder
1 Tbsp. dried oregano
1 Tbsp. ground cumin
30 garlic cloves, coarsely chopped
2 cup fresh orange juice
Kosher salt and freshly ground black pepper
2 cup fresh lime juice
Instructions
Step 1
Using a knife, score the pork skin to make a diamond pattern, then place the meat in a bowl. In the work bowl of a food processor or mortar and pestle, blend the oregano, cumin, garlic, and 2 tablespoons of the orange juice into a smooth paste. Rub the paste all over the pork, sprinkle it with salt and black pepper to taste, and pour over the lime juice and remaining orange juice. Cover and refrigerate for 6–12 hours.
Step 2
Position a rack in the lower third of the oven and preheat to 325°F. Using tongs, transfer the pork skin-side up to a large Dutch oven (reserve the marinade). Pour over 2 cups of water, then season the pork with salt and black pepper. Cover and bake until an instant-read thermometer inserted into the thickest part of the meat reads 180°F, 4–5 hours, then uncover and broil to crisp the skin, 5–10 minutes. Transfer the pork to a cutting board (keep the juices in the pot) and place the Dutch oven on the stove.
Step 3
While the meat rests, make the mojo: Turn the heat to high and whisk the marinade into the pan juices. When the liquid boils, cook until the sauce has thickened slightly, 10–15 minutes, then pour into a gravy boat or bowl. Cut the pork into thick slices, transfer to a platter, and serve, passing the mojo on the side.