Mojo (Cuban Garlic-Citrus) Marinade Recipe
Add Caribbean zest to your chicken, shrimp, and pork culinary concoctions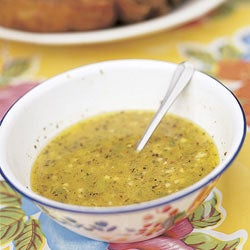 While living in Cuba, historian, author and chef Maricel Presilla crushed the garlic for this sauce with a mortar and pestle that had belonged to her great-grandmother. This mojo marinade recipe can be used as a marinade and/or sauce for shrimp, pork or chicken.
Get seasonal recipes, methods and techniques sent right to your inbox—sign up here to receive Saveur newsletters. And don't forget to follow us on Instagram at @SaveurMag.
What You Will Need
Mojo (Cuban Garlic-Citrus Marinade)
A staple of Cuban cuisine, this garlicky bitter-orange sauce is often used to flavor roast pork.
Ingredients
1 small head of garlic, peeled and separated
1 tsp. salt
1⁄4 cup fresh bitter orange juice or 4 tbsp. fresh lime juice
4 tbsp. fresh orange juice
1⁄4 cup olive oil
1⁄2 tsp. fresh oregano, chopped
1⁄4 tsp. ground cumin
1 pinch dried oregano, crushed
Salt to taste
Instructions
Crush together garlic cloves and salt with a mortar and pestle, and put into a medium bowl.
Stir in fresh bitter orange juice or fresh lime juice and fresh orange juice, olive oil, chopped fresh oregano, cumin, crushed dried oregano, and salt to taste.