Recipes
Pesche Ripiene al Forno (Baked Peaches with Crushed Amaretti Cookies)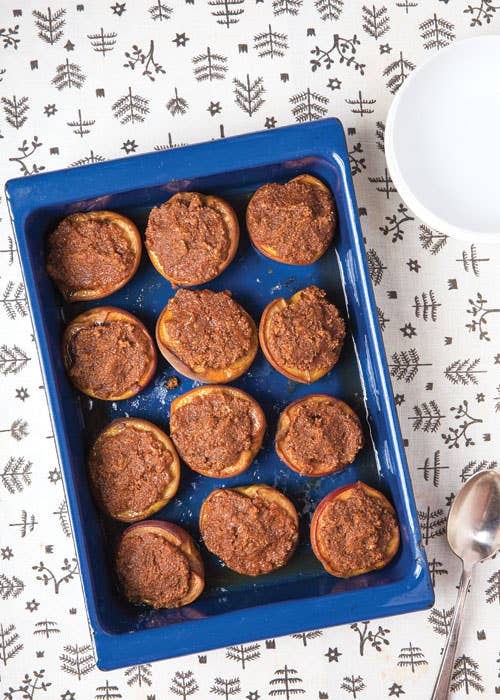 Released from their pastel tissue wrappers, fragrant amaretti cookies show up regularly in Italian desserts. Although most recipes call for almonds, the original included armellines, the kernels from inside apricot pits, whose rich flavor is akin to that of the fragrant bitter variety of nut. While the name means "little bitter things," they are anything but, imbuing this roasted and puréed peach dessert with a nutty depth and distinctive marzipan-like flavor. This recipe first appeared in our June/July 2014 issue with Sophie Brickman's story "The Feast of Life."
Ingredients
7 ripe peaches (6 halved and pitted, 1 peeled, pitted, and puréed)
7 oz. amaretti cookies, finely crushed
4 tbsp. unsalted butter, cubed and chilled
1⁄3 cup sugar
Vanilla ice cream or whipped cream, for serving (optional)
Instructions
Step 1
Heat oven to 350°. Place 3 tbsp. water in a 9" x 13" baking dish; arrange peaches cut side up. Mix puréed peach and cookies in a bowl; spoon mixture into each peach half. Top with butter and sprinkle with sugar; bake until peaches are tender and filling is golden brown and slightly crisp, about 45 minutes. Let cool slightly; serve with ice cream or whipped cream if you like.