Recipes
Chicken Stuffed with Manchego, Mushrooms, and Spinach (Pollo Relleno)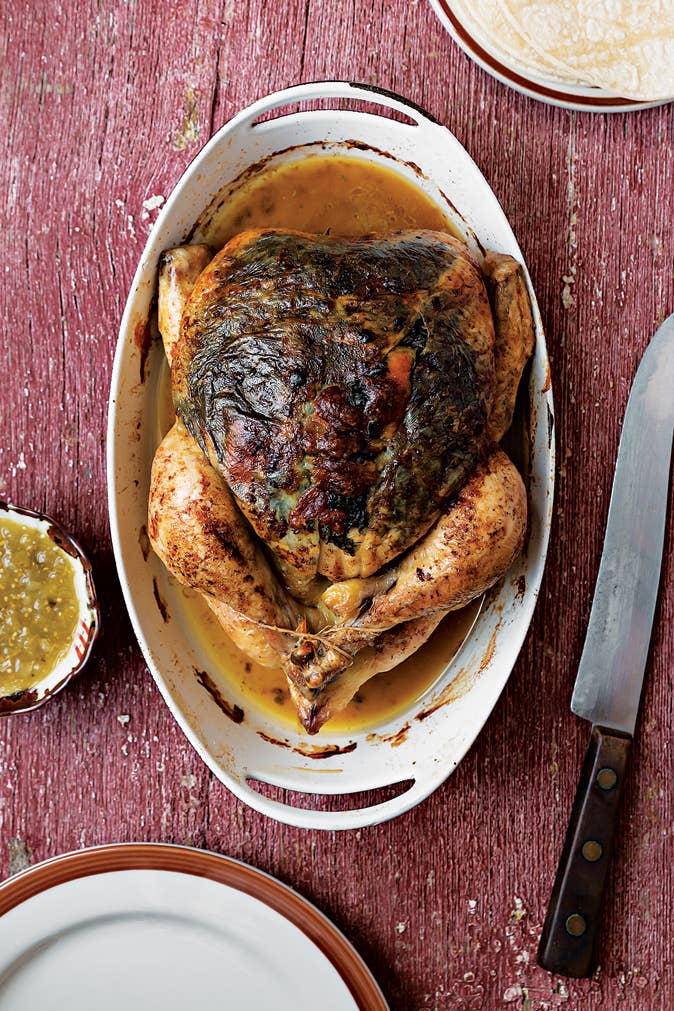 Creamy Manchego fresco cheese melts gloriously in this stuffed roast chicken dish from Mexico City home cook Susana Rangel Gutierrez. This recipe first appeared in our May 2014 issue with the story When the Work is Done.
Ingredients
1 (4 1/2–5-lb.) chicken
Kosher salt and freshly ground black pepper, to taste
4 tbsp. unsalted butter, softened
5 cloves garlic, minced
10 oz. thinly sliced Manchego fresco or provolone
6 oz. white button mushrooms, thinly sliced
1 bunch spinach (about 5 oz.), tough stems trimmed
Salsa verde and tortillas, for serving (optional)
Instructions
Step 1
Heat oven to 475°. Season chicken with salt and pepper. Slide fingers under the skin of breast to create a pocket. Mix 1 tbsp. butter and the garlic in a bowl; spread over breast meat. Stuff cheese, mushrooms, and spinach leaves into pocket; stuff any excess into cavity. Using a trussing needle and 6' kitchen string, tuck tail inward and sew cavity closed; tie legs together (see How to Truss a Chicken). Place breast side up in a 9" x 13" baking dish; rub with remaining butter. Cook, basting occasionally, until browned and an instant-read thermometer inserted into thickest part of thigh reads 165°, about 1 hour 45 minutes. Let rest 10 minutes before carving; serve with salsa and tortillas, if you like.