Recipes
Italian Rainbow Cookies
The three-tier Christmas confection is easier than it looks.
Serves

Makes about 120

Cook

2 hours 40 minutes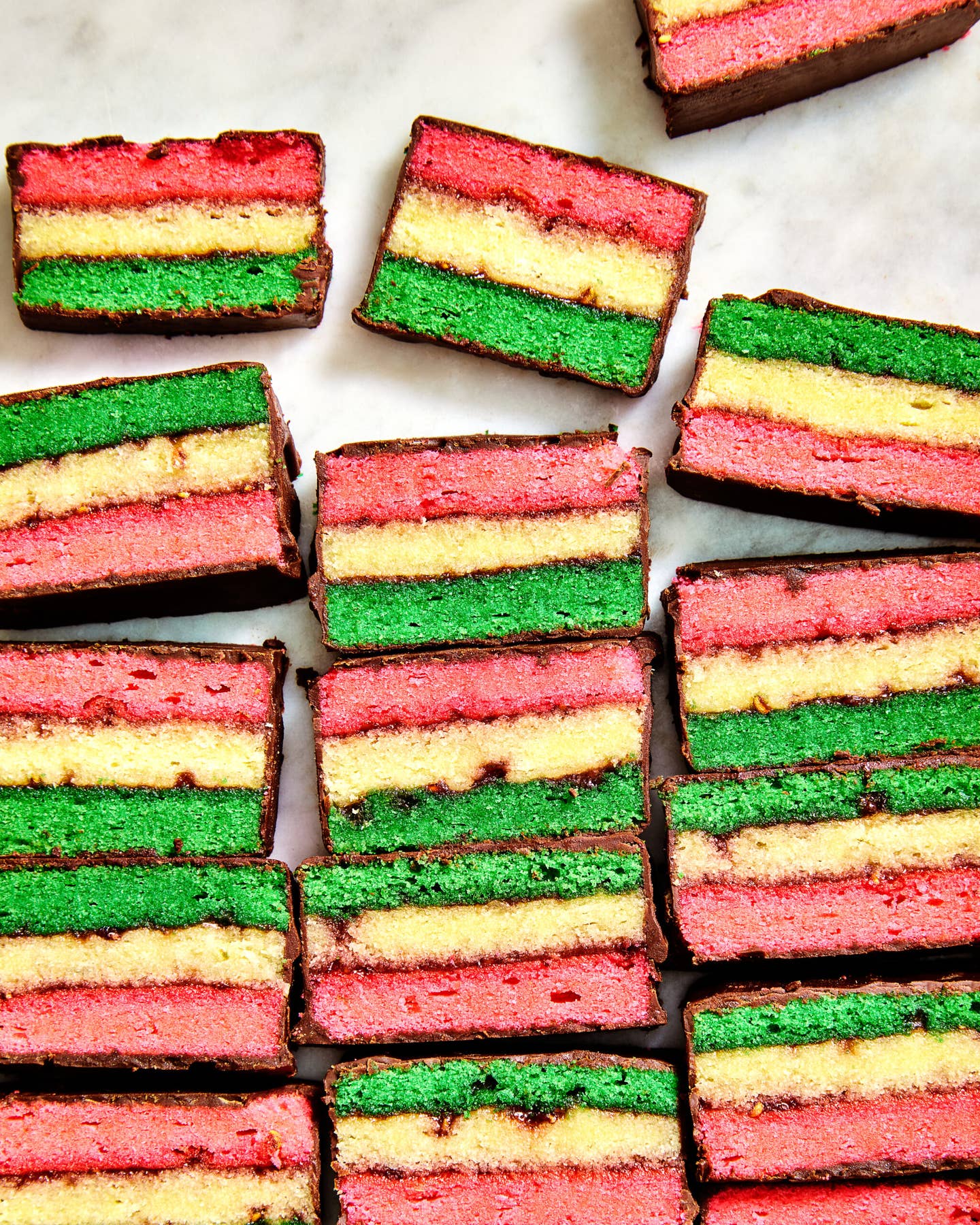 This recipe for the classic Italian American Christmas confection calls for almond pastry filling in place of the standard almond paste, creating a lighter, moister crumb. Italian rainbow cookies—also known as Neapolitans, Venetians, and tricolore cookies—liven up any holiday dessert spread with their vibrant red, white, and green layers.
Ingredients
24 Tbsp. unsalted butter, softened, plus more for greasing
2 cups all-purpose flour, plus more for dusting
1 cup sugar
One 12.5-oz. can almond filling, such as Solo brand
4 large eggs
12 drops green food coloring
12 drops red food coloring
One 12-oz. jar seedless raspberry jam
12 oz. semisweet chocolate, melted
Instructions
Step 1
Position a rack in the center of the oven and preheat to 350°F. Butter and flour three 9-by-13-inch baking pans, then line with parchment and set aside. Using a stand or handheld mixer on high speed, beat the butter and sugar until pale and fluffy, about 2 minutes. Add the pastry filling, beat until smooth, then one at a time add the eggs, beating well after each addition. Add the flour and mix on low speed until just combined. 
Step 2
Divide the batter among three bowls. Stir the green food coloring into one bowl, the red food coloring into the second, and leave the third plain. Using an offset spatula, spread each batter into a prepared baking pan. Working in batches if necessary, bake until just beginning to brown, about 10 minutes. Invert the cakes onto wire racks and cool completely.
Step 3
When the cakes are cool, in a pot set over medium heat, warm the jam until smooth and spreadable, 6–8 minutes. Place the green cake on a large cutting board. Using an offset spatula, spread evenly to the edges with half of the jam. Top with the plain cake, then spread the remaining jam over the plain cake. Top with the red cake, then refrigerate until the jam is set, about 1 hour. 
Step 4
Trim and discard the edges to form an even block, then slice crosswise into 1½-inch-wide strips. Separate the strips slightly, then spread the chocolate over the tops and sides of each strip to cover completely. Refrigerate until nearly set, about 30 minutes. Slice each log crosswise into ½-inch-thick cookies and serve. (In an airtight container, the cookies will keep for 2 weeks in the refrigerator or 5 months in the freezer.)