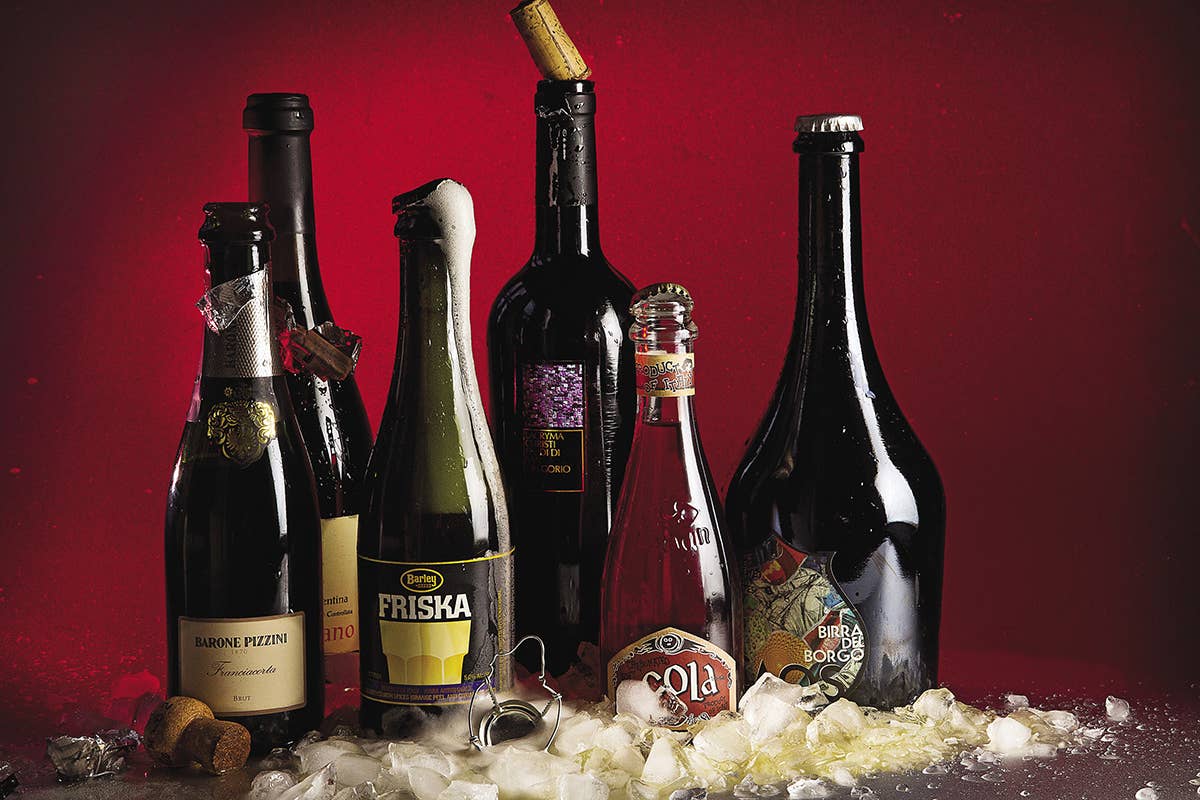 Drinks
Drink Pairings for Pizza
Most pizzerias in Naples are content to serve predictable drinks like beer and Coca-Cola. And most Neapolitans are content to drink them. But times are changing even in tradition-minded Italy.
A wheat beer from Sardinia, Birrificio Barley Friska ($23; 750 ml) is extraordinarily fresh, food-friendly, and at just 5 percent alcohol, thirst-quenching. Its pleasant citrus aromas and flavors, enhanced by a hint of coriander, cut through the fat. Pair it with hefty creations like the pistacchio e mortadella pie, as well as pizza topped with that iconic Neapolitan duo salsiccia e friarielli (sausage and broccoli rabe). Birra del Borgo Caos ($23; 750 ml) is an intriguing marriage of wine and beer. It's created by adding the juice of malvasia wine grapes—a variety with a sweet, pearlike flavor—to the kettle while brewing an ale made from nutty-tasting spelt. Fermented in the bottle with champagne yeast, this light palate cleanser has a fine fizziness that can carry you through deep-fried starters such as angioletti fritti (fried pizza dough) as well as the Montara Starita, a pizza that's first fried then baked.
Barone Pizzini Franciacorta Brut NV ($17; 750 ml), a methode champenoise sparkling wine from Lombardy, is structured and acidic. Its floral notes call for pizza topped with aromatic and delicate prosciutto (try it with calzone di prosciutto e ricotta, ham and cheese calzone) or a rich burrata.
Best when chilled (10C/50F), Cantine Federiciane Monteleone Penisola Sorrentina Gragnano ($15; 750 ml) sees Campania's indigenous aglianico, piedirosso, and sciascinoso grapes blended into an effervescent off-dry red wine. Fresh and vivacious, it makes an ideal pairing with the classic pizza margherita.
A still alternative is Guido Marsella Poggi Reali Greco di Tufo DOCG ($19; 750 ml) , made from an ancient white grape, greco di tufo. It has a firm acidity and mineral notes accompanied by a smoky finish that complements the pizza del papa (butternut squash and smoked mozzarella) and other pies made with smoked mozzarella.
Coca-Cola won't be disappearing from the market anytime soon, but Baladin Cola ($4; 250 ml) presents an artisanal alternative. This Piedmont-based soda is made with crimson colored, caffeinated kola nuts from Kenema in the northwestern African nation of Sierra Leone. It has a lingering sweetness and bitter finish that goes great with everything from pizza margherita to a pizza noci e zucchini (topped with walnut pesto and zucchini).
Campania's Feudi di San Gregorio Lacryma Christi Bianco Vesuvio DOC ($14; 750 ml), a blend of local coda di volpe and falanghina grapes, is a steely white wine with refreshing citrus notes, perfect for washing down a rich creation such as the rachetta (a pizza-calzone hybrid stuffed with mushrooms and topped with ricotta, mozzarella, pecorino romano, cherry tomatoes, and basil).