Shopping & Reviews
The Best Citrus Juicers in 2022
Get the most juice from your fruit, without breaking a sweat.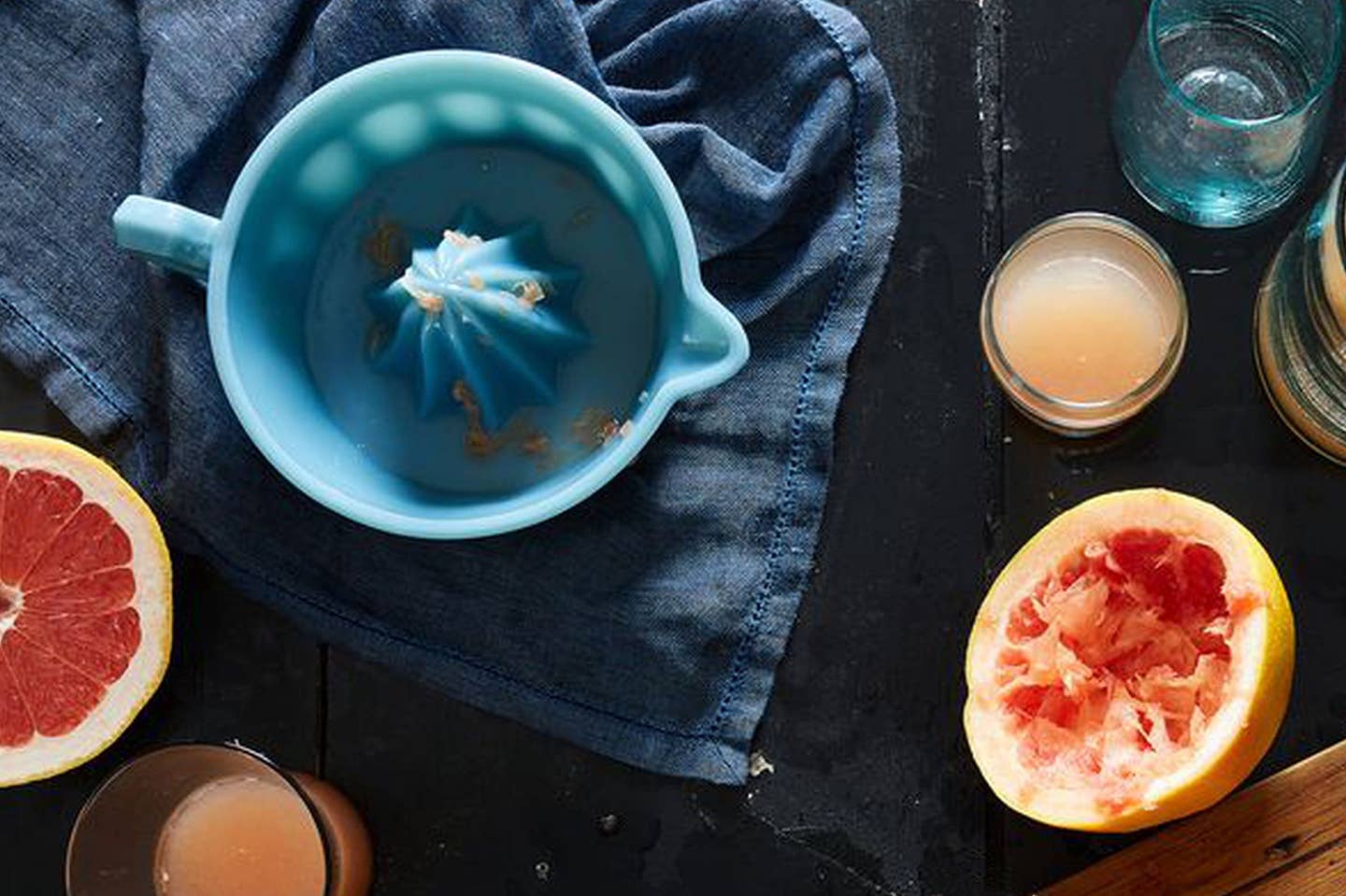 When I first started researching the best citrus juicers, I immediately gravitated toward the tall, elegant manual presses that look picturesque on countertops and offer powerful leverage. Then I started talking to experts, including a chef friend who complained that her shoulder hurt after big catering jobs because of the repetitive movements of pulling the lever down to squeeze citrus over and over again.
Jesse Cyr, who runs three bars as the Beverage Manager at the Fairmont Olympic Hotel in Seattle, also mentioned that they are more prone to wear and tear — pieces tend to break over time, and they need to be carefully wiped to keep the citrus oils from causing more damage. The electric press-and-spin style, however, "should last forever," says Fatima Khawaja, the Test Kitchen Manager at Saveur. She points out that the technology has been around for generations and calls her mother's decade's old one "the most functional thing I've seen."
While initially, manual presses seemed simpler and easier than the electric ones, they actually tended to be the same price or more expensive, and take up far more space. Khawaja advocates for electric citrus juicers for anyone who might need to go through large amounts of citrus. "If you like fresh orange juice for breakfast or need to make batches of margaritas," she says, then it's worth it to get a good citrus juicer. However, she also warns against swooning too hard over the most expensive versions. "You don't need to spend a ton of money on it," she says. "Spend it on a food processor."
With that in mind, I set out to find that happy medium of the best citrus juicer: something that worked well, didn't cost too much, and will — ideally — last for a very, very long time.
Best Overall
Weight: 4 pounds | Electric | Material: Stainless steel, plastic
---
Pulp control
Compact
Easy to use
Why we chose it: This compact, utterly functional electric juicer rivaled or beat similar models that cost upwards of $100 more.
For ease of use and functionality, this small countertop electric model whizzed by competitors. It extracted tons of sweet juice from citrus of all sizes with very little effort. The intuitive push-to-spin function automatically switches direction between spins, and the flip-up spout keeps things neat and drained well. It also has a unique, very nice pulp control function, allowing for thicker and thinner juice as desired. The only downsides came in the messiness: it was slightly hard to clean the strainer parts by hand (though they are dishwasher safe), and it occasionally sprayed off juice as it spun — just small drops, but still not ideal.
Best Manual
Weight: 2.1 pounds | Manual | Material: Glass
---
Beautiful
Simple
Easy to clean
---
Sometimes needs extra straining
Low capacity
Why we chose it: This stunning juicer is art-like in both its appearance and its old-fashioned functionality.
Both on the counter and on the table, this sturdy and gorgeous juicer does its job well. The molded top worked best for larger fruit, like oranges, from which it extracted the most juice of any manual model, but held its own for smaller fruits. The unique design is meant to keep pulp and seeds to a minimum, and for day-to-day cooking uses, it does well. But for juice to drink or use in cocktails, it sometimes missed clumps of pulp or seeds. It lacks the capacity of the electric models, though it is pretty enough, even while in use, that it could sit on the table or bar for repeated use, if needed.
Best Splurge for the Committed (Citrus) Juicer
Weight: 7.1 pounds | Electric | Material: Plastic, stainless steel filter basket
---
Easy to use
Efficient
Protects from splashes
---
Price
Sizable for a small kitchen
Why we chose it: Though it shares much of the technology with the Cuisinart model above, the Breville has higher-end touches and the addition of a cone over the fruit fixes the main drawback of the cheaper Cuisinart.
If you (or your family members) love a fresh glass of OJ most mornings, or you're a regular host who loves to make pitchers of margaritas, Breville's Citrus Press is the investment to make. The sturdy, slightly larger machine makes the whole process a breeze without feeling cumbersome. The magnetic dome fits over various sizes of citrus, and helps press each half so you get as much extraction of juice as possible (plus, no sticky hands from holding fruit in place). We liked how the filter basket lets some pulp through, but not so much that it's an entire mouthful with every sip. There's no need to fiddle with the well-designed flip-up spout—nearly every drop we juiced was delivered to a glass without any tipping needed. Plus, every working piece—cone, collector, filter, and dome—disassembles and is dishwasher safe.
Best For Cooking
Weight: 185 grams | Manual | Material: Plastic
---
Lightweight
Versatile
Measures as you go
---
Hard to hand wash
Extracted less juice
Why we chose it: The only plastic manual juicer that could compete with the electric, this uses a similar method of extraction, just by hand.
Though it requires using your own hand to make the citrus spin, this juicer uses the same ideas that make the electric juicers so functional — the cone and strainer. The multiple sizes of cones for larger and smaller citrus made that motion easier, though they were slightly harder to switch out than we wanted. While it didn't rival the electric models and was average among the manual juicers for how much juice it yielded, the measurement markings on the container were helpful enough to more than make up for the minisculely smaller quantities. The shape of the container, however, made it somewhat more difficult to hand wash (though it is dishwasher-safe).
How We Chose These Products
After gathering a dozen juicers of varying sizes, styles, and brands, we put each one through a series of tests, including measuring the quantity of juice they produced, tasting the quality of that juice, and judging the ease or difficulty of cleaning each product.
Features to Keep in Mind When Shopping for Citrus Juicers
All of our favorite electric models used the same basic technology: they automatically spin a ridged cone when pressure is applied, reaming the citrus and quickly releasing maximum juice. This simple, easy functionality is the ideal for anyone with enough citrus juicing needs to justify the counter space and budget.
Manual juicers, on the other hand, came in a wide range of styles and costs, from little $7 reamers to enormous $150 presses. The reamers — like the analog "fork" method we tested — were simply too messy while also yielding too little juice to pick a winner. The classic hinged citrus squeezers yielded slightly more juice, but had a number of other downsides: they were difficult for anyone with dexterity issues, were annoying for any larger quantity of juice, and worked best only for a single citrus size, so lacked versatility. That said, they are cheap and plentiful, and — for small-scale squeezing — work well. Khawaja likes them for squeezing small amounts of juice directly onto food. But for the kind of person looking to find the best citrus juicer, those don't fit the bill.
On the other end of the manual spectrum, we also found little benefit to the large presses, which required significant effort to operate — multiple experts on the professional side complained about their arms hurting from having to use them frequently. Though they extracted large amounts of juice, we found it didn't taste as good as those from electric or other styles of manual. It carried off, bitter notes, which Cyr theorizes may be due to pressing the oils from the peel, along with the juice. While the presses are beautiful, the price and dimensions meant that we can't recommend them.
One major advantage of the manual models comes in their size: even the larger ones can be easily stored in a cabinet or drawer, while even the smaller electric models need a large shelf or countertop. However, if you plan to use the juicer often or to make a large amount of juice, the larger size is warranted: it saves you significant time and keeps you from needing multiple models for various fruits.
Most of the models we liked are dishwasher-safe or all of the parts that need regular cleaning can go in the dishwasher. Cyr also suggests wiping down the rest of the machine, and making sure to get the nooks and crannies. However, Khawaja recommends against relying on the dishwasher if you want to prolong the life of your juicer. "Always hand clean small equipment," she says. Especially with the seeds and pulp in the strainers, she thinks hand-washing ends up more effective than a dishwasher.
Q: So, why would I juice a citrus fruit?
"There's nothing like freshly squeezed citrus juice," says Khawaja. Both she and Cyr describe how intensely quickly fresh citrus juice loses its best features. "It gets more metallic tasting," she describes. Cyr explains the technical side: as it oxidizes, the acid-to-sugar ratio gets out of balance. "It loses the vibrancy." Squeezing fresh juice makes it easy to roll out batches of margaritas for friends, warm up a pot of avgolemono soup, or bake citrus delights.
Q: Do I peel citrus before juicing?
"Only if you're using the peels to make something else, like simple syrup," says Cyr. Otherwise, there's no point in making extra work for yourself.
Q: Can I use a citrus juicer for vegetables or non-citrus fruits?
This got a hearty round of "no" from our experts. Citrus juicers are for citrus, full stop. If you need more than that, check out our round up of the best general juicers.
In testing citrus juicers, we quickly learned how many people have been working too hard for too little juice. With a price not much above manual options and a functionality that rivaled far pricier electric options, our top choice made picking the best citrus juicer easy work, but even our other favorites made using citrus in dressings, marinades, and cocktails so much neater, faster, and simpler.