Techniques
The Essential Tool Every Home Bartender Should Have (and How to Pick the Perfect One)
The key to making the perfect drink every single time.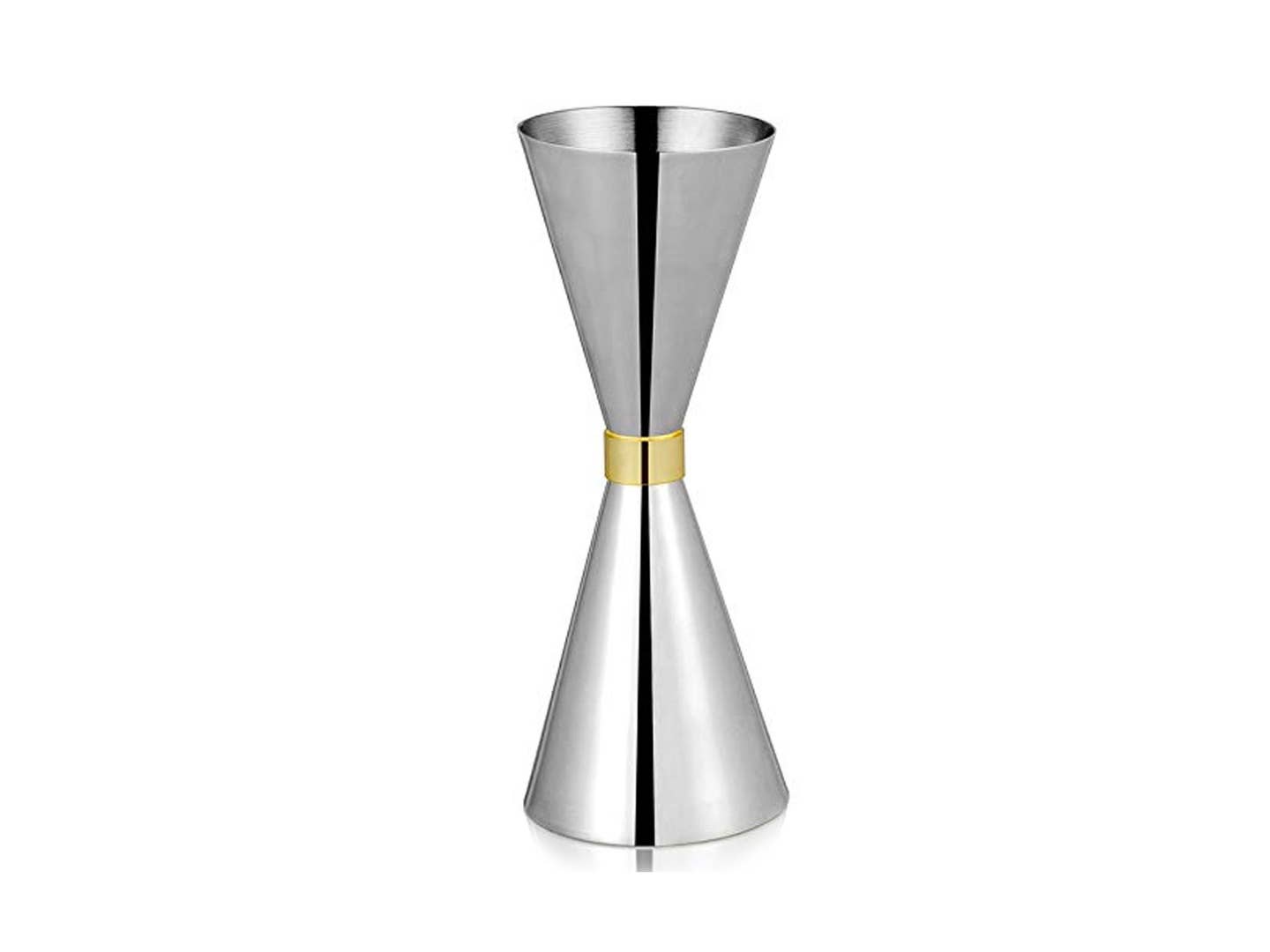 Free-pouring is an art, and not for the faint of heart (or the amateur bartender). Besides, making consistent drinks is what all the cool kids are doing, so instead of eyeballing your cocktail, invest in the essential measuring tool used by bar pros everywhere: the jigger.
There are several default jigger styles, and choosing the perfect one requires a bit of guidance. We've tapped Kitty Bernardo, a bartender at New York City's Patent Pending, for an insider's perspective on the matter: "As long as the jigger does its main function, which is to consistently measure the volume of a liquid, it's a good jigger. But what makes a great jigger is that it's comfortable for you to use," she shares.
Two of the most common styles of jiggers include Japanese (conical, typically tall and steep), and a double coquetier-shaped version popularized by cult favorite retailer Cocktail Kingdom. Style aside, size is also a determining factor, and on this front Bernardo recommends starting out with a standard 2:1 ounce at home.
At Bar Franca in Los Angeles, the staff is equipped with a variety of jiggers for every stylistic preference, according to Beverage Director Diana Danaila. For a first-timer, Danaila recommends a traditional Japanese jigger. "The height and narrow width of each end allow even the shakiest of hands to hit meniscus easily, without too much opportunity for spillage," she notes. The downside, though, is that this style doesn't always feature smaller measurement indicators, and that's an important factor to consider when buying just one. For this reason (and many others), Danaila opts for Cocktail Kingdom's Leopold style in silver. "[It] won me over with its weight, ease of use, and accurate measurements, as well as the gorgeous patina it developed from many nights behind the bar––out of my entire bar kit, this is the one item I could never be without."
Take a cue from these two experts when shopping for your first (or next) jigger for at-home use, starting with these three solid options.
Cocktail Kingdom Leopold Jigger
"The Leopold Jigger is a Cocktail Kingdom original that takes style cues from vintage bell-shaped jiggers of the 1930s that we have in our collection," says Cocktail Kingdom Account Manager Scott Stierwalt. "Professional bartenders are drawn to this elegant style as an all-in-one solution thanks to its wide range of measurements." If you're looking for an all-purpose workhorse that happens to be rather beautiful, then look no further.
Barfly Japanese Style Jigger
This is about as traditional (and reliable) as it gets. BarFly's 2:1 Japanese jigger comes in a variety of finishes as well as internal micro-measurement indicators, bringing functionality, design, and dependability together in one shiny package.
Linall Slim Japanese Jigger w/Ring Accent
Here, we have a standard Japanese jigger dressed in its Sunday best. Delicate yet sturdy, this Linall design is sleek and elegant, complete with a flashy golden ring where the two ends meet. This jigger also features internal measurement lines––the total package.