The Best Grilling Cookbooks Are the Perfect Gift for Summer
Bring on the meat sweats.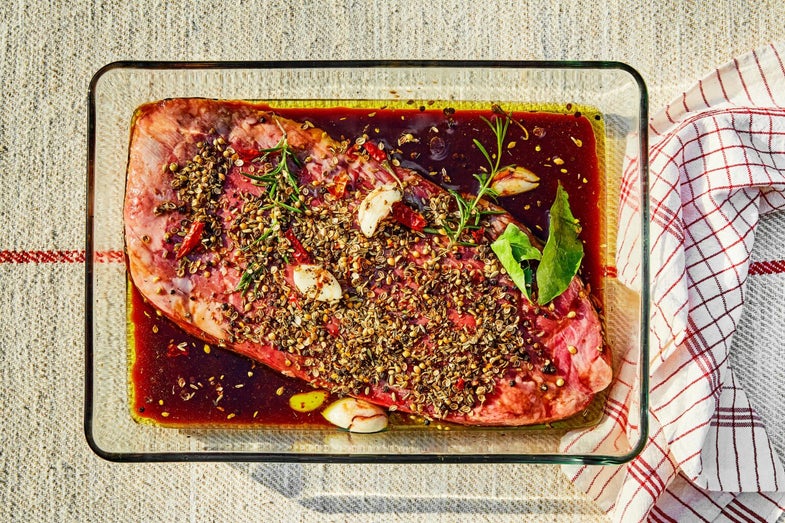 We may earn revenue from the products available on this page and participate in affiliate programs.
Outdoor cooking season is in full swing, but not everyone feels confident firing up the grill to sear steaks and char vegetables. In fact, using a grill can be downright intimidating, despite how easy your favorite grillmaster may make it seem. Luckily, there are plenty of  cookbooks that are chock-full of approachable tips, tricks, and recipes to empower grilling novices. 
"A good grilling cookbook is one that helps you reimagine possibilities," says Carsten Johannsen, executive chef of Lindens at Arlo SoHo and managing partner at Renwick Hospitality Group. "Grilling is one of the oldest forms of cooking and is seemingly very straightforward. However, if you really explore the intricacies of heat sources, temperature, and technique, you can be opened to a new level of cooking."
Below, you'll find the best cookbooks to help you grill like a pro, from basic barbecue to innovative showstoppers.
Our Top Picks
Print Length: 240 pages | Publisher: Clarkson Potter | Publication Date: April 2018
Pros
---
A detailed guide to classic American barbecue
Gorgeous photography
Helpful graphics
Why we chose it: Michael Symon's unparalleled passion for American barbecue shines in this stunning hardcover that can easily double as a coffee table centerpiece. 
Cleveland-based Symon may be best known for his television appearances on Food Network's Iron Chef, but the grill is where his heart is, a sentiment captured in this page-turner that is equal parts celebratory and educational. Not only does he walk us through different regions and their unique cuisine (brisket in Texas, burnt ends from Kansas City), but he also supplies photos and headnotes with detailed graphics that illustrate grilling techniques, as well as how to choose the right models, wood, rubs, and sauces.
Print Length: 322 pages | Publisher: Andrews McMeel Publishing, LLC | Publication Date: May 2016
Pros
---
An easy, informative read
Contains sauce, mop, and rub recipes
Cons
---
Not a lot of photography
Less than 100 recipes
Why we chose it: Some like it hot, but we like it Smokin' Hot with Cookston's simple and fun approach to grilling. 
Cookston sets the foundation for successful grilling with a cookbook that brings readers back to basics. Including nine chapters of recipes with digestible bits of advice along the way, the book does a fabulous job of including  all the grilling essentials (like rubs, sauces, marinades, and fresh herbs) without cutting corners by using pre-made products.
Print Length: 576 pages | Publisher: Harvest | Publication Date: May 2018 
Pros
---
Includes more than  1,000 recipes and variations
Clear and concise writing
Has sections on sauces, vegetables, and even desserts
Cons
---
Some recipes require specialty ingredients
Why we chose it: Bittman takes grilling to the next level with an in-depth book that ranges from beginner basics to advanced recipes. 
When it comes to the art of grilling, this text is the holy grail. However, it can be quite intimidating for an amateur cook with more than 1,000 recipes, some of which call for specialty ingredients like quail, tongue, sweetbreads, and octopus. But, within the wide range) you'll find a well-organized, comprehensive, and inventive cookbook that covers practically anything you can make on a grill. It's a kitchen essential—and one that will keep you motivated for years to come.
Print Length: 288 pages | Publisher: Clarkson Potter | Publication Date: April 2008 
Pros
---
Includes complementary side dishes
Great for vegans and vegetarians
Approachable for beginners
Cons
---
Some of the tips are a bit outdated
Why we chose it: A beginner-friendly cookbook that transforms basic ingredients into crowd-pleasing meals. 
Flay does an amazing job of taking staple ingredients and transforming them into complex and delicious meals. In this cookbook, he elevates everything from burgers to grilled fruit with excellent sauces, marinades, vinaigrettes, and grilling techniques. In addition, Flary supplies helpful buying guides for  different types of grillsl, indispensable tools, pantry must-haves, and high-quality products. 
Print Length: 400 pages | Publisher: Harvest | Publication Date: May 2016
Pros
---
Educational with a focus on scientific reasoning 
Funny
Made for grilling enthusiasts
Cons
---
The digital version is heavy on advertisements
Some may not prefer the factual approach
Why we chose it: Meathead will educate even the most experienced of grillmasters with tips, tricks, and techniques that are researched and backed by scientists. 
This cookbook proves that grilling is so much more than just a cooking method — it's an education in science, explaining  how and why chefs fire up proteins and vegetables to achieve charred,smoky perfection.. The college textbook of grilling, Meathead includes expert opinions from  a physicist and food scientist to help answer common questions, like whether or not you should bring meat to room temperature or soak wood chips before using. We also appreciate the book's  humorous tone, which helps to lessen the feeling of information overload.
Print Length: 288 pages | Publisher: Random House | Publication Date: May 2012 
Pros
---
Includes full meals and menus
Features global recipes and ingredients
Charming
Cons
---
Lacks a lot of the educational components found in other texts
Why we chose it: This menu-driven cookbook provides full meals for the indecisive chef. 
There's a whole world of grilling beyond the southern United States, as Rob Rainford reminds us with his multicultural cookbook that features ingredients and recipes from across the globe. Featuring 20 full menus and highlighting regional flavors, this book is great for the passionate chef who likes to entertain.
How We Chose These Products
We asked Johanssen and other grillmasters to share their all-time favorite grilling cookbooks. We purchased a variety of their selections, read them, cooked with them, and narrowed down our list to the best six on the market, ensuring there was an option for every skill level.
Features to Keep in Mind When Shopping for Grilling Cookbooks
Experience Level
Some grilling cookbooks are beginner-friendly while others are geared towards a more experienced cook.. Read the sleeves for a general description of the book and the type of reader for which it's recommended—you don't want to end up with an overly technical cookbook that just collects dust on your bookshelf. 
Recipes
Not all grilling cookbooks boast hundreds of recipes, though the majority will advertise their recipe count on the front cover. Grilling cookbooks often focus heavily on techniques like building the fire, heat zones, meat prep, and more. Many recipes may include things like sauces, rubs, and beverages, so your best bet is to take a look at the table of contents to determine if it will meet your culinary needs. 
Number of Pages
The page count  doesn't always dictate the amount of recipes or information you may find in a cookbook. Keep in mind that many texts are chock-full of photos or graphics, , which can occupy page space . Be sure to flip through any cookbook prior to buying to get a better sense of its general style and format. And never judge a book by its cover.
Ask the Experts
To help you master the flame, we asked Chef Johannsen of Lindens at Arlo SoHo to share his expertise and answer your most burning questions. 
Q: How do I grill better?
Johannsen recommends using a natural fuel source, if possible. He says, "store-bought briquettes and coals are often saturated with a lot of synthetic add-ons, which will ultimately affect the flavor of your food. Natural fire sources can add clean, earthy flavors without chemicals. Also, there are a lot of nuances in flavor that can be achieved by using different kinds of wood." Oak will add a lighter flavor than hickory, for example.
Q: Can I cook everything on a grill?
"Absolutely," Johannsen says "The way that an ingredient can be transformed on the grill is really its own kind of magic. Lately, I've been grilling pineapples and melons at the restaurant. There is a great complexity that comes through when the sugars in the fruit caramelize under fire."      
Q: What are the best meat alternatives to grill?
Johannsen says, "I am a big fan of grilling mushrooms as a meat alternative. Mushrooms have a natural hearty and earthiness that works incredibly well on the grill. Marinated portobello steaks or oyster mushrooms are a few of my favorites to fire up— they maintain their texture and flavor really well throughout the cooking process and make for a very satisfying main."
Q: What's the difference between smoking and grilling?
"Smoking involves cooking at a low temperature for longer amounts of time," says Johannsen. "It's a way to infuse your ingredients with that signature smoke flavor that many love. Grilling, on the other hand, is a faster technique that involves cooking quickly at high heat. You will still achieve a smoke or char flavor, but it won't be saturated as deeply.. 
Our Take
Whether you're a grilling greenhorn or a propane pro, a good grilling cookbook is beneficial for any cook. These chefs are experts at their craft and will undoubtedly share knowledge that even the most seasoned grillmasters can find useful.