3 Essential Grilling Cookbooks
Russ Parsons tackles what makes the perfect grilling guide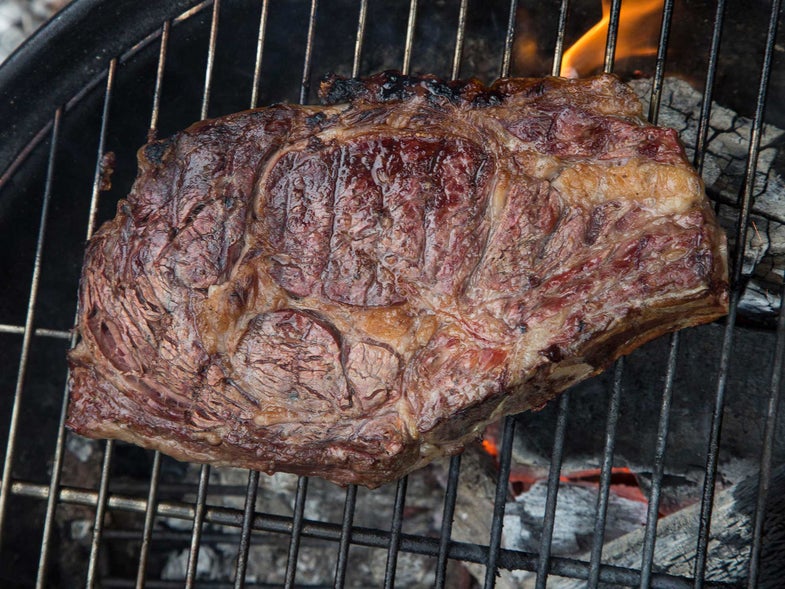 My neighbor is a grill guy. He's got a basic Weber kettle, of course. He's got a gas grill, too, a barrel smoker, and a ceramic Big Green Egg that costs as much as my stove. He's got a wood pellet—fired combination smoker-grill that costs way more. And he's got a pizza oven that looks like a gleaming piece of Danish Modern statuary that I gave him because I couldn't figure out how to put it together.
But with all those grills, he doesn't have a single grill cookbook. And really, that's not surprising. You can sum up the information necessary to be a good griller in about 20 pages, and just about every grill book does—in nearly the same words. Indeed, this lack of a need for detailed instruction is a big part of the attraction of grilling for a certain kind of cook. Grilling is the anti-baking: A live fire, meat, and seasoning is all you need to make a pretty delicious meal.
I've got a copy of one of the first popular grilling cookbooks, a 1938 edition of Sunset's Barbecue Book. It's spiral-bound and the cover is made from real wood (in a pinch, I suppose, you could use the cover for kindling). The first 50 pages are devoted to what is referred to as "barbe-construction": Before you could buy a grill at every hardware store, you had to build one yourself. And as much as I love my trusty Weber, on warm evenings I do dream about a 17-foot brick barbecue constructed according to Sunset's plans, with height-adjustable grill, fireplace, oven, sink, and work surfaces (according to the included materials list, all I need is 2,000 "common bricks," one and a half yards of mortar, and a lot of something called flue lining…perhaps I'd better get help).
There are maybe 15 pages of recipes ("barbe-cookery"), written by Virginia Rich (who went on to invent the genre of culinary mysteries). Especially considering the vintage, the dishes are quite respectable, such as barbecue oysters, an herb sauce for lamb, and grilled corn. I adapted the recipe for "Mexican beans"—a Central California regional classic of pinquito beans stewed with pork, beef, cumin, oregano, and sage—and it's become one of my grilled dinner standbys.
Until recently, even though the number of grilling cookbooks has multiplied a thousandfold, they had not advanced in content much beyond Sunset. Like so many miners digging into a tapped-out vein, in most of them you'll find essentially the same instructions for starting the coals, building a two-stage fire, and managing the temperature.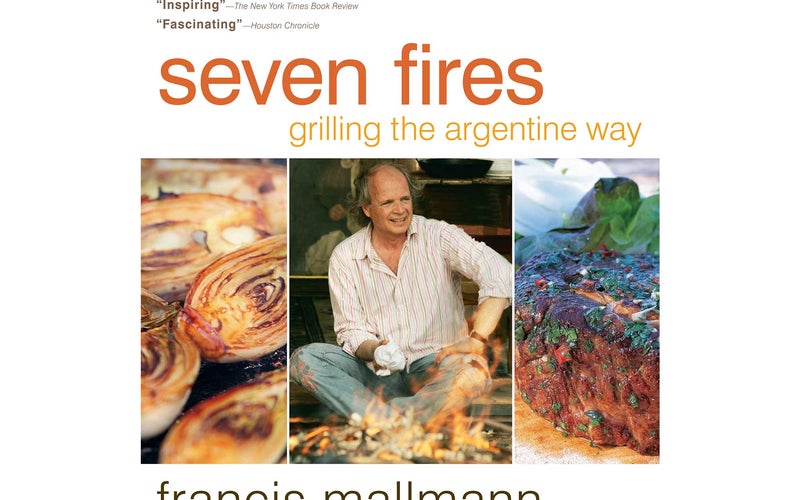 But over the past few years, grill books have come more closely to reflect the contemporary cookbook. They go more deeply into the subject, offer challenging new techniques, and even throw in a dash of romance. The spark was lit by Argentinian Francis Mallman with his 2009 Seven Fires (Artisan, $35), which gave full-color star-chef treatment to a grill cook. The trend is building. Two books published this spring exemplify the new state of the grill cookbook genre, and they couldn't be more different. The first one is romantic, opening up new vistas for flame-kissed cooking. The other is technical, modern, no nonsense.
Around the Fire is from Portland's Ox restaurant, which is run by the husband-and-wife team of Greg Denton and Gabrielle Quiñónez Denton (who, perhaps not coincidentally, met working the grill at Terra restaurant in the Napa Valley). This is the kind of food that expands our imagination of what can be cooked on the grill, from maitake mushrooms to squab to lamb heart. It's a gorgeous book; rarely has anyone captured the beauty of fire and food in the way photographer Evan Sung has. Flipping through, you can almost hear the meats and vegetables spit and sizzle as they crisp.
The instruction is basic (fuel, basic tools, how to light a fire, indirect and direct heat, etc.) and the recipes are, by and large, fairly elemental. But where some cookbooks might fall back on old standards, Around the Fire takes the familiar, twists it a bit, and refreshes the whole category. Grilled artichokes are cooked whole, then split and seared over the fire before being served with a mayonnaise spiked with espelette pepper. They are meaty and good, and the slight floral burn from the espelette is perfect. Quail are brined in the whey left from making ricotta; Dungeness crab is grilled and served with a smoked-tomato ancho chile butter; whole spaghetti squash is roasted right on the coals before being served with toasted garlic-lemon oil and grated dried goat cheese.
Gabrielle Denton was raised in Argentina, and there's a distinctly South American influence to much of the meat cookery. The Dentons are big fans of basting with what they call "Black Gold"—essentially, rendered meat drippings caught in the V-slat grooves of an Argentine-style grill and flavored with fresh herbs. Per their recommendations, I used a combination of bacon grease and butter in place of the drippings, and it tasted as ridiculously good as it sounds.
On the other end of the grill book spectrum is Meathead, the resolutely matter of fact, science-based take from Craig "Meathead" Goldwyn, whose website, amazingribs.com, attracted more than 8 million unique visitors last year. There's nothing wrong with the recipes (though they're decidedly old-school with names like "Big Bad Beef Rub," "Last Meal Ribs," and "Japanese Happy Mouth Yakitori Sauce"). But what makes this book truly fascinating is the instruction. Rather than a rote recitation of the same old advice, Goldwyn backs up his assertions with a decidedly modern, scientific approach.
The how-to section is deep and well researched—almost 150 pages on the stuff you need to know before you start cooking—how to buy meat, freeze and reheat leftovers, and clean grill grates. Goldwyn is a competition barbecuer (there's a lot of material on smoking in addition to grilling), and his writing voice is very much in that testosterone-fueled tradition. But the bluster shouldn't obscure the fact that he's done some challenging research, along with his science advisor Greg Blonder, an engineer and inventor with a doctorate in physics and a special interest in barbecue.
They offer revisionist takes on many grilling shibboleths, including resting cooked meat before carving, bringing meat to room temperature before cooking, and soaking wood chips for smoke (all unnecessary, they say). These are fascinating even if they are presented as more absolute than they might be in the real world. Goldwyn and Blonder find an "insignificant" loss of moisture when carving meat immediately without resting and prefer to have the meat delivered hot from the fire. Other cooks have done the exact same experiment and found that the amount of juice lost did matter and would prefer to let the meat settle. Still, if ever a grill book could be considered thought-provoking, this is the one.
Where Sunset's Barbecue Book once served the DIY purpose of its time, today's readers can look to Around the Fire and Meathead as two of this year's great grilling guides, having advanced the techniques and expanded the possibilities for what we think a barbecue cookbook can be. It's good to know there's still some life left in the old genre after all.
Get the Recipes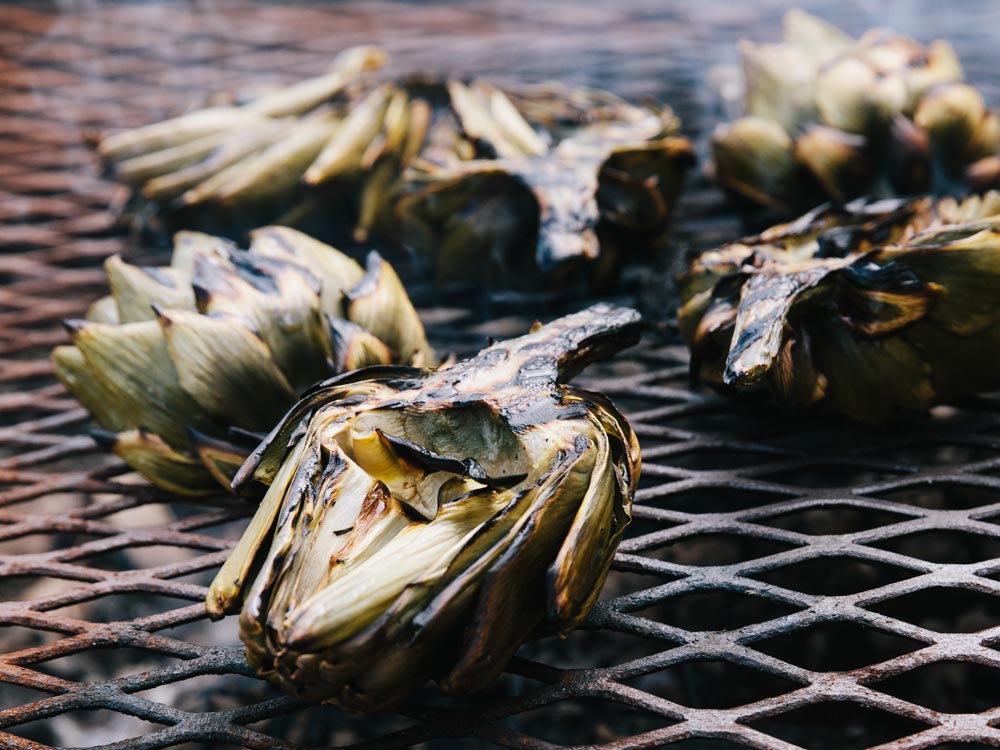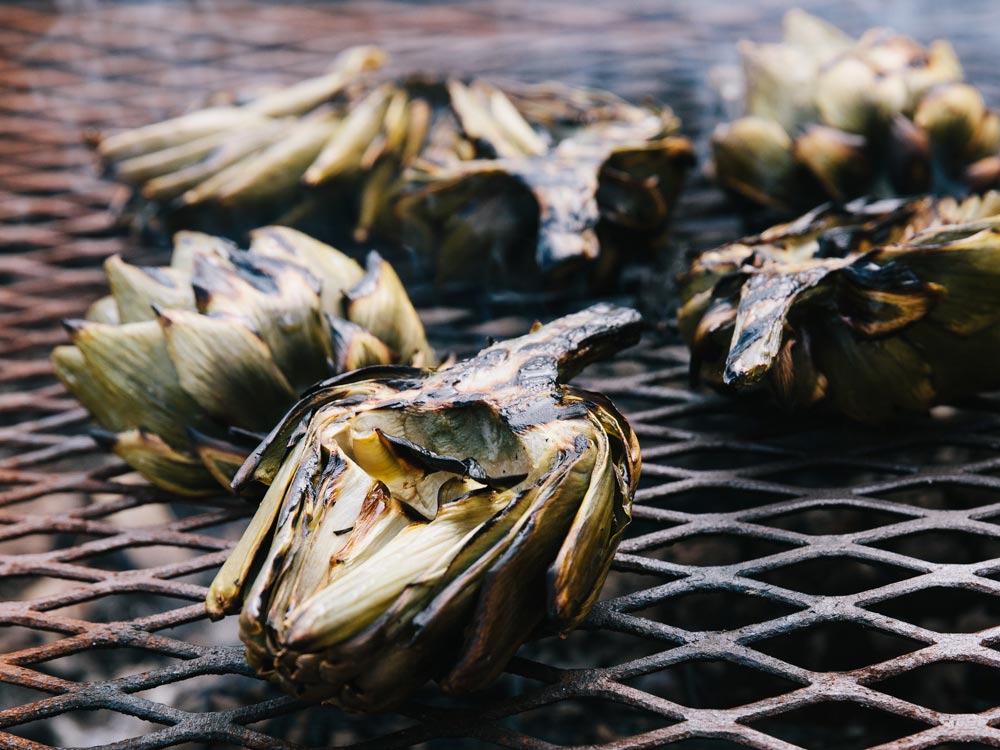 Grilled artichokes over embers are delicious, and double as an aphrodisiac. Get the recipe for Grilled Oysters »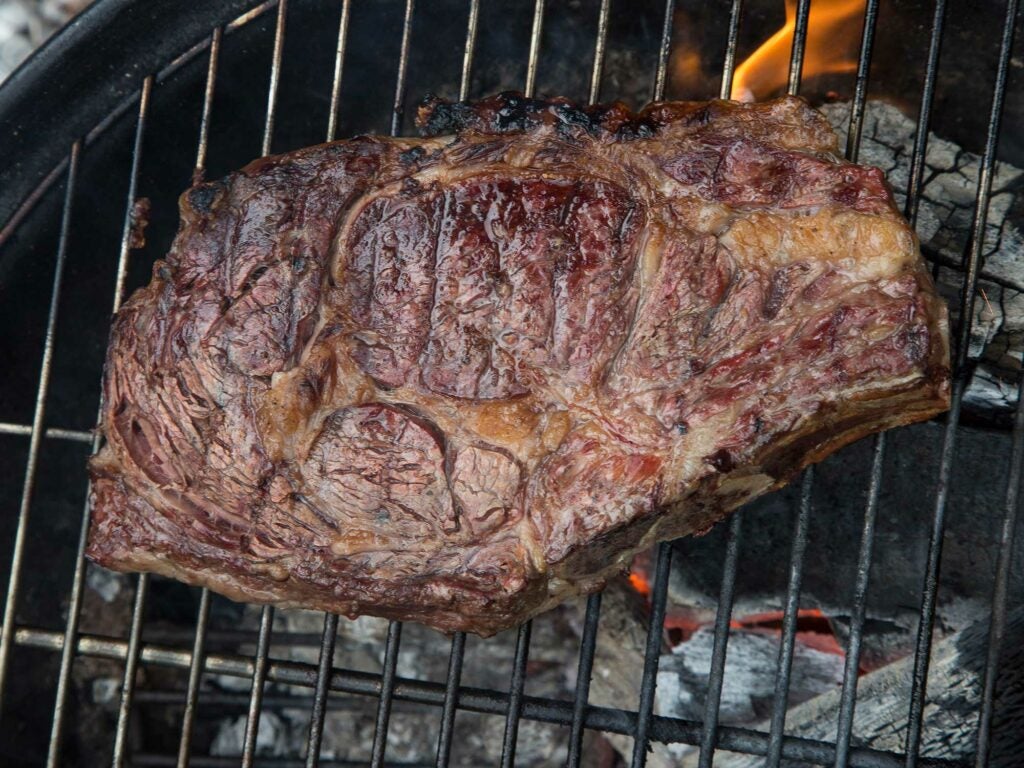 What does it take to grill a great steak? Careful technique. These steaks are all about the "reverse sear," in which you start the steak over a low fire and then brown it over high to finish. Recipe adapted from Meathead by Craig Goldwyn. Get the recipe for Grilled Steakhouse »