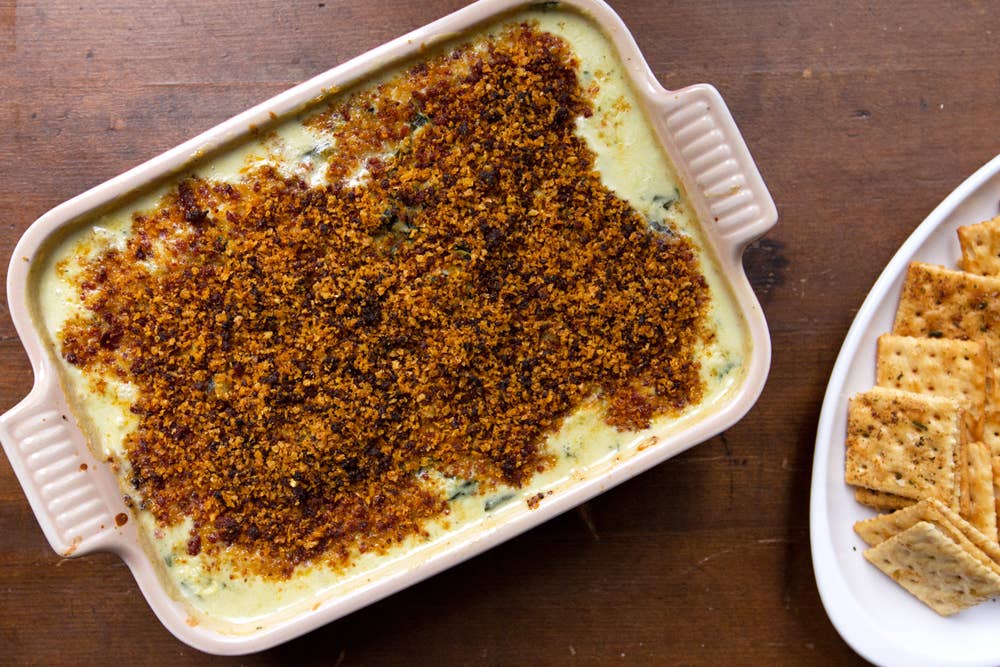 Techniques
How to Make the Ultimate Spinach and Artichoke Dip
Improve on the classic recipe with crab, fresh herbs, and an extra crispy topping
If you're frantically looking for an afternoon appetizer to serve your holidays guests to keep them from griping about when dinner is going to be, look no further. This spinach and artichoke dip is deceptively easy, perfect for sharing and enjoying alongside cocktails. And to snazz it up, we add crab. A lot of crab.
In Maryland, the shellfish is practically a staple food. And this recipe, which comes to us from Maryland chef Bryan Voltaggio, goes big on crab and adds an extra layer of crunch: crumbled crackers and crisped pepperoni. Whip up a big batch of holiday cocktails, pop this crab dip in the oven, and enjoy the time you'll spend not stressing over delicate little canapés.
Voltaggio also skips the standard mayo and cream cheese additions for a lighter base of créme fraiche and white wine, and throws in herbs and chiles to keep things bright. The result? A rich and full-flavored dip that won't leave you too full to sit down to dinner, with more texture and color than you're used to in spinach and artichoke dip. It's good enough to pop a bottle of champagne.