Techniques
Recipe Roundup: Most Unnecessary Kitchen Tools
Check out these quirky, awesome kitchen tools you've probably never heard of.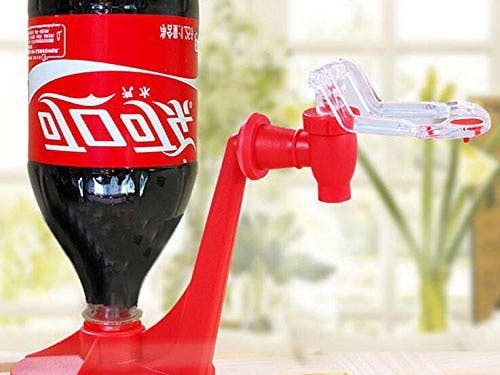 It takes considerably longer to hard boil an egg, stuff it into this container, and cool it into the shape of a cube. It's certainly impractical but it sure will have your guests talking.
The Pez dispenser of the butter world. This butter cutter ensures you never have to get your hands oily for pancake recipes.
Sushi is hard. That's why most of the time, we put those pretty cuts of fish in a bowl in this chirashi recipe. But if you're set on making sushi at home and are having trouble getting your rolling technique just right, use this bazooka. Perfect sushi rolls every time.
We're not entirely sure why you would need to put your soda on tap, but now with the flick of the tap, you can serve your colas like you would serve your finest craft brew.
SAVEUR's Ian Burke raves about this easy and affordable gadget. "Before the Dolma Slide, I was actually homeless. But after making my first beef dolma with apricots and tamarinds, I got a job, a girlfriend, and a brand new apartment!" Burke's dolmas are now so perfect, his landlord reportedly accepts rent in the form of his neatly-rolled rice-and-herb stuffed leaves.
But his isn't the only five-star rating for this life-changing mechanism—SAVEUR's Allie Mannheimer loves the Dolma Slide too. "It was the night of my 21st birthday, and nobody showed up to my party," says Mannheimer. "I was so bummed, until I remembered I had just received my Dolma Slide in the mail! I cranked out a few dolmadakia, and suddenly, my apartment was full of people! Thanks, Dolma Slide!"
Yes, they may snicker "there goes Supermom" behind your back, but you'll still be glad you got the Cupcake Courier. A mother of two who has made thousands of cupcakes and knows firsthand how hard it is to transport them designed this rectangular, translucent plastic container. It carries up to three dozen cupcakes in three stackable trays, and has a carry handle. You can also use it for muffins, or remove the trays and turn it into a cake carrier. The Cupcake Courier comes in four pretty pastel shades. Warning to apartment dwellers: it takes up a lot of space.
You know how there's always that last bit at the bottom of the mayonnaise jar that's just out of reach? Thanks to a handy tool called the flessenlikker, the Dutch don't have that problem.
Literally 'bottle-licker,' this elongated spatula does exactly what it says: licks up every last smidgen of soft, creamy condiments from the inside of the bottle, such as yogurt, peanut butter, ketchup, or jam. In the Netherlands, it's used primarily for vla, a thin, custard-like dessert. According to Dutch food historian Peter G. Rose, vla is the standard end to the evening meal. Back in the early 1900s, it was sold in glass bottles. "And when you got to the bottom of the bottle, you wanted every last drop," Rose notes.
Enter the flessenlikker. Its flexible head fits perfectly inside the two-inch opening at the top of the bottle (and, conveniently, other condiment bottles) while a long wand lets you reach all the way to the bottom without getting your hands dirty. Rounded on one edge and square on the other, it's equally at home in cylindrical bottles or the rectangular cartons that vla comes packaged in today.