Recipes
Japanese Sashimi and Rice (Chirashi)
All your sushi favorites in one bowl—minus the requisite expert handiwork.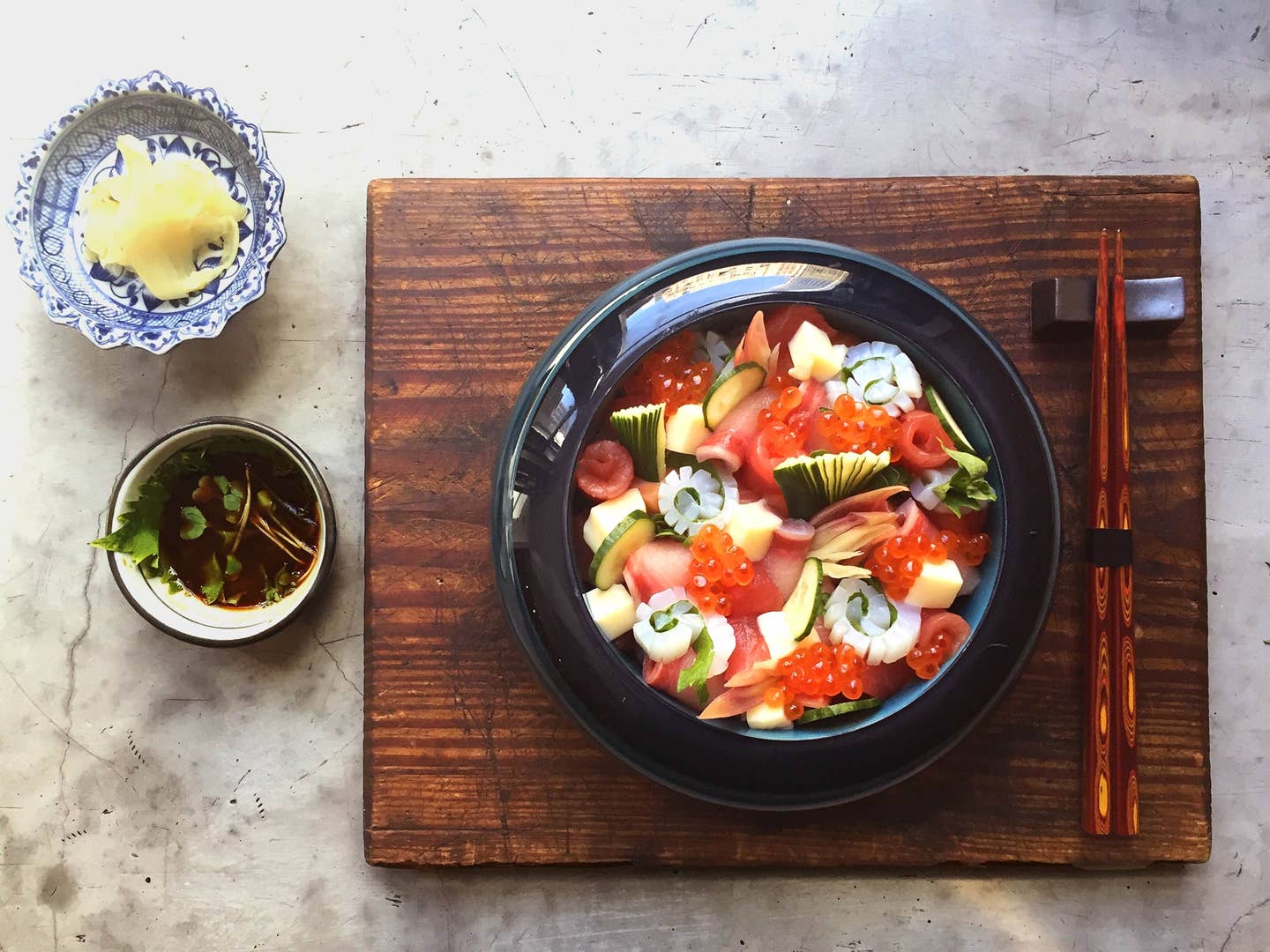 A rice bowl covered in slices of fresh fish, salmon roe, and a rainbow of other garnishes, chirashi requires far less effort than a sushi platter. This recipe comes courtesy of Houston-based chef Mike Lim. Find all of our favorite fish recipes here.
Ingredients
For the vinegar mixture:
¼ cups rice vinegar
3 tbsp. sugar
1 tbsp. mirin
1 tbsp. plus 1 tsp. kosher salt
For the sushi rice and toppings:
1 cup (8 oz.) short-grain sushi rice
½ sliced seafood such as raw tuna, raw salmon, raw yellowtail, and chilled poached squid
3 tbsp. salmon roe (ikura)
¼ cups thinly sliced chilled vegetables such as cucumber, avocado, and poached asparagus
1 chilled 1-egg omelet, preferably tamago (sushi style), thinly sliced
Instructions
Step 1
Make the vinegar mixture: In a bowl, stir together the vinegar, sugar, salt, and mirin.
Step 2
Make the sushi rice: To a fine-mesh sieve set over a bowl, add the rice and cover with cold water. Using your hands, swish the rice to release its starch (the water will turn cloudy). Discard the water, cover with fresh water, swish again, and repeat until the water is clear after swishing, 3–6 changes. Drain well.
Step 3
Transfer the rice to a rice cooker, add 1¼ cups water, and cook according to the manufacturer's directions. (Alternatively, cook the rice on the stove: To a medium pot set over high heat, add the rice and water, bring to a boil, cover, turn the heat to low, and cook until the water is just absorbed, about 18–20 minutes. Turn off the heat and let stand for 10 minutes.)
Step 4
Using a rubber spatula, transfer the rice in an even layer to the bottom of a shallow nonreactive bowl, then drizzle with the vinegar mixture and stir to combine. Cover with a damp towel and set aside to cool slightly, about 20 minutes.
Step 5
Ten minutes prior to serving, remove the seafood from the refrigerator. When ready to serve, onto the bottom of a serving bowl, spread 1½ cups of the cooked rice (reserve the remaining rice for another use). Arrange the sliced seafood over the top, followed by the salmon roe, vegetables, and omelet. Serve immediately.