Japanese Sashimi and Rice (Chirashi)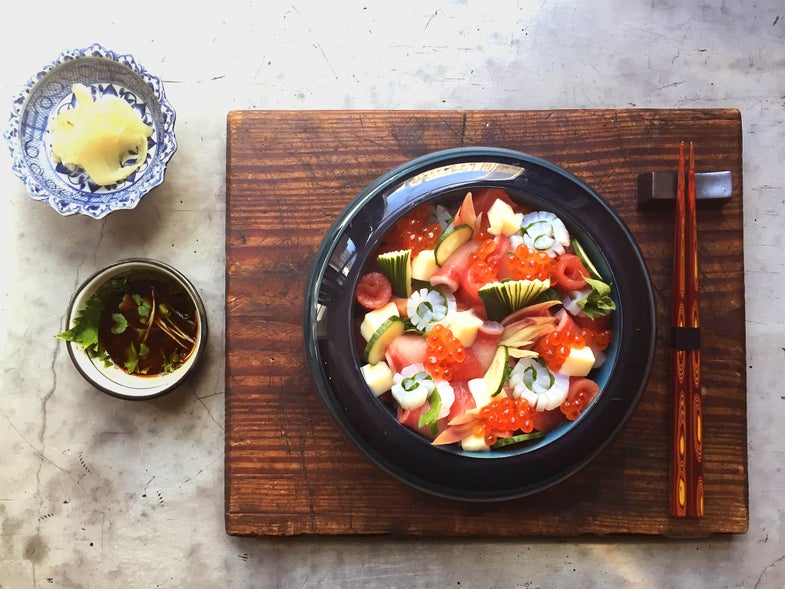 Making sushi at home can be a challenge fraught with angst. That's where chirashi comes in. It's a rice bowl covered in colorful slices of fish, glistening balls of orange roe, and a rainbow of other garnishes from sesame seeds to seaweed promising all the architectural potential we lust for in a well-made sushi platter—but with far less effort. This recipe comes courtesy of chef Mike Lim of Chicago's Roka Akor.
Featured in: Chirashi is Sushi for the Rest of Us »
Chirashi
Sliced seafood and toppings over sushi rice.
For the vinegar mixture
1⁄4 cup rice vinegar
3 tbsp. (1 1/2 oz.) granulated sugar
1 tbsp. mirin
1 tbsp. plus 1 tsp. 1/2 oz. Kosher salt
For the sushi rice and toppings
10 oz. short-grain sushi rice
1 1⁄4 cups water
1⁄2 cup cup mixed, chilled, sliced seafood such as raw tuna, raw salmon, raw yellowtail, and chilled poached squid, left out at room temperature for 10 minutes
3 tbsp. salmon roe (ikura)
1⁄2 oz. each thinly sliced chilled vegetables such as cucumber, avocado, and poached asparagus
1⁄2 oz. chopped tamago (sushi omelet)
Instructions
To make the vinegar mixture, in a medium bowl, combine the vinegar, sugar, mirin and salt; set aside.
To make the sushi rice, in a large bowl, add the rice and cover with lots of water. Gently stir with your hands, then drain and repeat several times until the water is clear. Let dry for 15 minutes.
Transfer rice to rice cooker and add the water. Cook rice according to manufacturer's directions. (Alternatively, add the rice and water to a medium nonstick pot; cook over high heat for 10 minutes, then lower the heat to low and cook just until the water is absorbed, about 15 minutes more. Turn off the heat and let rest for 10 minutes.)
Transfer the rice to a shallow mixing bowl (not metal). Spread out the rice across the bottom of the bowl and, using a wooden spatula or wooden paddle to disperse it, quickly but evenly pour the vinegar mixture into the rice. Mix the rice to distribute. Let the rice cool.
Layer 1 ½ cups rice into the bottom of a serving bowl (reserve any remaining rice for another use). Distribute the toppings over the rice as desired, and serve immediately.