Recipes
Beef Dolma with Apricots and Tamarind
This Middle Eastern basic gets a sweet-and-sour spin.
Serves

serves 8 to 10 people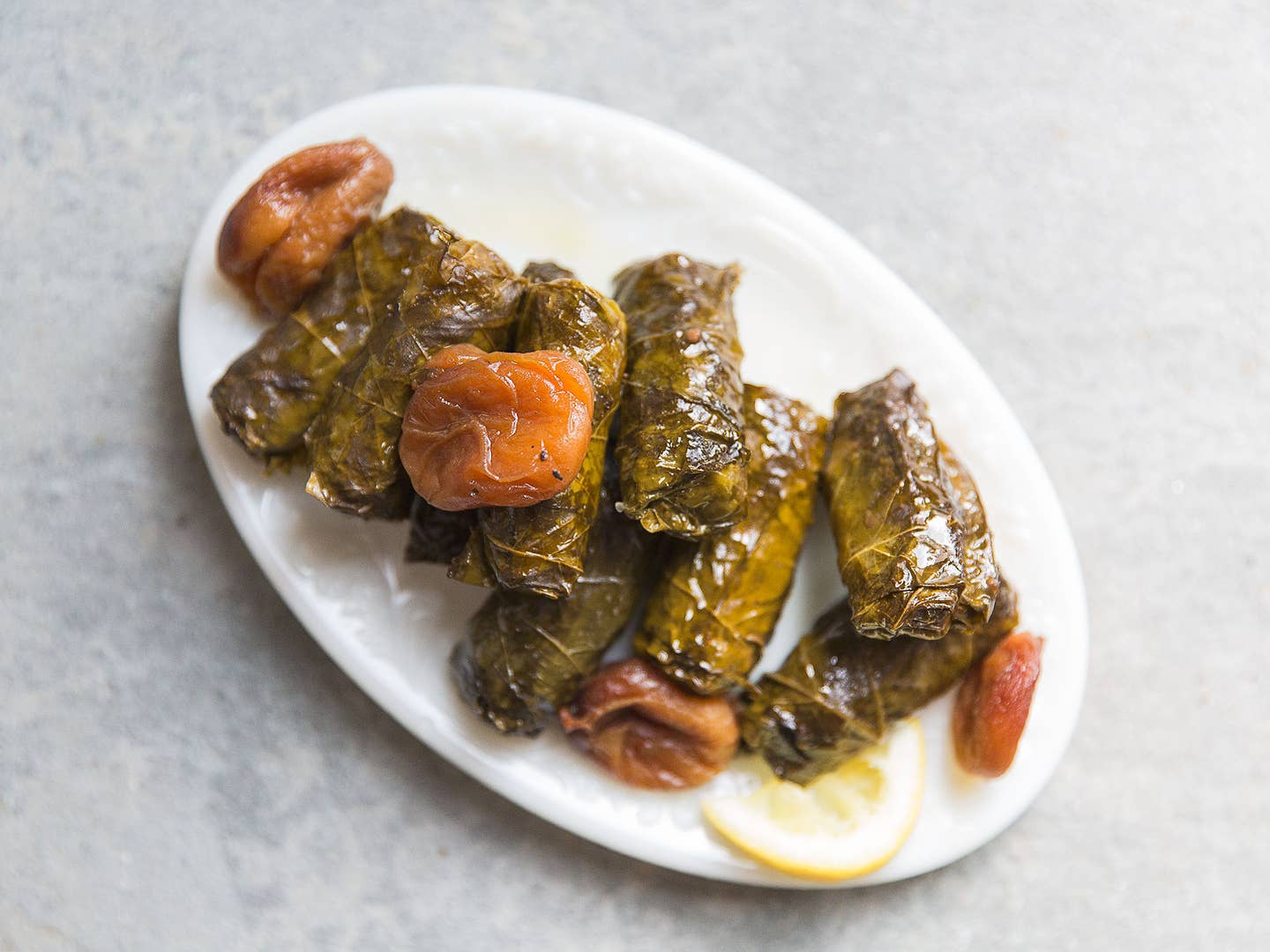 In the Syrian Jewish kitchen, this Middle Eastern basic gets a sweet-and-sour spin with the addition of brown sugar and dried apricots—a pleasant, tart foil to the rich and meaty filling. In the warmer months, try to find fresh, young grape leaves, which are more tender and flavorful than the jarred types. Out of season, jarred leaves are a fine substitute (we prefer the Orlando brand). Serve warm or at room temperature, as an appetizer, snack, or as part of a festive meze spread.
Ingredients
One (8 oz.) jar grape leaves, drained
2 tbsp. tamarind concentrate
1⁄4 cup light brown sugar, divided
3 tbsp. fresh lemon juice
1 tbsp. plus 1/4 tsp. kosher salt, divided
1 cup (8 oz.) dried apricots
1 lb. ground beef
1 cup long-grain white rice, soaked in cool water for 10 minutes, then drained
1 tbsp. ground allspice
1 tbsp. extra virgin olive oil
Instructions
Step 1
Bring a large pot of water to a rolling boil. Fill a large bowl 2⁄3 of the way with ice water. Plunge the grape leaves into the boiling water and cook for 1 minute to tenderize. Using tongs or a slotted spoon, lift the leaves out of the pot and drop them immediately into the ice water. Strain the leaves, use a clean towel to pat them dry, then set them aside while you prepare the dolma filling.
Step 2
In a medium bowl, whisk together the tamarind concentrate, 2 tablespoons brown sugar, the lemon juice, 1⁄4 teaspoon salt, and 4 cups hot water; set aside.
Step 3
Place the apricots in a small bowl. Cover with hot water and set aside to soften for 10 minutes.
Step 4
To a large bowl, add the ground beef, rice, allspice, 1⁄2 cup water, and 1 tablespoon of salt. Mix well. Drain apricots and set aside.
Step 5
Grease a medium (2–4 quart) Dutch oven or similar covered baking dish with olive oil. To assemble the dolmas, working one at a time, lay the grape leaves, stems facing you and vein sides up, on a clean surface. Remove the stem, then spoon about 1 tablespoon of the beef mixture into the center. Fold the sides over the filling and roll somewhat tightly from the stem edge towards the opposite end, forming a cylinder about 2 1⁄2 inches long. (Grape leaves should be rolled tightly enough to hold their shape but loosely enough to allow rice to expand.) Place a layer of stuffed leaves into the oiled baking dish, then arrange half the apricots on top and sprinkle with 1 tablespoon brown sugar; cover with another layer of stuffed grape leaves and another layer of apricots, and sprinkle with the remaining brown sugar.
Step 6
Preheat the oven to 350°F. Pour the tamarind mixture over grape leaves (the liquid should just cover them), then place the pot on the stove over medium high heat. When the liquid comes up to a simmer, cover, lower heat to low, and simmer for 45 minutes. Transfer to the oven and continue cooking until the liquid has reduced by two thirds and the rice and meat are fully cooked, 45 minutes more. Serve the dolmas warm, moistened with cooking juices, as an appetizer or as a side dish.