Recipes
Seared Bologna, Egg, and Cheese Biscuit Sandwiches with Sweet Mustard
Serves

serves 12

Cook

3 hours 30 minutes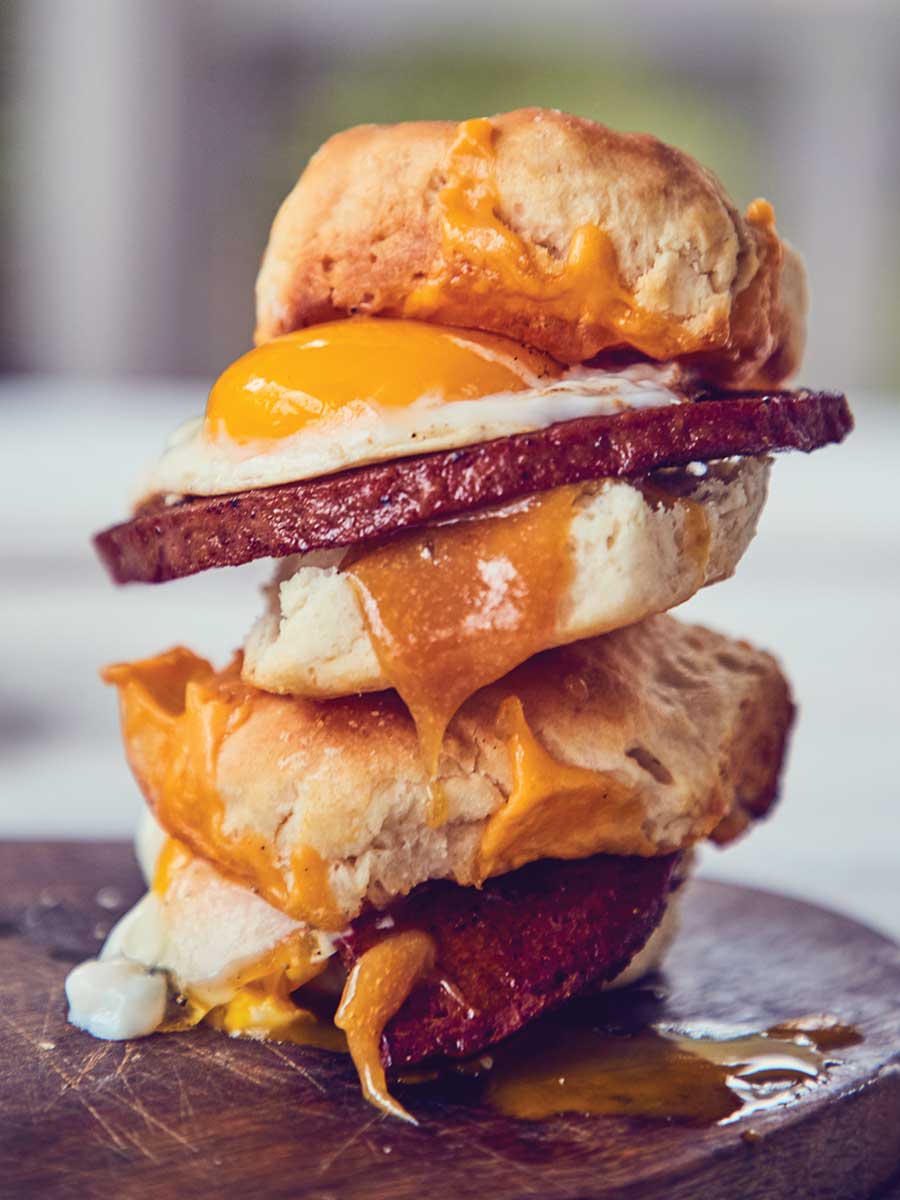 Bologna makes an excellent breakfast sandwich swap for sausage or country ham, particularly when it's purchased from a good butcher, browned in a pan, and layered on warm, split biscuits. Runny fried eggs, melted American cheese, and sweet, sharp mustard make a good thing even better.
Ingredients
For the biscuits:
7 1⁄2 cups (2 lb. 4 oz.) all-purpose flour, plus more for dusting and rolling
1⁄2 cup plus 1 Tbsp. (4½ oz.) sugar
2 tbsp. kosher salt
1⁄4 cup plus 2 tsp. baking powder
4 1⁄2 sticks (1 lb. 2 oz.) cold unsalted butter, cut into small cubes
3 large eggs
2 cups sour cream
3⁄4 cup whole milk
For the sweet mustard & sandwiches:
For the sweet mustard:
1⁄2 cup distilled white vinegar
1⁄2 cup sugar
1⁄2 cup mustard powder, such as Colman's brand
1 1⁄2 tsp. kosher salt
For the sandwiches:
1 tbsp. vegetable oil, divided
Twelve ¼-inch-thick slices bologna
12 large eggs
Kosher salt
Freshly ground black pepper
12 slices American cheese
Instructions
Step 1
Make the biscuits: Preheat the oven to 375°F and line 2 baking sheets with parchment paper.
Step 2
In a large bowl, combine the flour, sugar, salt, and baking powder. Add the butter, and mix with your hands, pinching the pieces until the mixture is the consistency of a coarse meal.
Step 3
In a medium bowl, whisk the eggs, sour cream, and milk. Pour the wet ingredients into the dry ingredients, and use your hands to mix just enough to incorporate (do not overmix).
Step 4
Lightly flour a work surface, and turn the biscuit dough out onto it. Let rest 10 minutes. Using a rolling pin, roll the dough out to an even 1½-inch-thick rectangle. Fold the dough in half and roll it down again, this time to a 2-inch-thick rectangle. Use a biscuit cutter or glass to cut out 2½-inch circles. Reroll the scraps once, and continue cutting more circles; you should have 12 biscuits.
Step 5
Transfer to a platter and freeze for at least 1 hour. (If freezing for longer, cover tightly with plastic wrap.) 6 Meanwhile, make the sweet mustard: In a blender, combine the vinegar, sugar, mustard powder, and salt; blend until incorporated. Transfer to a heat-resistant bowl or the top of a double boiler, and set over a pot of simmering water. Cook, stirring often, until thickened but still runny, about 4 minutes. Remove, transfer to a jar, and refrigerate until chilled.
Step 6
When you are ready to bake the biscuits, transfer them from the freezer to the prepared, room- temperature baking sheets, at least 2 inches apart. Bake, rotating the sheets halfway through, until the biscuits are lightly golden and cooked through, 30–35 minutes.
Step 7
While the biscuits are still warm, line a large plate with paper towels, and set it by the stove. In a large nonstick skillet over medium-high heat, add 1 teaspoon oil. Once hot, add 3–4 slices of bologna, and cook until well-seared in places, 2–4 minutes per side. Transfer to the plate. Working quickly, crack 3 or 4 eggs into the skillet as can fit. Season with salt and pepper, and cook until the whites are set and the yolks are warm but runny, 4–5 minutes.
Step 8
Meanwhile, split the biscuits in half. Spread a bit of the mustard on the inside of each bottom half, and place a slice of American cheese on the inside of each top half. Place a slice of the seared bologna over the mustard, then add an egg. Top with the cheesy half of the biscuit. Repeat until all of the sandwiches are assembled. Serve hot.