Recipes
Braised Pork Cheeks with Palo Cortado Sherry (Carrilleras Estofado con Palo Cortado)
Serves

serves 4-6

Cook

4 hours 15 minutes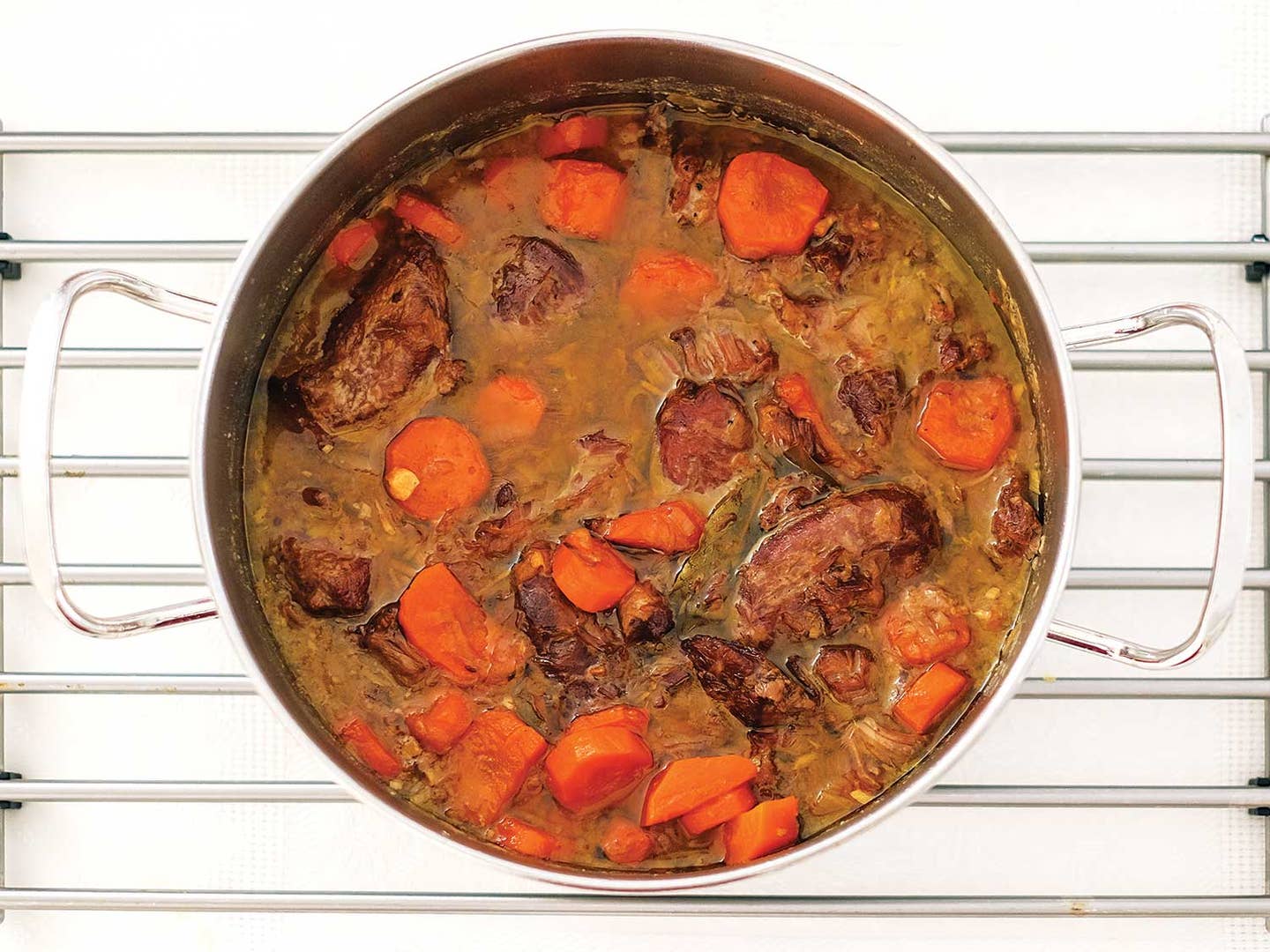 For Equipo Navazos' Eduardo Ojeda, a classic Sunday meal is pork cheeks (carrilleras) slow-braised in beef stock, rich and oxidative palo cortado, and a pool of olive oil. The excess oil helps keep the relatively lean cut of meat tender as it simmers. Ojeda suggests pairing the dish with a young amontillado.
In Jerez, a sherry maker and a criminologist have embarked on a quest to find the oldest, most potent casks of amontillado (and discover why it just makes food taste better).
Ingredients
1 1⁄2 lb. pork cheeks (8–10 cheeks)
1 cup extra-virgin olive oil
5 garlic cloves, sliced
2 large onions (1 lb. 6 oz.), halved, then thinly sliced
1 cup palo cortado sherry
3 bay leaves
2 cups beef stock
3 medium carrots (10 oz.), peeled and cut into ½-inch pieces
Kosher salt and freshly ground black pepper
Instructions
Step 1
Pat the cheeks dry with paper towels, then sprinkle generously all over with salt.
Step 2
Set a large plate near the stove. In a large, heavy-bottomed pan, heat the olive oil over high heat. Once hot, add 4 or 5 of the cheeks in a single layer, taking care not to crowd the pan (cheeks should sizzle strongly when they hit the pan). Cover the pan and lower the heat to medium-high; cook until dark golden-brown on one side, 6–7 minutes. Turn the pieces, cover the pot again, and continue cooking until well browned on the second side, 5–6 minutes more. Remove to a plate, and repeat with the remaining cheeks.
Step 3
Lower the heat to medium. Add the garlic and onion; cook, stirring occasionally, until the onion is soft, 10–12 minutes. Raise the heat to medium-high, then add the sherry and bay leaves; cook, stirring to scrape up any browned bits from the bottom, until the liquid is slightly reduced, 8–10 minutes. Return the cheeks to the pot, along with any liquid from the plate they were resting on. Add the stock and season with black pepper; bring to a low boil, then lower the heat to maintain a simmer. Let simmer uncovered for 2–2½ hours, then add the carrots. Continue cooking until the meat and carrots are very tender, about 1½ hours more. Taste and adjust the seasoning as needed. Serve immediately, or let the meat cool in its cooking liquid before chilling and storing 1–2 days. Reheat before serving.