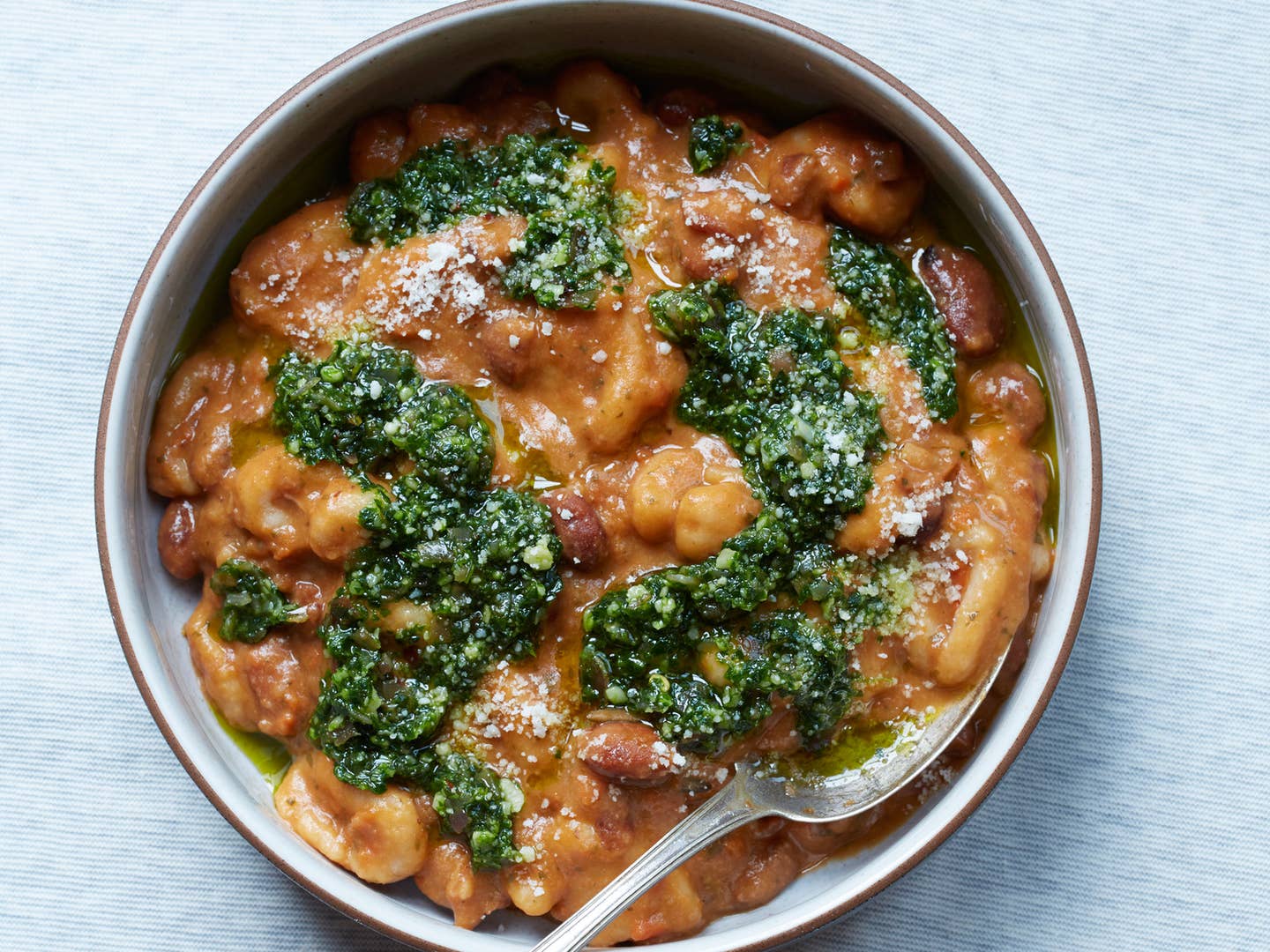 Recipes
Make Gnocchi With Bread Crumbs for the Ultimate Thrifty Meal
Proof that you can make dumplings with just about everything
Gnocchi may be an Italian peasant food, but they're popular wherever they go. And the varieties of gnocchi are endless: beets, potato, ricotta; the list goes on. But one thing that remains more or less consistent across the gnocchi board is that the best are made by hand, dragged across a wooden board or pinched and rolled to create the signature ridged dumpling shape. This borlotti bean stew with shell-like gnocchi, called pisarei and made with bread crumbs, comes from the town of Piacenza, where calloused hands caused by making the dumplings is a badge of honor. The fresh herb pesto and speck keeps this soup remains astoundingly bright and fresh.
Make the gnocchi by pulsing flour, bread, crumbs, and salt in a food processor until combined. Slowly add boiling water while the motor is running, until a firm dough forms. Transfer to an unfloured surface and knead until smooth. Working with a a bit at a time, form dough into a ½ inch thick rope and cut crosswise into ½ inch pieces. This is where the magic happens: working one piece at a time, press on the dough while rolling and flicking to create gnocchi.
While gnocchi is chilling, make the pesto by puréeing parsley, oil, chili flakes, and garlic in a food processor until smooth. Stir in speck, parmesan, and salt, and set aside. To make the soup, cook rosemary, lardo, bay leaf, carrot, and onion in a saucepan until soft. Increase heat, add wine, and cook until reduced by half. Add stock, beans, parsley, and water and simmer over medium heat until beans are tender. Add gnocchi, parmesan, butter, and puréed tomato, and simmer until the gnocchi is cooked through. Garnish with pesto and more parmesan.