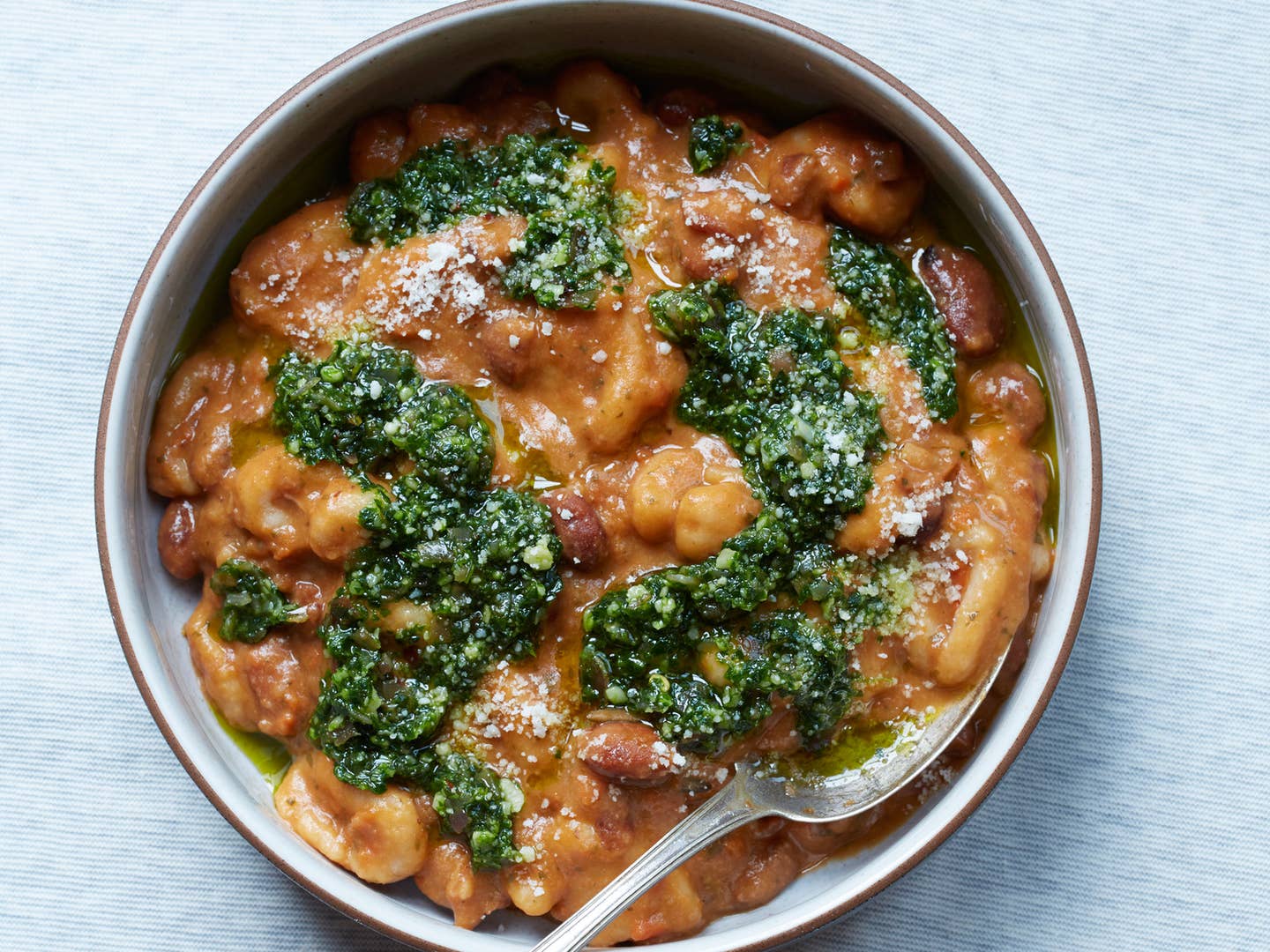 Recipes
Bread Crumb Dumplings and Bean Stew with Parsley-Speck Pesto
In Emilia-Romagna, chef Carla Rebecchi taught Jenn Louis to make this borlotti bean stew with shell-like gnocchi called pisarei. It hails from the town of Piacenza, where, legend has it, mothers would look at the hands of a son's intended bride to make sure she had the callouses that come from dragging the dumpling dough across a wooden board to make the pasta. A fresh herb sauce laced with speck tops it off. Featured in: All the Gnocchi.
1½ cups all purpose flour, plus more for dusting
1 cup dried bread crumbs
2 tsp. kosher salt
1 cup boiling water, plus more as needed
1½ cups packed parsley leaves
2/3 cup olive oil
¼ tsp. crushed red chile flakes
2 cloves garlic
2 oz. speck, minced
¼ cup finely grated parmesan
Kosher salt, to taste
2 tbsp. olive oil
2 tbsp. rosemary leaves
1 (4-oz.) piece lardo or pancetta, cut into ¼" pieces
1 bay leaf
1 carrot, minced
1 small yellow onion, minced
½ cup dry red wine
8 cups beef or vegetable stock
1¼ cups dried borlotti or cranberry beans, soaked overnight and drained
2 tbsp. minced parsley
½ cup finely grated parmesan, plus more for serving
6 tbsp. unsalted butter, cubed
1 (16-oz.) whole peeled tomatoes, puréed
1. Make the gnocchi: Pulse flour, bread, crumbs, and salt in a food processor until combined. With the motor running, slowly add boiling water; mix until dough forms. If dough is dry, add more boiling water, 1 tbsp. at a time, until a firm dough forms. Transfer dough to an unfloured surface; knead briefly until dough is smooth. Quarter dough and cover loosely with plastic wrap. Working with one-quarter dough at a time, use your hands to roll dough into a ½"-thick rope. Cut dough crosswise into ½" pieces. Working with one piece at a time, and with the side of your thumb, press down on the dough while rolling and flicking up to create gnocchi. For a step-by-step guide, check out our Gnocchi 101. Transfer gnocchi to a flour-dusted parchment paper-lined baking sheet. Separate gnocchi to prevent sticking and cover with plastic wrap. chill until ready to use.
2. Make the pesto: Purée parsley, oil, chile flakes, and garlic in a food processor until smooth; transfer to a bowl. Stir in speck, parmesan, and salt; set aside.
3. Make the soup and serve: Heat oil in an 8-qt. saucepan over medium. Cook rosemary, lardo, bay leaf, carrot, and onion until vegetables are soft, 4-6 minutes. Increase heat to medium-high and add wine; cook until reduced by half, 1-2 minutes. Add stock, beans, parsley, and 2 cups water; boil. Reduce heat to medium; cook, covered, until beans are tender, 1½-2 hours. Add reserved gnocchi, the parmesan, butter, and tomato purée; simmer until gnocchi are cooked through, about 15 minutes. Discard bay leaf. Ladle soup into bowls; garnish with reserved pesto and more parmesan.