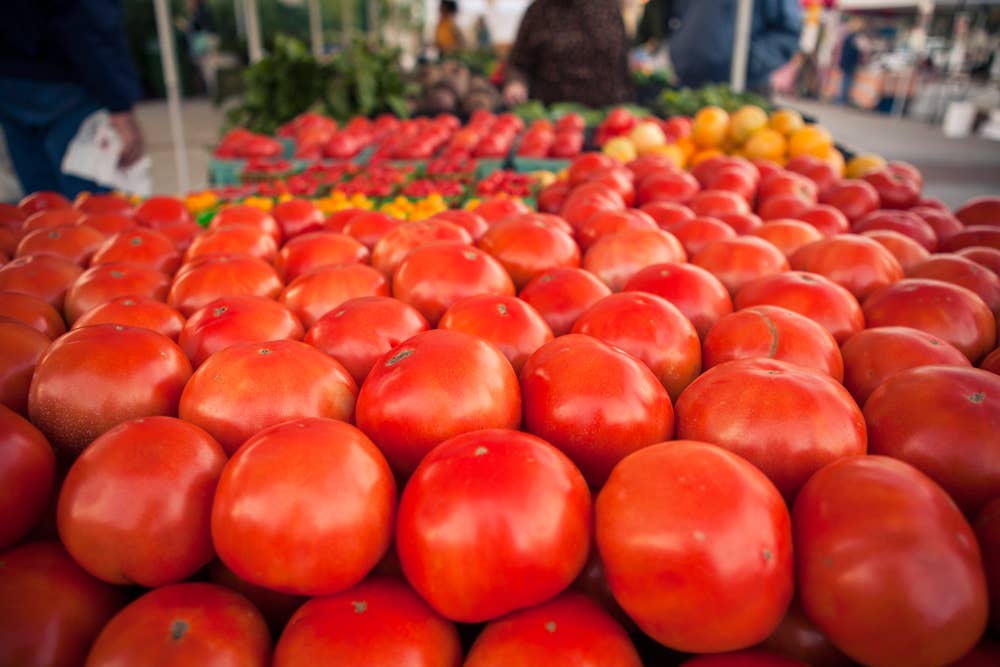 Techniques
Building a Garden: How to Plant Tomatoes
The key? Hurry up and wait.
It's time to start talking about why we're all here. For the garden gung-ho or just the garden-curious, the crown jewel of the whole enterprise, the most panted-over, obsessed-about, breathlessly anticipated part of the endeavor is, of course, the tomato. It's the edible summer garden's ur-fruit, and like a new car, its value plummets exponentially as the miles accumulate between vine and mouth, so it is totally worth growing yourself.
There are countless varieties of heirloom tomatoes, each with a different aesthetic or gastronomic appeal. But for Shawn Connell of GrowNYC, two are standouts: San Marzano, ideal for saucing, and Brandywine, ideal for slicing and eating.
For the GrowNYC teaching garden on Governors Island in New York City, tomato season actually started months ago—in Shawn's apartment. He planted his tomato seeds about 6 to 8 weeks before this year's frost date in little containers and kept them at home, watered, and under a bright fluorescent light. The purpose was to save time: Tomatoes take a while to grow from seed, so if you start them indoors and off-site in the winter and then plant them outside once they've grown a bit, they'll be ready weeks before varieties grown from seeds planted directly into the garden bed.
If you haven't prepared as Shawn has, don't worry: Garden centers sell tomato plantlings, and Shawn recommends that first timers start their tomatoes that way, as opposed to from seed, to make sure they are beginning with a strong, healthy plant.
As soon as you are safely clear of the frost date, tomatoes can (and should) go into the ground. Young plants grown indoors will need to be hardened—a Dickensian sort of process that refers to leaving them outside for a few hours every day for a week so they forget their cushy start in the warm womb of your living room and get used to the still-cool outdoors.
Once your tomatoes have hardened, it's time to plant. No matter the variety, Shawn recommends planting them 18-20 inches apart, and shoving them into the soil up to their first "true leaves": the hearty, strong-looking ones, not the little shoots. If you planted tomatoes last year, don't plant them in the same place again: Your soil might be depleted, and replanting them may encourage disease.
And then, you wait! A couple of months, probably. All of the above is true for sweet peppers too, and they take even longer—but summer produce is just like that: demanding, finicky, kind of slow, but well worth the wait.