Recipes
Iraqi Lemon Cardamom Cookies
Garnish these iced treats with a curl of candied citrus peel.
Serves

Makes about 30 Cookies

Cook

3 hours 40 minutes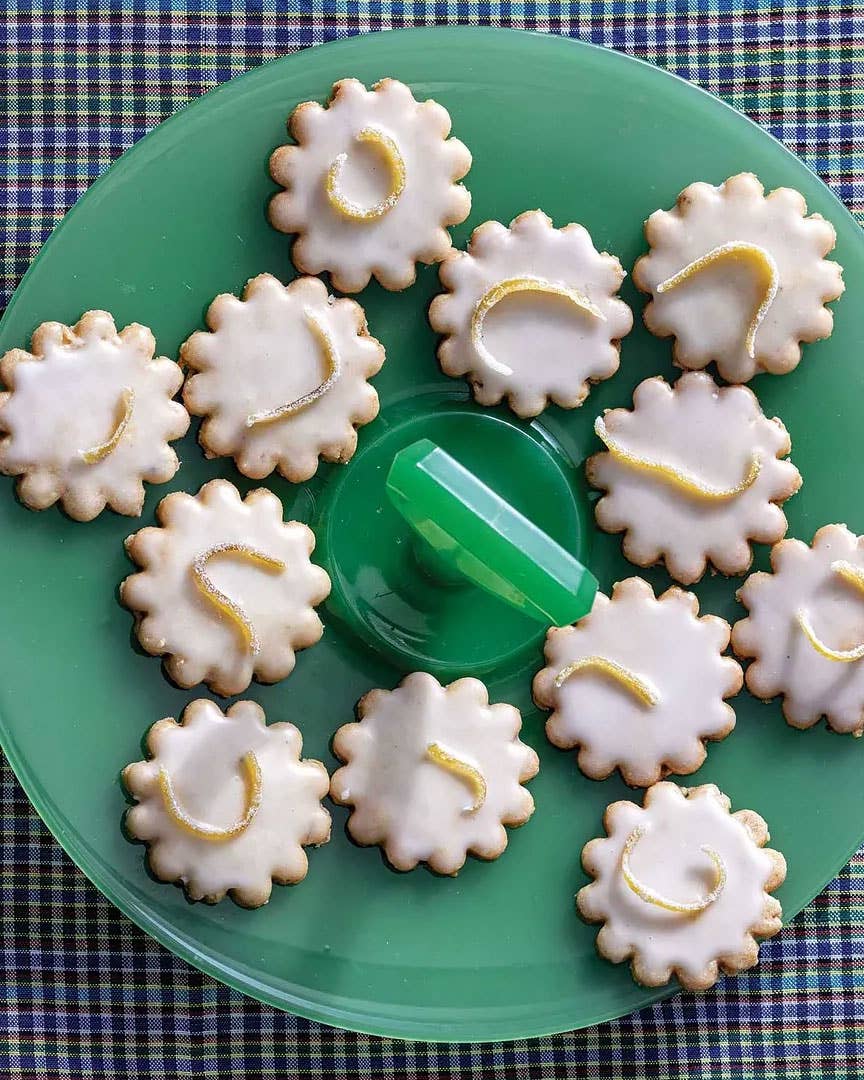 In our February/March 2017 issue, Jessica Soffer wrote movingly about her Baghdad-born father's battle with cancer, and how she coped by nursing his ailing potted lemon tree, named Marilyn, back to life. Fruit from a revived Marilyn informed these cookies, based on Middle Eastern sweets Soffer's dad, Sasson, enjoyed as a boy. While it's fine to top these cookies with store-bought candied lemon peel, all you need to make your own is a few lemons, a cup of sugar, and a little planning to dry them properly. Check out our best cookies to bake for the holidays here.
Ingredients
For the cookies:
2 cups plus 2 Tbsp. all-purpose flour, plus more for dusting
1 tsp. baking powder
1 tsp. ground cardamom
1⁄2 tsp. kosher salt
16 Tbsp. unsalted butter (2 sticks), softened
1⁄3 cup granulated sugar
1 tsp. vanilla extract
1 tsp. finely grated lemon zest
1⁄4 cup minced, candied lemon peel (store-bought or homemade, plus more for garnish
For the glaze:
1 confectioners' sugar
Juice of ¾ of a medium lemon (3 Tbsp.)
Pinch of salt
Instructions
Step 1
In a medium bowl, whisk together the first 4 ingredients and set aside. In the bowl of a stand mixer fitted with the paddle attachment, cream the butter and sugar on medium speed until smooth and creamy, 1-2 minutes. Add the vanilla and lemon zest, and continue beating to incorporate. Add the lemon peel and the reserved dry ingredients, then mix on low speed, using a silicone spatula to scrape the bottom and sides of the bowl as needed, until a crumbly dough forms, about 2 minutes.
Step 2
Turn the dough out onto a lightly floured work surface, then divide the dough in half, form into 2 discs, wrap tightly in plastic wrap, and refrigerate for at least 2 hours or up to 3 days.
Step 3
Preheat the oven to 300°F.
Step 4
Lightly flour a clean work surface and rolling pin. Working 1 disc at a time, roll the dough out to ¼-inch thickness. Cut out cookies with a 2-inch round cutter, and space 1 inch apart on parchment-paper-lined baking sheets. Repeat with the other half of the dough, then reroll the scraps once to continue cutting more cookies. Bake, rotating halfway through, until golden brown, 18-22 minutes. Cool for 5 minutes on the baking sheets, then transfer to a wire rack to cool completely.
Step 5
Meanwhile, make the glaze: In a medium bowl, whisk together all the glaze ingredients until no lumps remain. Once the cookies are cooled, dunk the bottom third of each cookie into the glaze, letting any excess drip back into the bowl. Return the cookies to the wire rack, top each with a piece or two of candied peel, and set the rack of cookies aside until the glaze is completely dried. Stored in an airtight container, the cookies will keep for up to 7 days.