Our Best Christmas Cookies to Bake into Your Holiday Traditions
Santa is going to need some more milk this year.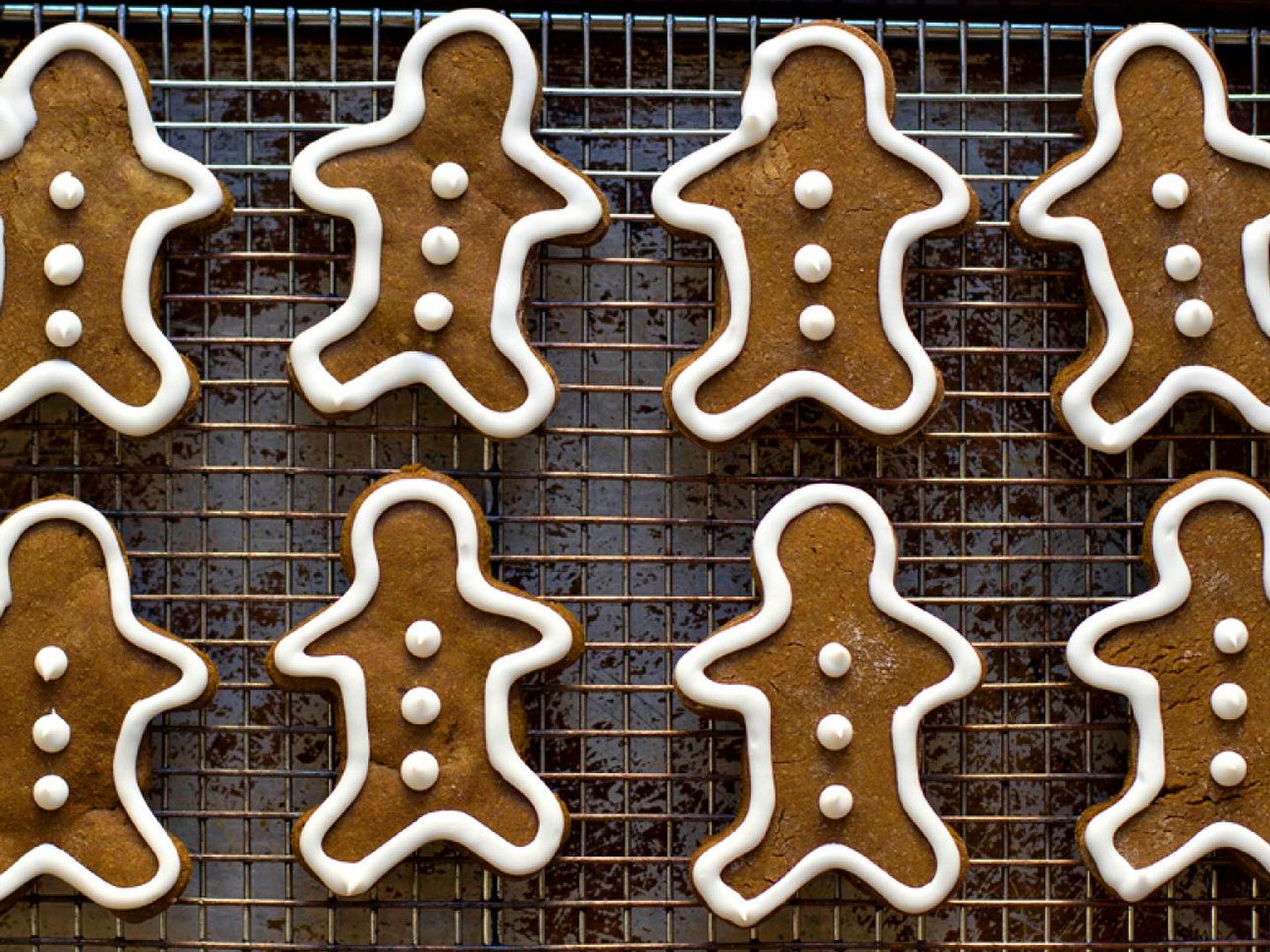 Break out the cookie cutters, because Christmastime means cookie time. With recipes for chewy cookies like chocolate chip or snickerdoodle, or buttery, traditional Danish cookies, there's something here for every cookie lover. The holidays are a season for sharing, and these desserts are the ultimate snacks to give to friends and family. 
Infuse your cookies with matcha for a vibrant Christmas tree color, or make bourbon balls to serve at your next holiday party. Forgot something to get for the neighbors? Don't worry: cookies make great holiday gifts, but with these recipes, it's hard to say if they'll ever make it from the pan to the tin. Whether you're searching for a classic gingerbread cookie or for a flavorful mint chocolate chip round, our best Christmas cookie recipes have you covered.
We've found that rolling these cookies into bigger portions, then refrigerating them for at least 2 hours before slightly under-baking them at 350°, results in incredibly gooey, soft chocolate chip cookies. Get the recipe >
These gorgeous holiday cookies from baker and master preserver Camilla Wynne temper spicy candied ginger with earthy rye flour and deep, dark molasses. A rye whisky glaze accentuates the crackled tops, and a dainty piece of ginger adorns each one. Get the recipe >
These cream cheese brownies are adapted from a recipe by Oregon's Hazelnut Marketing Board. To roast the nuts, spread in a shallow pan and bake in a 275°F oven for 20– 30 minutes, or until the skins crack. Cool, then rub the hazelnuts with a rough cloth to remove their skins. Get the recipe >
These sandwich cookies, adapted from chef Frederico Ribeiro of New York's Te Company, are an homage to the classic Taiwanese pineapple cake. Here a super-buttery vanilla bean shortbread gets a nutty dose of hazelnut flour, and sweet pineapple-rosemary jam gets balanced by the spicy, fermented, and grassy flavor of Japanese yuzu kosho paste. Get the recipe >
Thought to be derived from the Spanish tradition of empanadas, these half-moon-shaped Sicilian cookies found in Modica are filled with a surprising but delicious combination of the robust chocolate from the region, spices, and ground beef. Get the recipe >
"These are pretty easy to throw together," says blogger and cookbook author Rebecca Firth. "The only high maintenance component is the dulce de leche, which must be made in advance and fully cooled before it is added to the cookies." Get the recipe >
Soft and chewy, not dry or brittle, this recipe was designed for deliciousness rather than just structural soundness. Get the recipe >
In many parts of the world, from Asia to the Americas, cardamom finds its way into cookies. Get the recipe >
This superlative version of the kiddush cookie is cakey, moist, and can be made up to 5 days in advance. Get the recipe >
These generously iced, cakelike cookies are as cherished by New Yorkers as bagels and cream cheese. To quicken the setting of the glazes, place the cookies in the refrigerator for about 20 minutes after each coating. Get the recipe >
Tree-shaped sugar cookies, adapted from an old standby, Betty Crocker's Picture Cookbook, epitomize a classic American Christmas. Get the recipe >
These classic holiday cookies, which we adapted from Carol Gelles' 1,000 Vegetarian Recipes, are rich with molasses and spices and nutty from the addition of whole wheat flour. Get the recipe >
Folding cornflakes into the dough before baking gives simple chocolate cookies a satisfying crunch. Get the recipe >
Crumbly, buttery cookies are filled with a luscious hazelnut-flavored pastry cream in a recipe adapted from Rosetta Costantino's Southern Italian Desserts. These cookies are massive in both height and width; we find cutting them in half after assembling makes serving easier. Get the recipe >
A glossy coating of chocolate makes these famously buttery, crunchy wafer cookies. Get the recipe >
Deep-fried and then drenched in a honey syrup, yak kwa are a traditional Korean sweet flavored with sesame oil and fresh ginger juice. Get the recipe >
An egg wash before baking is the secret to the gorgeous golden color of these pretzel-shaped butter cookies. Get the recipe >
Adapted from Patty Piner's soul food cookbook Sweets, these chewy chocolate cookies are made entirely on the stovetop. Get the recipe >
These delicate French cookies are sugar-dusted and flaky, with a toothsome bite. Get the recipe >
Replacing standard all-purpose flour with whole grain rye makes a dense, fudgy cookie with an intense and complex chocolate flavor. Get the recipe >
Adapted from The Lee Bros. Charleston Kitchen cookbook, these tuile-like cookies are crunchy, light, and airy with a delicate nuttiness from toasted sesame seeds. Get the recipe >
Variations on this elegant cookie can be found throughout Latin America, but alfajores are associated above all with the cafe culture of Buenos Aires. They're served year-round with coffee, but during the holidays home cooks all over Argentina break out their trusted family recipes. Get the recipe >
Our gluten-free twist on classic sugar cookies uses rice flour as the base. Gluten-free doughs tend to be more delicate than standard cookie doughs; if the dough becomes too soft to work with, cut out shapes and place unbaked cookies on trays in the freezer for 3-5 minutes before baking. Get the recipe >