Techniques
Everyone Should Own These Cast-Iron Kitchen Tools
From skillets to Dutch ovens, cast-iron cookware has proven its worth in the kitchen for generations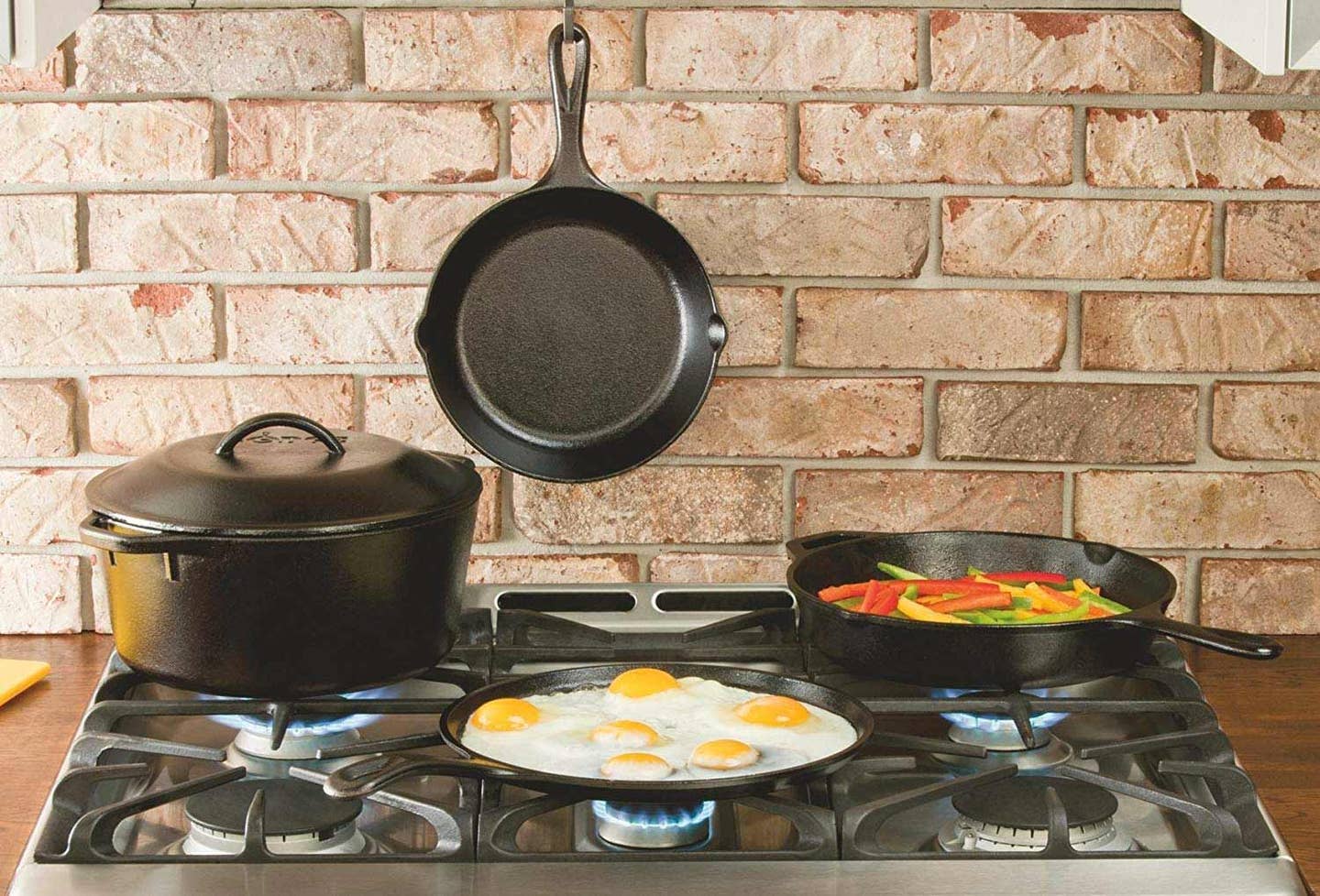 A good cast-iron skillet is one of those things that might not seem essential until you've tasted food cooked in one. Iron is known for its heat conduction, allowing you to cook at higher and more stable temperatures than with regular pans (and get that perfect sear on your steak, for instance). Best of all, any cast-iron cookware can seamlessly go from the stovetop to a blazing hot oven and back again.
For those of us who haven't been blessed with a perfectly seasoned cast-iron skillet from grandma, it's time to get cooking. While cast iron is an investment, if you treat it properly, chances are it will be with you for life.
The cast-iron skillet has evolved into a versatile cooking staple. It will deliver when it comes to anything from searing steaks, making pizza, grilling vegetables, or even baking desserts. Lodge is a tried-and-true brand that has been around for more than a century. Their signature skillets range from 3.5 to 17 inches, and once you own one, you'll be tempted to get one in every size. If you're new to cast-iron cooking, a 12-inch skillet is a great starting point.
A two-in-one deal, this product functions as a grill on one side and, with one swift flip, a griddle on the other. Cast iron's superior heat retention makes it an ideal surface for grilling. The pan can be paired with any cooking surface: gas, electric, induction, oven, even an open fire pit. It fits perfectly over any oven range or stove top, allowing for maximal pancake cooking. Did someone say weekend brunch?
Le Creuset came to the table in 1925 with their first porcelain enameled cast-iron pots. You can still purchase the original and forever classic fiery burnt red, or choose one of their 12 other shades. A blend of traditional and modern, this Dutch oven works well with any kitchen style and is built to last. It's unbeatable when it comes to heat distribution, and the tight-fitting lid keeps moisture locked in when needed.
This roasting pan's porcelain enamel coating over the cast-iron core gives a glossy, durable finish in Cardinal Red or Provencial Blue. The wide handles (which provide a secure and comfortable grip) allow Cuisanart's dish to move seamlessly among the stovetop, oven, and dining room table.
Cleaning cast iron can seem daunting, but all you really need is some steel wool or chain mail, water, salt, and oil. If you take care of your cast iron by cleaning, storing, and seasoning it well, you will end up handing it off to the next generation in the same condition you received it in. Does your skillet have burnt food bits so deeply stuck on that they seem like one with the pan? Did you store it hastily and now it's covered in rust? This chain mail scrubber will rescue your cast iron every time.