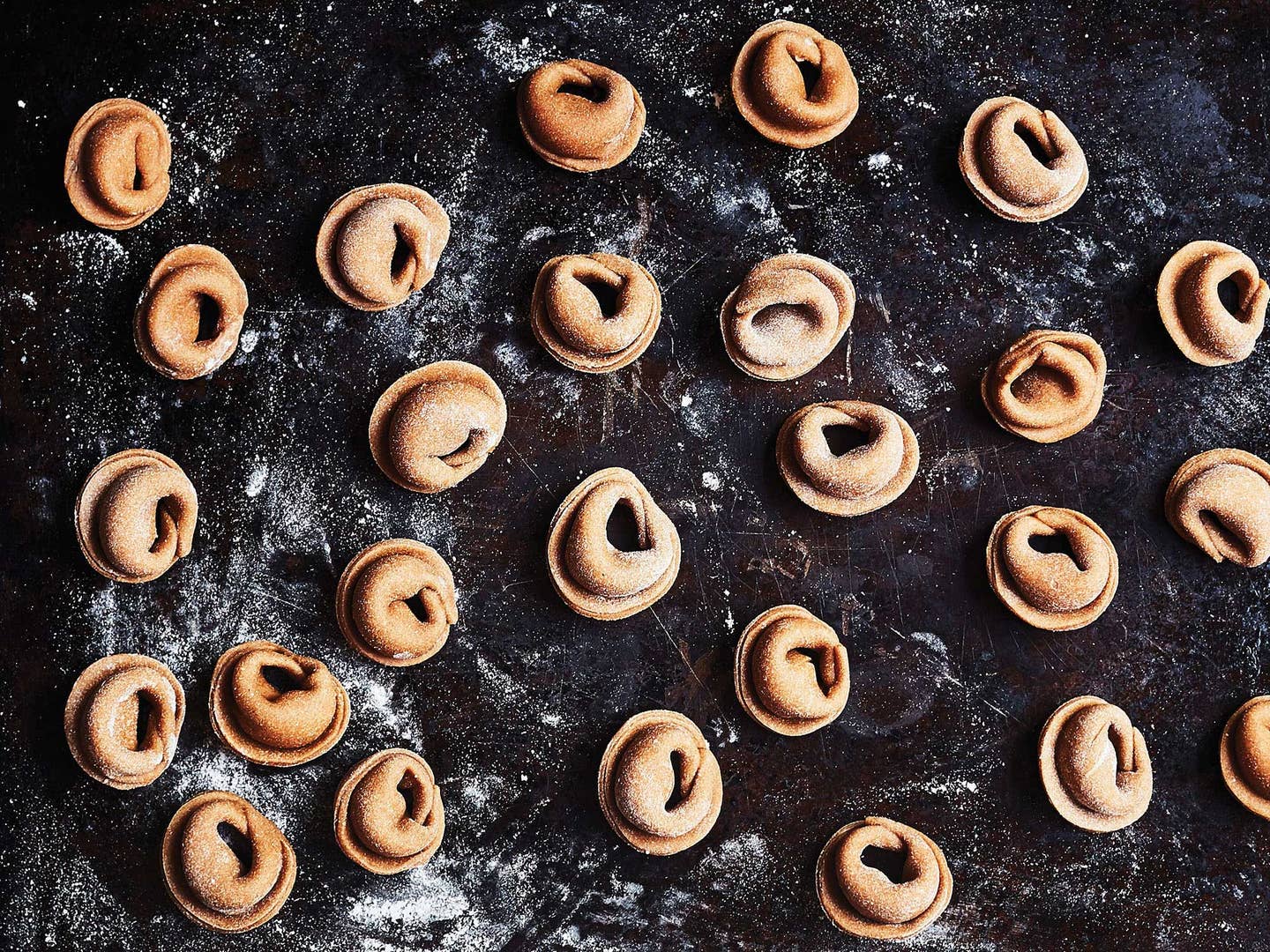 Techniques
Why We're Crazy About Chestnuts—and How to Cook With Them
Roasting over an open fire is only the beginning; here are the chestnut goodies and tools to make the most of the season
Seventeenth-century English writer and gardener John Evelyn called chestnuts "lusty food for rusticks," an apt description for their toothsome, savory flesh and those determined enough to harvest it. Chestnuts appear fleetingly each autumn, their meat unlocked only once their interior armor has been scored, roasted, and flayed by nimble fingers. In France, Italy, Japan, and Turkey, sweet chestnuts (distinct from the inedible horse chestnut) are celebrated every October and November when they drop from trees to the cool forest floor, collected and turned into everything from flour to purée to marrons glacés (candied chestnuts). In parts of southern Europe, even wild boars feast on the fallen seeds, unwittingly flavoring their flanks and bellies for meat eaters.
If you fancy yourself a rustick, grab a (very specific) pan and get roasting. For everyone else: We've compiled a list of our favorite chestnut products here, each of which perfectly captures the lusty fragrance and taste of the season.
Available only after they've fallen in October, fresh chestnuts can be found at American farmers' markets or online. Dried chestnuts (rather than the preserved kind, which can be soggy) are available year-round. Rehydrate by boiling them for up to 45 minutes before using for baking or cooking.
Made from fresh and candied chestnuts, this sweet, creamy spread can be swiped into a crêpe and dusted with powdered sugar or slathered on hot toast with a sprinkle of cinnamon. We like Clément Faugier from the Ardèche region of France.
Like almond flour, chestnut flour is a gluten-free alternative and often used in pastries or breads to add a savory richness. We integrated it into a classic pasta dough recipe for tortellini with ricotta and chestnut purée.
Rich, savory, and intensely aromatic, chestnut honey is a staple in Italy come midsummer. This particular miele di castagno by Mario Bianco is made near Piedmont and the Valle d'Aosta and is labeled by vintage year. Pair with blue cheeses, ricotta, and slices of warm, buttered brown bread.
In Europe, the fattest chestnuts are saved to make marrons glacés, crystallized lumps of tooth-aching nutty sugariness. In Turkey, chestnuts are candied and preserved in thick, confit-like syrup like the popular brand Kafkas Bursa from Bursa.
Old-fashioned brass chestnut roasters can be found on eBay and at antiques markets. But this modern, perforated pan will also do the trick. First, score each nut with an X, then put them in the pan over medium heat on the stovetop, shaking regularly so they don't burn. After 30 to 35 minutes, the skins will curl back. Take them off the heat, and cradling them in a dish towel while still warm, press a knife blade flat onto each shell to loosen and peel.
Recipes for Cooking With Chestnuts