Chilean Spice-Rubbed Pork Shanks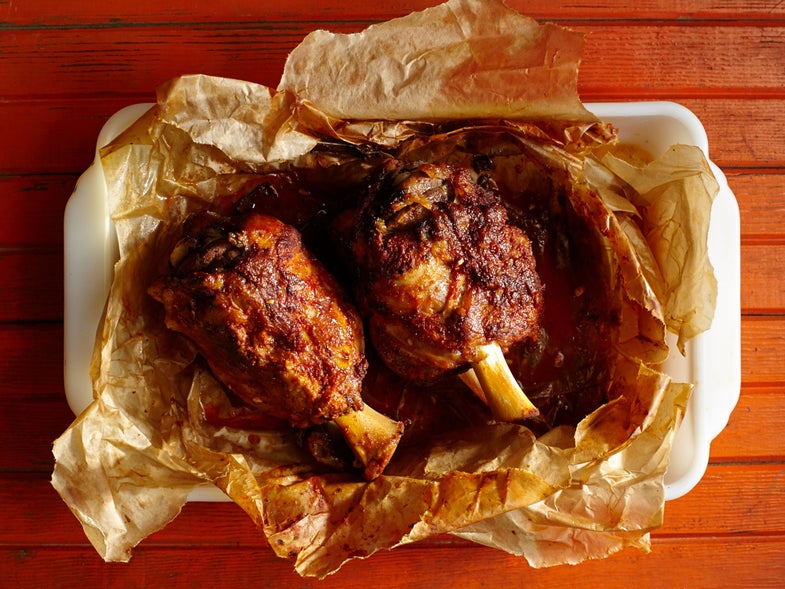 In Santiago, Chile, chef Juan Pablo Mellado Arana of Las Cabras serves these pork shanks, burnished red from merkén and piquant red pepper paste, with rice for a substantial lunch. To check the doneness of the pork without opening the packet, simply pierce the packet with a paring knife; it should go in with no restistence.
Featured in: All Eyes on Santiago
Yield: serves 2-4
Time: 4 hours
Ingredients
2 (1 1/2-lb.) pork shanks
Kosher salt and freshly ground black pepper
1 clove garlic, minced
2 tbsp. paprika paste
1 tbsp. merkén or hot paprika
1 tsp. dried oregano
1 tsp. ground cumin
Instructions
Heat the oven to 325°. Layer one 24-inch square sheet of foil with a 24-inch sheet of parchment paper and place the shanks on the paper; season with salt and pepper. On a cutting board, use the side of your knife to mash the garlic with a pinch of salt into a smooth paste. Scrape the garlic into a bowl and stir in the paprika paste, merkén, oregano, and cumin. Rub the spice mix all over the pork shanks.
Bring the sides of the parchment and foil up over the pork and crimp to form a packet. Transfer the packet to a 9-by-13-inch baking dish and bake until the meat is very tender, about 4 hours. To serve, cut open the packet and serve the pork warm with its pan juices.