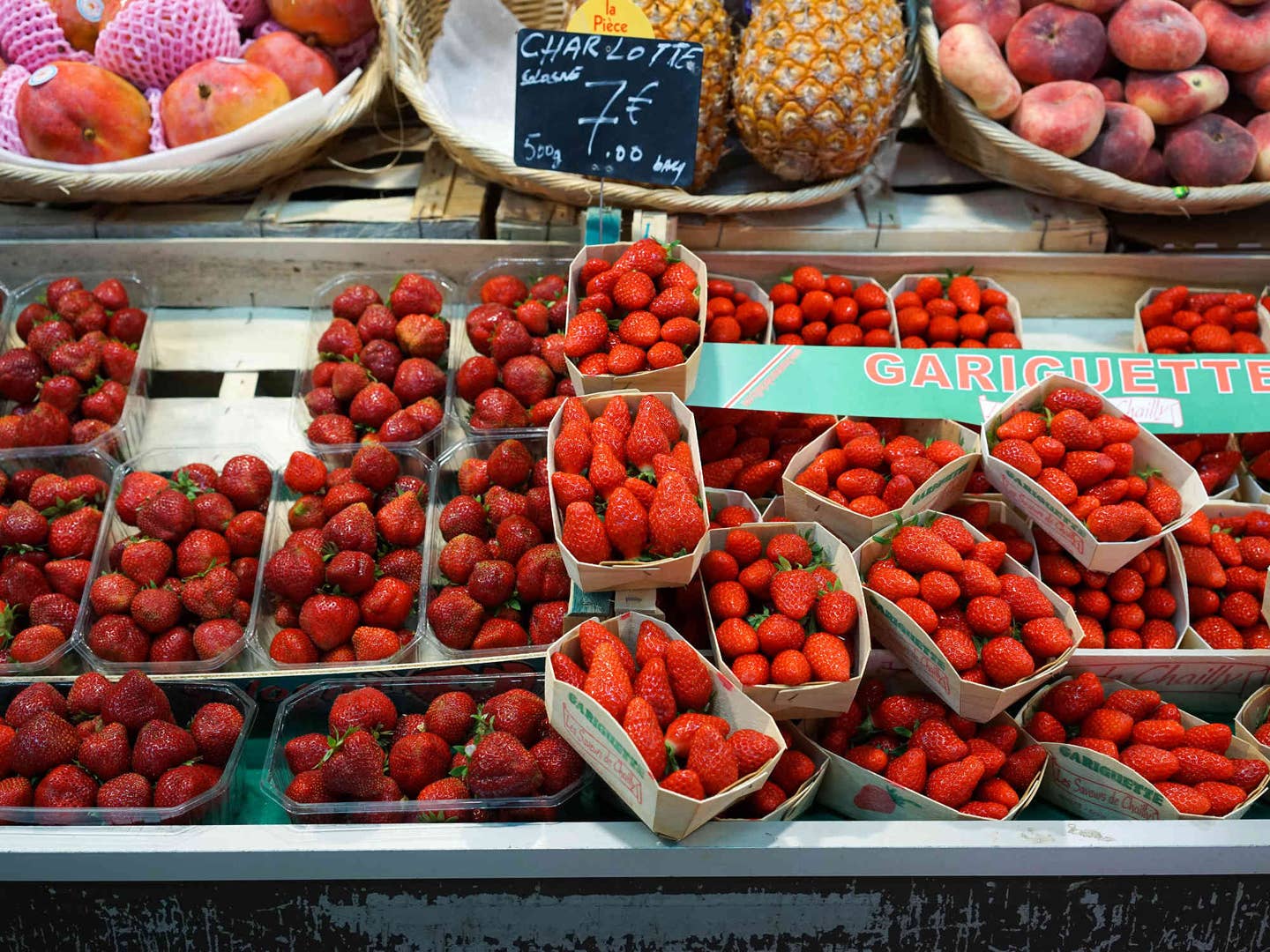 Culture
I'm Flying Across an Ocean to Wander Through Strawberry Paradise
Confessions of a strawberry obsessive with notes on the the rare, exceptional berry varieties worth seeking out
My birthday is coming up and I'm in need of a really good one. I don't want any big gifts this year; I just want French strawberries. So this year, for my birthday, I'm taking myself to Paris. I haven't made any restaurant reservations but I have routes to my favorite markets mapped out. My plan is to roam the markets, likely more than one per day, and walk around one of the world's most beautiful cities while tasting the world's most beautiful fruit.
I live for strawberries. I count down the days till they're in season, and then I eat them every day until they disappear from the market. It's not just that they're my favorite fruit, they're one of my favorite things in general. And as with most great fruits, you have to look beyond the supermarket kinds to get what they're really about. If you're so-so about strawberries, I blame the white-colored woody ones, hard as rocks and available year-round. Ignore those.
The exciting ones here in the Northeast are the Tristars. They're pudgy like pineberries, especially sweet, and enjoy a longer season than most (which if you haven't guessed is right now). There is almost always a line for them at the farmers' market, and their debut day is always kind of a frenzy.
But Paris is strawberry paradise. Every pint of quality American strawberries has a few outstanding, stop-you-in-your-tracks bites; in France they're more consistent, generally amazing all the way through. And in Paris you get gariguettes and fraises des bois. Gariguettes are cone-shaped ("long conic" and "necked" are the proper technical terms), fragrant and floral, so delicate you barely need to chew them. Fraises des bois are tiny and vibrant (in color and flavor). They aren't as rare as they used to be, and sometimes they even appear at the Greenmarket in New York, but those are never as good as their French relatives.
Sometimes in France, I happen upon pineberries, small and squat ("globos conic," to be precise) albino strawberries that taste a bit like pineapple and are dotted with red seeds. And there's a new variety hitting the Paris markets called Charlotte; turns out she's what artificial strawberry flavor wishes it was.
I dream of growing my own someday, but in a small New York apartment that's not really an option. So I resort to internet research that some might call obsessive, but I think is more like stalking a new crush. My research tells me that there are at least 100 different kinds. 100! It's tragic to me that only a few grow nearby, but all that means is I have to broaden my travel plans to find more strawberries.
During peak season, I go through about a pint of strawberries a day, all as-is. I don't want to cook them, or add sugar, or do anything to mess with perfection. But on the rare occasion I wind up with some perfect strawberries a little past their prime, I don't mind making something sweet. If it's going to save them from being tossed, by all means, add some sugar and make something out of them. Here are some recipes to get you started.
Recipes to Make With Those Perfect Strawberries