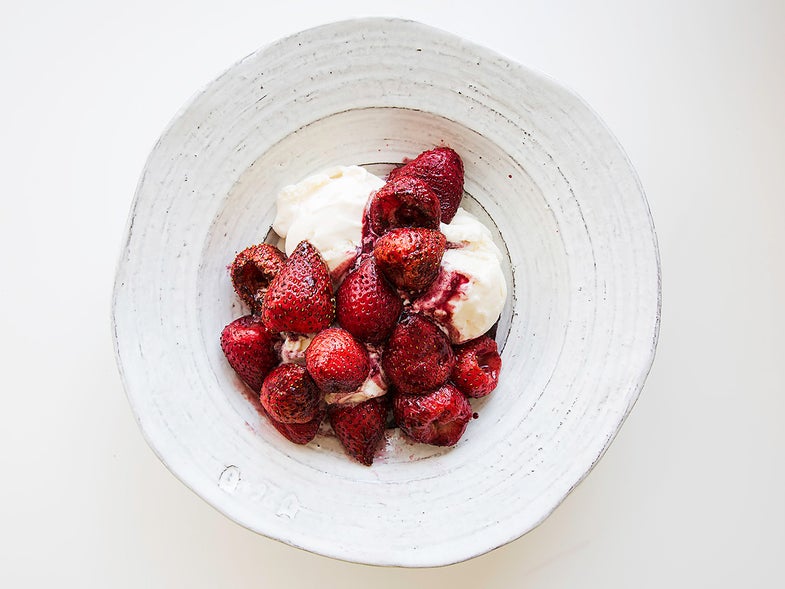 This deeply satisfying summer dessert is a "non-recipe" from Editor-in-Chief Adam Sachs. To make them, he throws berries on a barely warm grill, after he has served his guests dinner. Over the low heat, the berries warm slowly, becoming sweeter, juicier—the epitome of summer desserts.
Grilled Strawberries
Roasting strawberries over mellow, glowing embers turns them from bright red bulbs to plump crimson pillows of deeply sweet juice.
Time: 40 minutes
Ingredients
2 lb. strawberries, hulled
3 cups red wine
2-3 tbsp. blackberry jam or honey
Vanilla ice cream, to serve
Instructions
After you've grilled and served dinner, place strawberries over mellowed charcoals. If you're using wood, throw a little more over the coals so that it steadily smokes.
Roll the berries around the grill periodically. You should not be achieving grill marks, just allowing the berries to slowly release their structure, soaking in the smoke and gentle heat.
Meanwhile, reduce the wine over medium heat until it reaches 2⁄3 cup. Stir the jam or honey into the reduction and keep warm.
When the berries are deep crimson, and cooked through (about 30 minutes), toss them with some of the reduction and spoon over vanilla ice cream.