Our Guide to the Coolest On-the-Go Lunch Accessories
Bags, bentos and boxes to brighten your dreary desk-side meals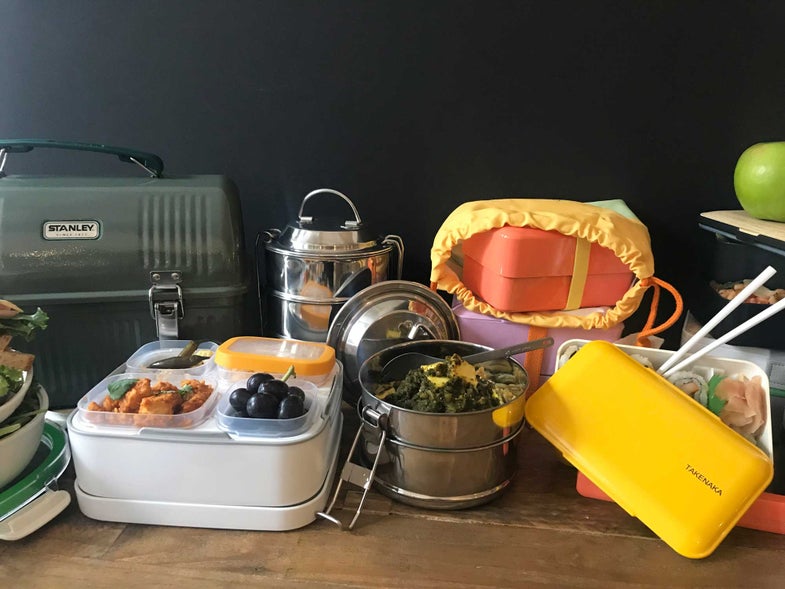 Packing a lunch for work might seem a touch childish if you have an office job; it can feel like a throwback to brownbagging juice boxes and PB&J's in grade school. On the other hand, delivery options don't always pack the nutritional and culinary punch we need them to, leaving many of the workforce undernourished and bored by our much-needed lunch breaks.
Enter the grown-up lunch box. In the US, classic tin lunch pails like the iconic Thermos "V" were marketed to midcentury American mill-workers and miners, though even before their creation, workers toted their meals to work in cloth sacks and tobacco tins. Of course, containers designed to bring lunch on the go are not an exclusively American phenomenon. Tiffins and bentos, popular objects of meal transport in Asia's urban centers, are now growing in popularity elsewhere due to their efficient design and sturdy construction.
Long story short, it's time to revisit a properly packed lunch. Whether you're game for assembling an intricate bento meal or you just want a way to keep your leftovers hot, a well-designed lunchbox can lend a boost of inspiration to your meal prep. We rounded up some of our favorite accessories for making sure everyone enjoys that important midday meal.
The Classics:
These glossy, candy-colored bentos from the Japanese brand Takenaka come in a range of shapes and sizes. They are microwave- and dishwasher-safe and the multi-leveled options pull apart easily for cleaning. Take care when packing anything saucy or soupy in a traditional bento—the seals are not airtight and they will leak if they're not upright. For less sloshy dishes, though, Takenaka's contrasting elastic strap is enough to hold these pretty boxes together in transit. The brand also sells handy matching bags and chopsticks separately.
Similar in shape to Thermos's iconic tin "V" lunchbox, this model from Stanley is the first of its kind made entirely out of durable stainless steel. For a lunchbox, they're on the pricier side at $45, but keep it clean and dry and it should last decades. The lid has a tight bracket to hold a Stanley thermos steady, preventing the rest of your lunch from any unfortunate bruising or crushing.
Tiffins are typically associated with Indian city life, though similar styles of layered lunch pails are popular throughout south and southeast Asia, the Middle East, and parts of Europe. They are compact, lightweight, and easy to carry, and the tiered bowls have a generous 3-cup capacity.
Happy Tiffin manufactures their classic tiffins in India using durable and machine-washable stainless steel; while they are not 100% leak-proof, the layers do have overlapping lips to prevent sloshy messes when the tiffin is held upright. Since tiffins don't offer any insulation and it's generally accepted as bad to microwave metal dishes, these aren't our top pick for piping hot meals. The tall, slender stack won't take up much space in the staff fridge, however, and when you're on-the-go, Happy Tiffin cleverly suggests keeping your food chilled by tucking an ice pack into the center container of their 3-tier model.
Our favorite techy updates:
The Test Kitchen came across the luxe camp-cooking gear from SnowPeak when we were test driving unplugged coffee makers. This handy, lightweight spork from the same company is our new favorite on-the-go lunch (or ice cream) shovel. It comes in 4 snappy metallic colors, the prongs aren't so sharp that you need to worry about them destroying anything in your bag, and it is a wisp of a thing at 16 grams, so you won't mind toting around an extra for a friend.
BentoHeaven makes attractive bentos styled like the classic Japanese version, but with a few clever updates. Their all-in-one design has a handy upper compartment containing a full set of flatware, chopsticks, and enough extra room for a napkin or two. The two tiered compartments are each fitted with airtight lids. The lids' silicone ventilation plugs strengthen their seal for transportation and, after opening the vents, you can pop the covered containers right in the microwave, allowing your food to heat more evenly and quickly and preventing splatters. The elasticized strap holds the two tiers together snugly and, for a lighter lunch, it can be turned lengthwise to hold the cutlery compartment onto a single container.
Lunch Gear for the Whole Family:
Whether you like the convenient portion control, the airtight, no spill, easy to clean compartments, or just can't stand it when your food is touching, this kit from Rubbermaid has it all. The insulated carrying case snaps apart for easy cleaning. The individual, airtight containers are dishwasher and microwave safe and they'll keep your pea soup from making a mess of your pudding. The styling is a little utilitarian and we could do without the instructional food group graphics on the lids (we'll have 4 starches whenever we damn well please, thank-you-very-much), but for a combination of function, longevity, and insulation, you really can't beat it.
Our friends and neighbors round the corner at Food52 have a knack for curating a slick selection of kitchen and lifestyle goods and these reusable denim sandwich wraps fit right into the mix. The bags are made in America, out of cotton, washable nylon, and velcro; they're adjustable to fit all sorts and sizes of sammies, machine washable, and sold in convenient 3-packs.
This layered salad kit from the detail-obsessed homegoods brand, OXO, is the perfect solution for fussy salad-makers. The deep lower bowl holds a generous serving of fresh veggies and the upper plate is perfect for meat, fruit, a sandwich, or anything clunky that you don't want rattling around and bruising your greens. It is dishwasher-, freezer-, and microwave-safe and BPA-free. A 2-ounce container for dressings and sauces comes with the kit, and all the layers and lids are completely airtight and leak-proof. OXO hit it out of the park again with this one.