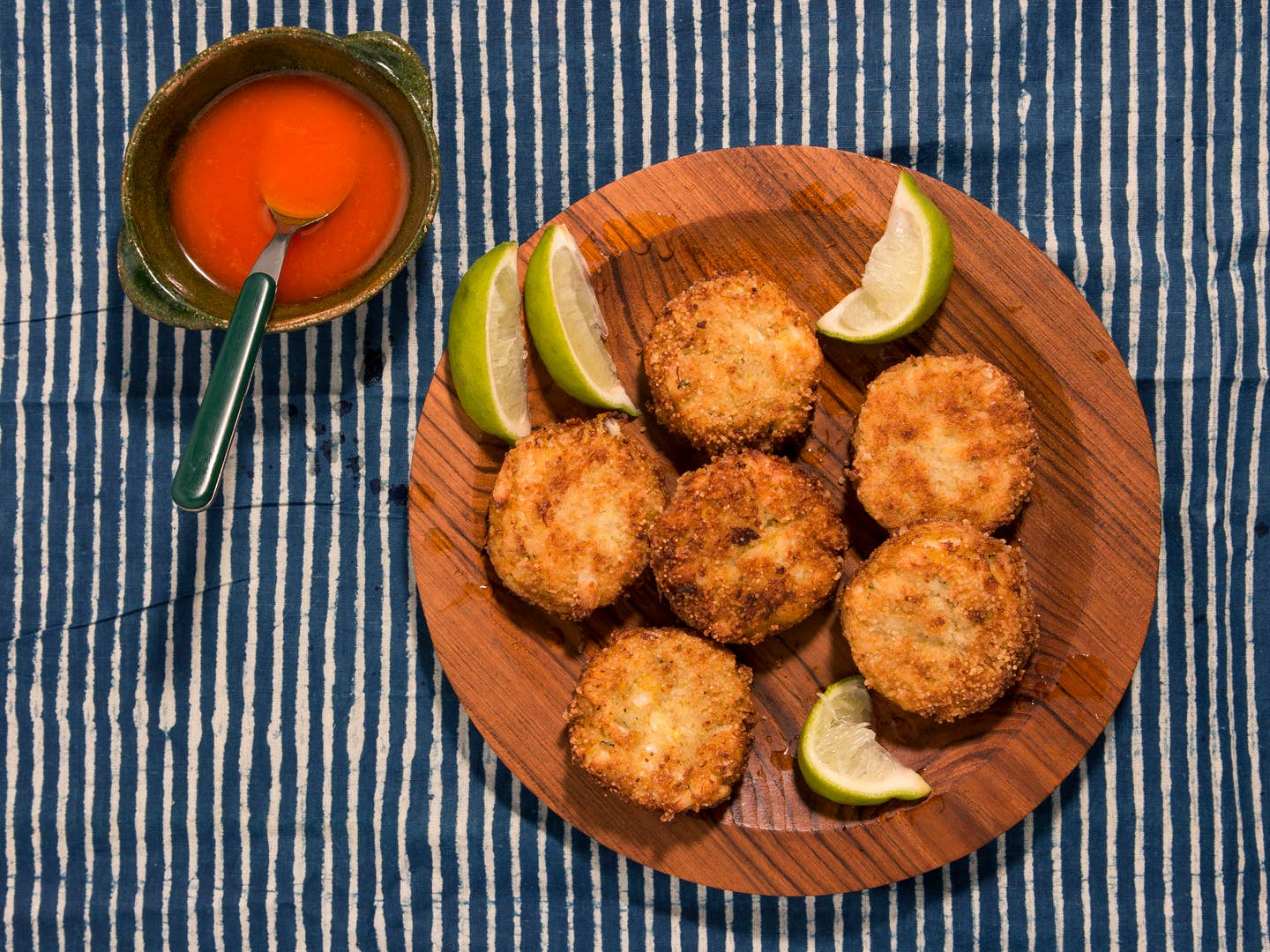 Recipes
Crab Cakes with an African Twist
Crab cakes aren't Senegalese, but chef Pierre Thiam makes them taste like they are
Pierre Thiam doesn't get too caught up with tradition. Born and raised in Dakar, Senegal, the chef grew up eating dishes like thiebou jenn, a fish and vegetable stew, pepper pot stew, and his fair share of plantains. But in Senegal: Modern Senegalese Recipes from the Source to the Bowl, his cookbook out today, you'll see a lot of dishes that you'd never see in his home country. To him, flavor is what matters the most. He just wants to make things taste good.
"Food is something that transcends borders, so when you think about it, what makes something authentic?" Thiam says. "The other cuisines I taste become part of my cuisine."
Located in the western part of Africa, Senegal is a coastal country with a tropical climate, and the country's cuisine reflects that. Prawns, crab, and fish are grilled or stewed and eaten daily; tamarind and mango find a place in everything from sauces to desserts to drinks; and peanuts, grown locally in Senegal, are a kitchen essential. When he was writing Senegal, he used his country's flavors and techniques to create a collection of dishes of his own. "The way you prepare the food, you bring your own background," Thiam says. "Flavor should be the priority." The best example? His fonio-crusted crab cakes.
Crab cakes aren't Senegalese, but the ingredients in Thiam's version are, with crab, plantains, and fonio, an ancient grain that is one of the country's staples ("fonio is our tradition," he says). On the side, he suggests a bright chunky salsa made primarily from mango, one of the tropical country's common fruits.
"The way you prepare the food, you bring your own background," Thiam says. "That's how I reinterpreted these crab cakes. Flavor should be the priority."