Recipes
Creamed Collard Greens with Peanut Butter and Chile
Pierre Thiam's Senegalese side dish for Thanksgiving.
Serves

serves 6-8

Cook

45 minutes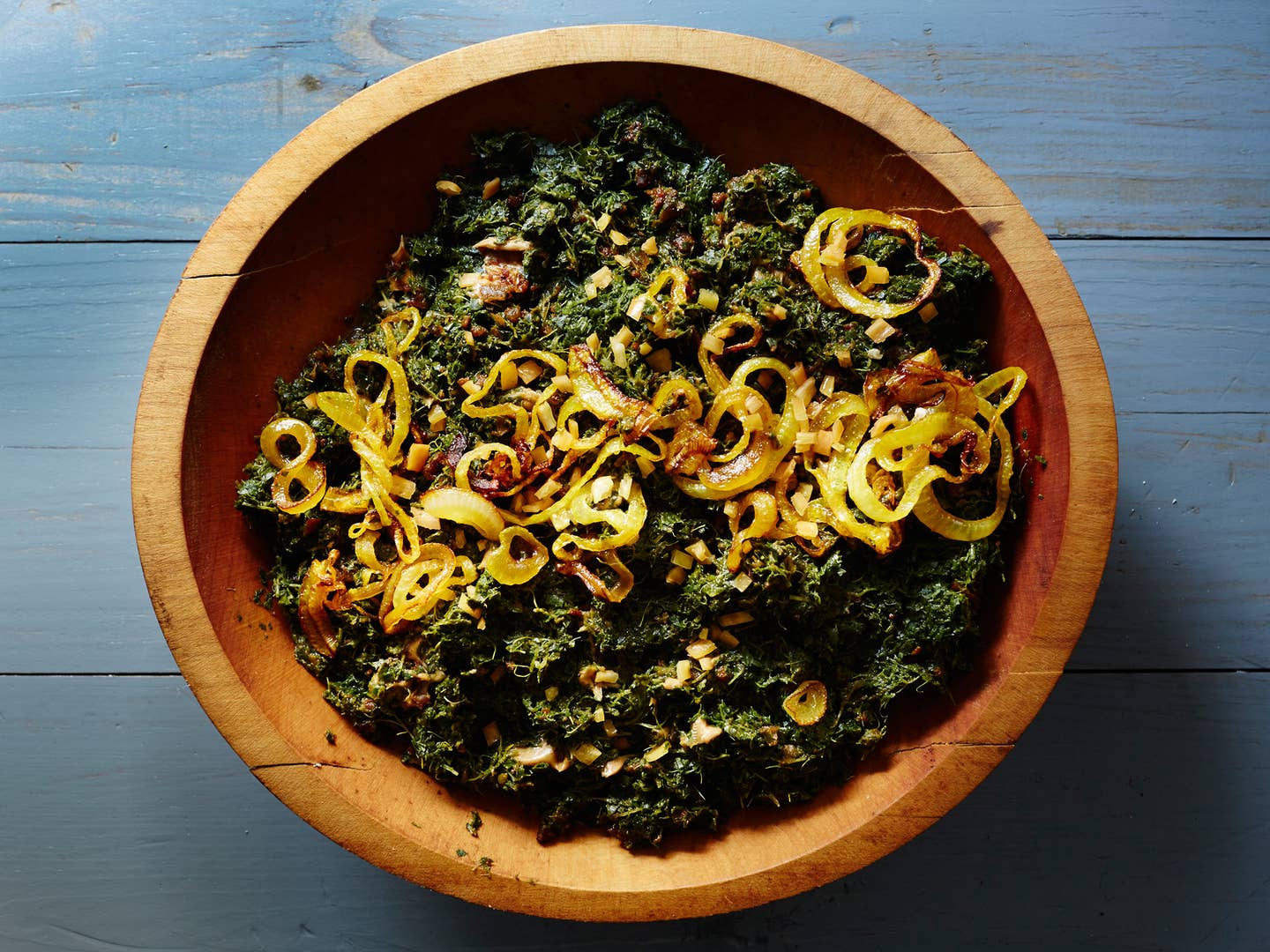 Collard greens laced with peanut butter and fermented seafood is a common one-pot dish in West Africa. This version comes from Senegal-born chef Pierre Thiam who grinds his own roasted peanuts. If you don't make your own, use a natural brand, as nut butters made with added sugar and stabilizers will change the flavor of the dish. Almond, cashew, and other nut butters also add an interesting, albeit untraditional, flavor to greens prepared in this manner. Pro tip: wear disposable prep gloves when chopping chiles.
Ingredients
2 lb. collard or turnip green leaves, roughly chopped (12 cups)
1 cup dried shrimp
4 Scotch bonnet or habanero chiles, stemmed, seeded, and finely chopped
1 1⁄2 medium yellow onions (1 roughly chopped, 1/2 sliced into 1/4-inch-thick rings)
1 vine-ripe tomato, cored, seeded, and roughly chopped
4 tbsp. red palm oil or vegetable oil
2 tbsp. tomato paste
1⁄2 cup natural peanut butter
Kosher salt and freshly ground black pepper
Instructions
Step 1
Bring 2 cups water to a boil in a large saucepan and season with salt. Add the collard greens, cover, and cook until the leaves are tender and wilted, about 5 minutes. Drain the leaves in a colander set over a bowl and reserve 1 cup of the cooking liquid. Place the leaves and reserved liquid in a blender, purée until smooth, and scrape the paste into a bowl.
Step 2
Clean the blender and return it to its base. In the blender, combine the dried shrimp with three-quarters of the chiles, half the chopped onion, and the fresh tomato and purée until smooth. In a large saucepan, heat 2 tablespoons palm oil over medium-high. Add the remaining half of the chopped onion and the tomato paste and cook, stirring constantly, until the onions are soft and lightly caramelized, 6 to 8 minutes. Scrape the shrimp and tomato paste into the pan, reduce the heat to medium, and cook, stirring, until lightly caramelized, about 5 minutes. Remove the pan from the heat, stir in the puréed collard greens and peanut butter, and mash until evenly combined. Season the greens with salt and pepper and scrape into a serving dish.
Step 3
In a 10-inch skillet, heat the remaining 2 tablespoons palm oil over high, add the onion rings, and cook, stirring, until soft and slightly caramelized, about 5 minutes. Arrange the onion rings over the collards and garnish with the remaining chile.